Levski Sofia fans force players to remove shirts after derby defeat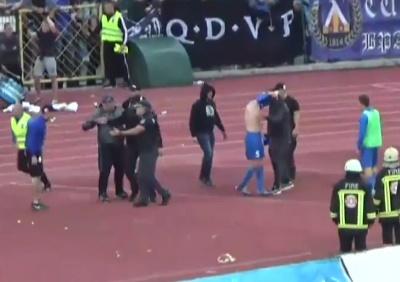 IMAGE: Video grab of Levski Sofia fans
Angry Levski Sofia fans unhappy at a 3-0 defeat at bitter city rivals CSKA on Sunday vaulted over a barrier and attacked their side's players, forcing some of them to take off their team shirts and brutally pushing captain Veselin Minev.
The ugly scenes occurred on the running track behind one of the goals at the Vasil Levski national stadium as Levski players approached a stand to salute fans after the loss in the Eternal Derby, as matches between the two most popular clubs in the Balkan country are known.
French midfielder Mehdi Bourabia resisted the hostile fans and refused to take off his shirt but some players were forced to undress while Aleksandar Aleksandrov narrowly escaped being attacked by a supporter who rushed on to the track with a stick.
One fan grabbed 36-year-old captain Minev, who was part of the Levski team which won the league in 2007 and 2009, by the neck and pushed him.
Levski players and coaches refused to comment on the incidents.
Some 33 fans were arrested in connection with violence before, during and after the game on Sunday, the interior ministry said.
Levski have a history of fan violence and racism at their matches and have been fined by the Bulgarian Football Union and European soccer's governing body UEFA on several occasions over the past few years.
In 2013 Levski fans unhappy at the appointment as coach of Ivaylo Petev, who is now at the helm of Croatia's Dinamo Zagreb, interrupted a news conference and made him take off the club's shirt before showing him the exit.
After the 3-0 win, CSKA -- Bulgaria's most successful club with 31 league titles -- moved five points clear of Levski to secure second place in the standings with one match to spare. More than three weeks ago Ludgorets won their sixth successive league title.
Four killed, dozens injured in stampede at Honduran soccer match
At least four people died and dozens were injured in a stampede when hundreds of fans tried to break past barricades to get into a national soccer final match in the Honduran capital on Sunday, according to emergency services officials.
Four adults died and more than a dozen were injured, including children, said Miguel Osorio, a spokesman for the university hospital where victims were taken.
Capitan Oscar Triminio of the Honduran firefighter corps said 25 people were injured in the stampede just before the start of the match at the national stadium between teams Motagua and Honduras Progreso.