Dad I toppped, now it's your turn: Daughter told Jhajharia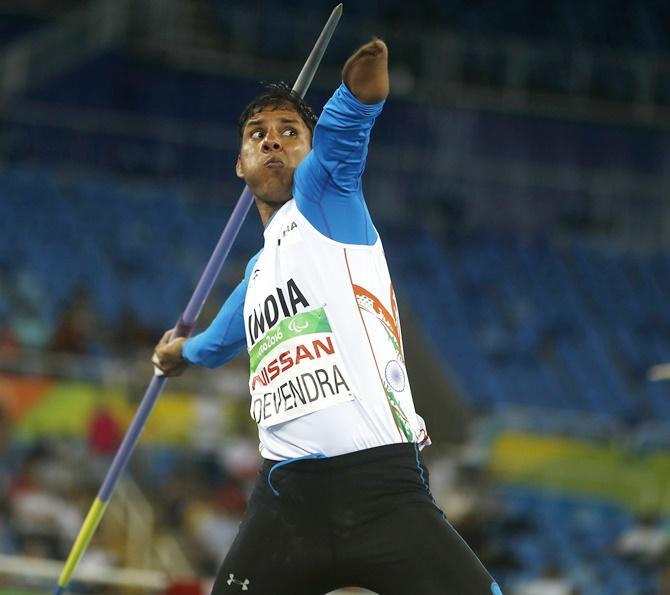 IMAGE: India's Devendra Jhajharia competes in the javelin throw at the Rio Paralympics. Photograph: Ricardo Moraes /Reuters.
Javelin thrower Devendra Jhajharia has revealed that a 'deal' with his six-year-old daughter propelled him to win a record second gold medal in the Paralympics.
Jiya, who would accompany Jhajaria to training in Rajasthan, struck a deal with her father that if she topped in the lower kindergarten exam, he would have to win a gold in the Paralympics.
"She proudly phoned me to announce that 'I've topped, now it's your turn', something that kept on echoing in my ear when I entered the field at the Olympic Stadium," Jhajaria, the only Indian to win two gold medals in the Paralympics, said from Rio after winning the men's F46 javelin throw.
"She would be the happiest person. I will wait for her to wake up and speak to her," he said, after breaking his own World record, set in Athens in 2004.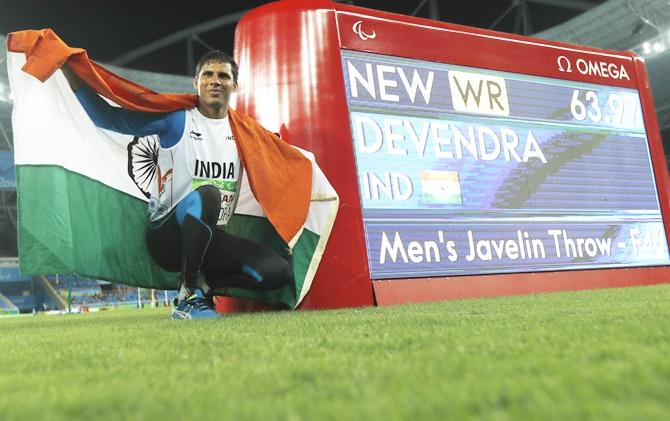 IMAGE: India's Devendra Jhajharia poses next to an information board displaying his new World record in the men's javelin throw at the Rio Paralympics. Photograph: Ricardo Moraes/Reuters.
"Ab kya sona, ab hamein kuchh nahin hoga. Hum to Rashtriya Dhwaj ke saath celebration karenge (I won't get sleep anymore. I will celebrate with National tricolour)," he said, thanking every Indian.
Devendra's World record throw of 63.97 metres came in his third attempt; it bettered his own mark of 62.15 metres, which won him his maiden gold at the Athens Paralympics in 2004.
Till then, Murlikant Petkar was the only Indian with an individual gold in the Paralympics, while shooter Abhinav Bindra won an individual gold at the Beijing Olympics four years later.
It was a long wait for the 35-year-old, who did not feature in the previous two Paralympics as the event did not figure in the Games program.
Devendra falls under F46 classification, which denotes F for field events and the number 45-47 is for 'upper limb(s) deficiency, impaired muscle power or impaired range of movement'.
To keep himself in shape and injury-free during this period, he followed intensive training and rarely visited home, in a small village in Churu district of Rajasthan. So much so that his two-year-old son Kavyan does not even recognize him.
"He does not even know what a father is like. Only his mom tells him by showing my photo, that it's papa. Hopefully, I would be able to spend some time with them now."
Before the Paralympics, he trained from April-July in Kuortane, Finland, where he became friends with Kenyan thrower Julius Yego, whom he calls one of his biggest motivators.
"He (Yego) would tell me his story of penury, of how he slept on a broken cot and how he learnt javelin throw by watching YouTube... It was quite an inspiration. If he can achieve after so much of hardships, why can't I.
"We would train for about seven hours. He would tell me I would surely win a gold in Rio. He went on to win a silver. I will speak to him soon, as he has been a strong force behind my success," Devendra said.