Bayern Munich's surprise 3-1 Champions League loss to Porto was the price the five-time European champions paid for a string of injuries and a tired squad that has not stopped playing, club boss Karl-Heinz Rummenigge said.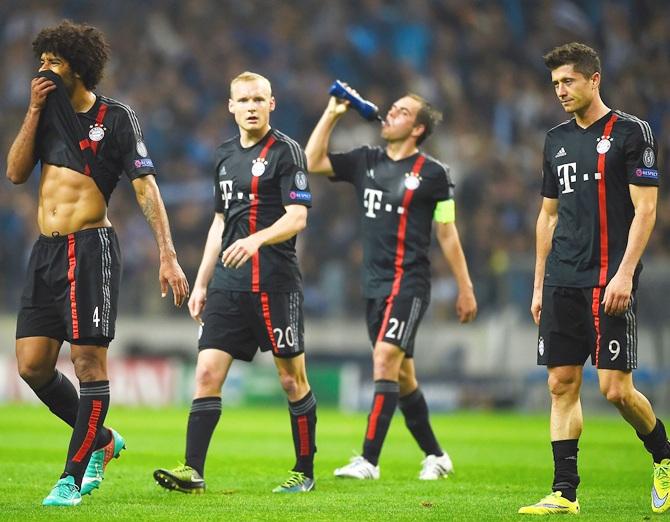 From left: Dante, Sebastian Rode, Philipp Lahm and Robert Lewandowski of Bayern Muenchen look dejected. Photograph: Mike Hewitt/Getty Images
1. The Bavarians, chasing a treble of domestic and European titles, travelled with only 15 in-field players to Portugal for their quarter-final first leg leaving injured Arjen Robben, Franck Ribery, Bastian Schweinsteiger and David Alaba, among others, behind.
CL PHOTOS: Barca snap PSG's unbeaten streak; Porto stun Bayern
Champions League: Oblak saves Atletico from dominant holders Real
"I am not prepared to criticise the team," Bayern CEO Rummenigge said in post-midnight banquet. "There are 13 or 14 players who are at the moment healthy and have been playing three times a week."
2. Bayern have been cruising towards the Bundesliga title with a 10-point advantage as the injuries seem to hardly affect them domestically.
"But there comes a day when you are a little bit tired, when your legs feel heavy and when you lack some of your concentration," Rummenigge said.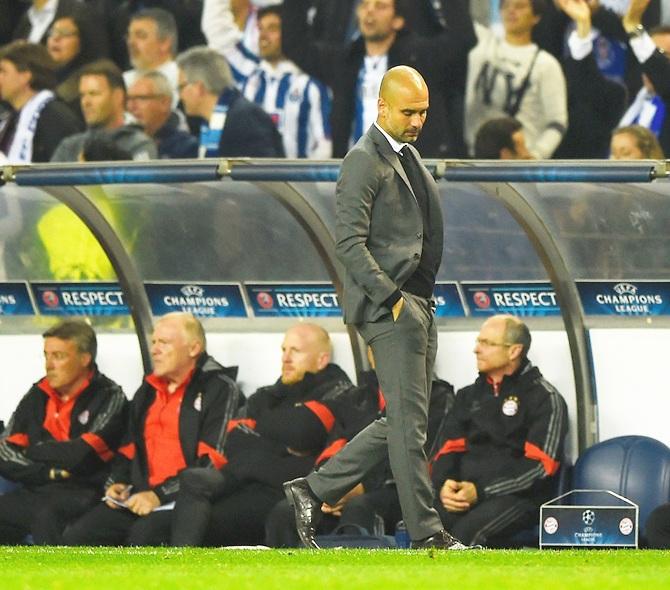 Josep Guardiola head coach of Bayern Muenchen and the team bench look dejected. Photograph: Mike Hewitt/Getty Images
3. A lack of concentration certainly contributed to the three goals they conceded, each coming from an individual defensive mistake.
4. What had been for much of the season their strongest asset -- Bayern conceded just four goals in their first 17 Bundesliga games -- was on Wednesday their Achilles heel.
5. Jerome Boateng, Xabi Alonso and Dante, all lost possession or control near the box, allowing the Portuguese to score.
6. While Bayern are not used to losing, they have every chance to overturn the first leg deficit, with Ribery and possibly Schweinsteiger fit for the return leg in Munich on Tuesday.