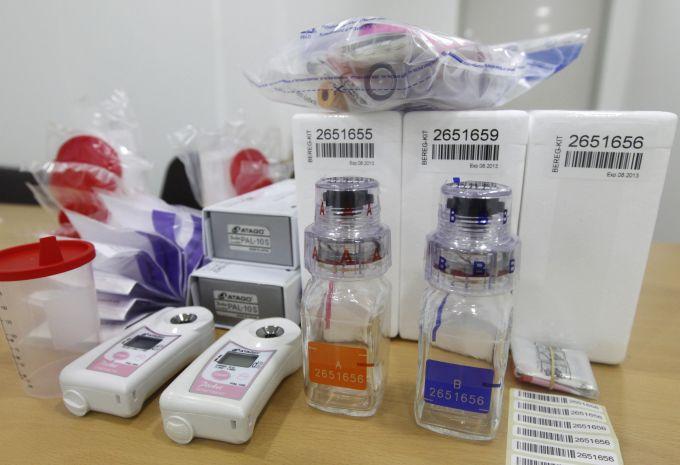 IMAGE: Anti-doping control kits are pictured at an anti-doping control centre at the stadium in Daegu, southeast of Seoul. Photograph: Lee Jae-Won/Reuters
A whopping 58 weightlifters were caught for doping last year, Sports Minister Sarbananda Sonowal told the Lok Sabha in a written reply on Tuesday.

Sonowal was asked whether the Indian Weightlifting Association (Indian Weightlifting Federation) and such other bodies have recently suspended weightlifters and other sportspersons for testing positive for banned performance-enhancing substances.

"During the calendar year 2015, a total number 58 weightlifters have been found guilty of Anti-Doping Rule violation and the disciplinary proceedings have been initiated against them," Sonowal said.

He also informed the House that two Indian weightlifters were caught for doping in the tests conducted by International Weightlifting Federation during the Commonwealth Senior, Junior and Youth Championships held in Pune in October last year.

The Sports Minister's revelations came just a few days after India has been placed at the third spot in worldwide dope violation in 2014 in a report published by World Anti-Doping Agency.

He was also asked about the WADA report, according to which India became the third worst dope offender in 2014.

Sonowal simply stated that doping as a percentage of samples collected have largely remained unchanged in the recent years.

"Dope positive/anti-doping rule violation cases as a percentage of samples collected have largely remained unchanged in recent years. The percentage was 2.17 in 2013, 2.32 in 2014 ans 2.27 in 2015," Sonowal said in the written reply.

Athletics and weightlifting are two sports most affected by doping in the country for some time.

Sonowal said that National Anti-Doping Agency (NADA), established in 2009 with an aim to promote dope free sports in the country, regularly conducts testing in-competition and out-of-competition on athletes participating in various events in the country.