Justin Gatlin will run for the United States in Beijing. Gatlin last tasted defeat over 100m in September 2013 and over 200 in May of the same year. Since then he is unbeaten in 27 races over both distances.
That all means he has a real chance of beating defending champion Usain Bolt, who is racing against time to regain his best form after a hip injury.
For now move over, Bolt and Gatlin. Take a look at the five male athletes to watch out for at the August 22-30 world championships in Beijing.
ZHARNEL HUGHES (Britain, 100 and 200 metres)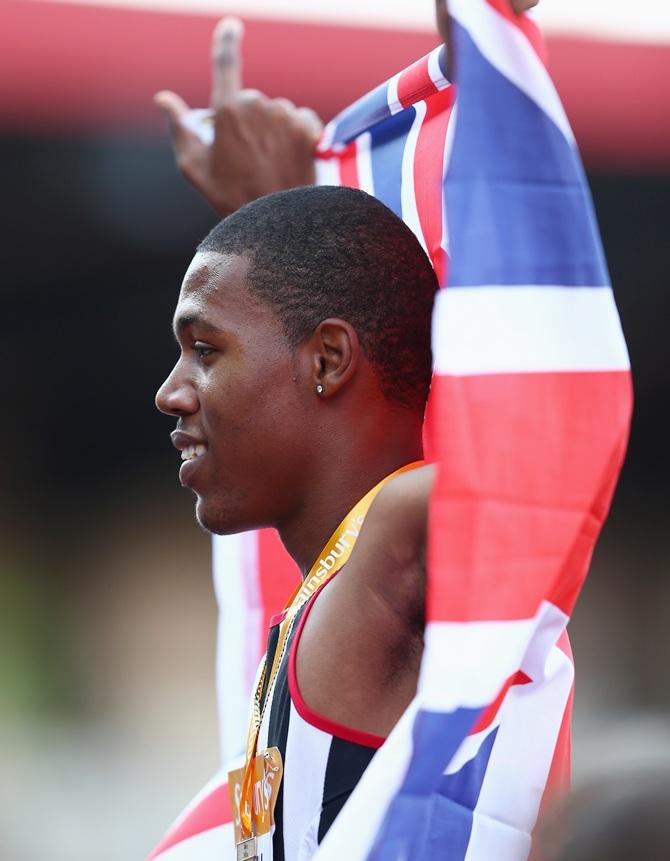 Zharnel Hughes celebrates. Photograph: Michael Steele/Getty Images
A native of the Caribbean island of Anguilla, Hughes was cleared to compete for Britain in June and created some excitement by running a personal best of 20.05 to win a wet 200 metres in London last month.
The 20-year-old has been dubbed the "next Usain Bolt" and is a stablemate of the Jamaican sprint great as well as 2011 world 100 metres champion Yohan Blake.
Tall and slim like Bolt, Hughes took Blake's Jamaican High Schools Championship record for the 100 metres with a time of 10.12 seconds in 2014.
Hughes thinks a podium in the half-lap race in Beijing is not out of the question if he can break the 20 second barrier for the first time.
WAYDE VAN NIEKERK (South Africa, 400 and 200 metres)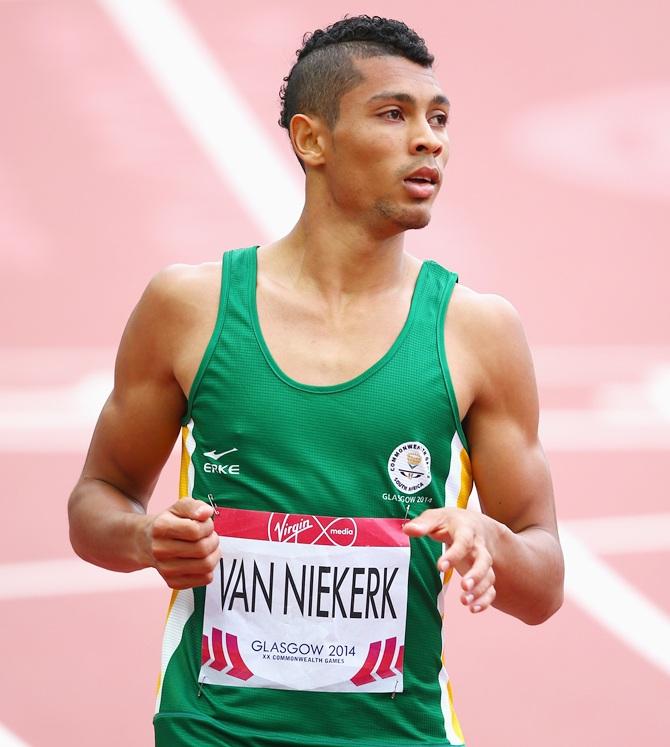 South Africa's Wayde van Niekerk competes in the men's 200 metres. Photograph: Ian Walton/Getty Images
Van Niekerk holds the South African records for the 200 and 400 metres but it is in the longer distance that he has the best chance of bringing home a gold medal from Beijing.
After a breakthrough 2014, the 23-year-old has the third best time of this year in the 400 and has beaten Olympic champion Kirani James head-to-head over the single lap.
In that impressive victory at the Paris Diamond League last month, he pulled away from James over the last 50 metres to finish in 43.96 seconds and become the first African to run under 44 seconds.
With a personal best of 19.94 over the half-lap in Switzerland the following week, he joined Michael Johnson, LaShawn Merritt and Isaac Makwala as the only athletes to have gone under 20 seconds in the 200 and 44 seconds in the 400.
NIJEL AMOS (Botswana, 800 metres)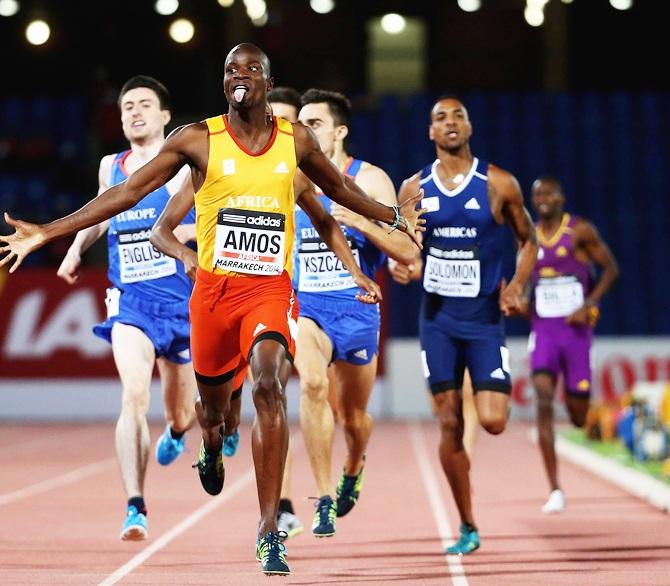 Nijel Amos celebrates winning the mens 800m final. Photograph: Matthew Lewis/Getty Images
With Olympic champion David Rudisha still not back at his imposing best after an injury-disrupted couple of years, Amos has his best chance of winning a first major title in Beijing.
Amos had his own injury problems after taking silver behind Rudisha at the London Olympics but beat the Kenyan world record holder at last year's Commonwealth Games and again in Lausanne and London this season.
Still only 21, Amos's gait is all arms and legs where Rudisha's is smooth power but, with head back and teeth gritted, he has the finishing pace to run down most of his rivals on the home straight.
LI JINZHE (China, long jump)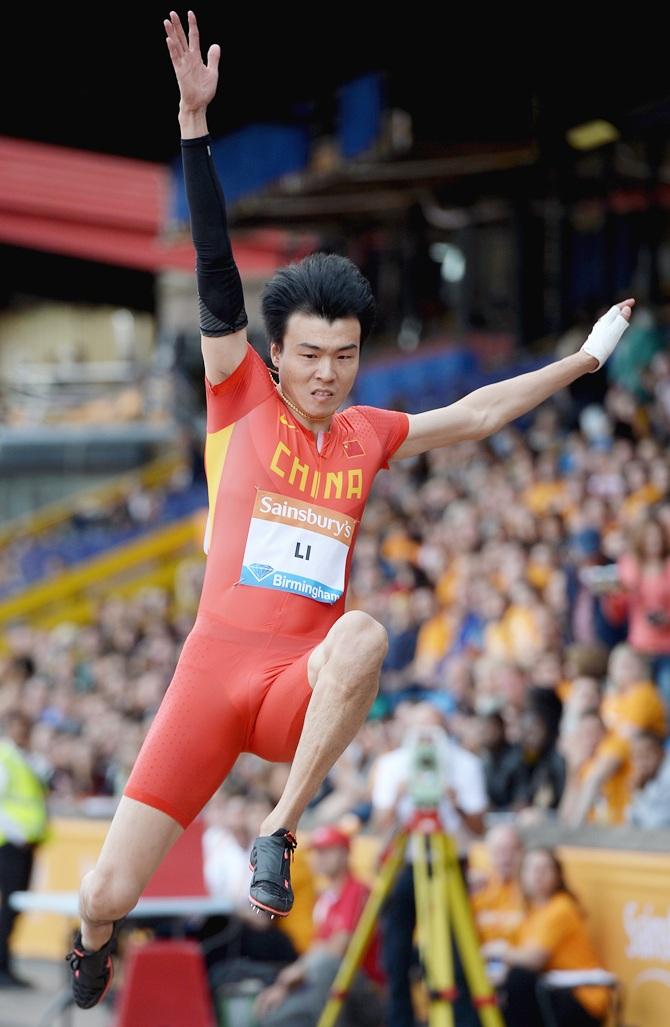 China's Jinzhe Li competes in the mens long jump. Photograph: Gareth Copley/Getty Images
With high hurdler Liu Xiang now retired, Li is one of the few men with a chance of offering the home crowd some local success in Beijing.
Trained by American Randy Huntington, who coached former world record holder Mike Powell, Li has struggled with technical problems this season after jumping a career best 8.47 metres outdoors and winning silver at the world indoors in 2014.
The 25-year-old former Asian champion is at least familiar with the Bird's Nest after winning the title at the Chinese Championships with a jump of 8.11 metres at the stadium in June.
Li will hope to avoid a repeat of his experience at the 2013 world championships in Moscow, where he finished 12th after dropping a dumbbell on his right foot before the final.
PEDRO PABLO PICHARDO (Cuba, triple jump)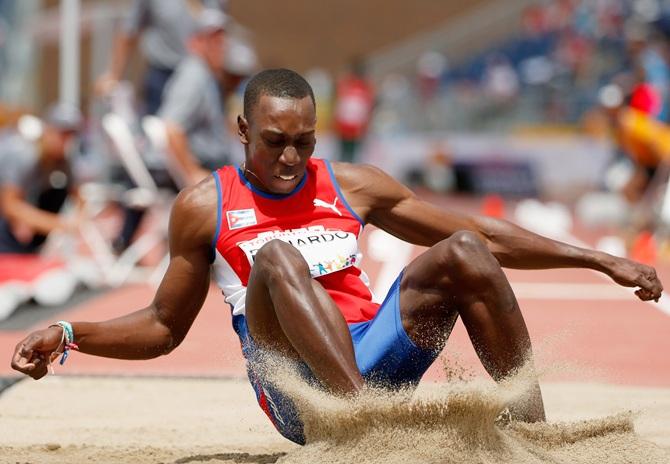 Cuba's Pedro Pablo Pichardo competes in the men's triple jump final. Photograph: Ezra Shaw/Getty Images
With seven of the top 10 jumps of the year, including the top two, the 22-year-old former world junior champion looks set to vie with Olympic champion Christian Taylor, who owns the other three, for gold in Beijing.
Pichardo managed his first two jumps over 18 metres -- 18.06 in Doha and 18.08 in Havana -- over two weeks in May, which took him to third on the all time list behind American Kenny Harrison and Britain's Jonathan Edwards.
Pichardo combines the pace on the runway of the Briton with something akin to American Harrison's technique and thinks Edwards' 20-year-old world record of 18.29 will be within reach if he can improve his step and jump.