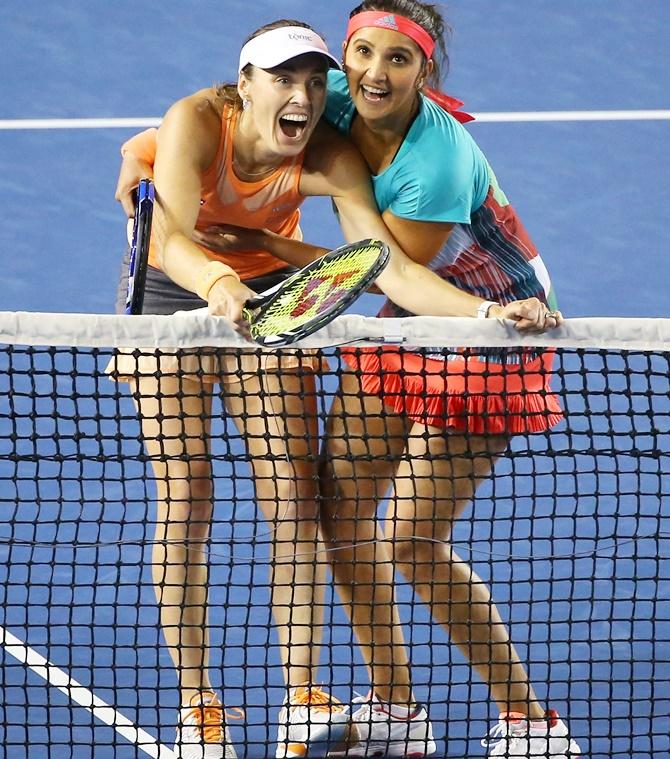 IMAGE: Switzerland's Martina Hingis and India's Sania Mirza react. Photograph: Michael Dodge/Getty Images
Indian tennis ace Sania Mirza and her Swiss partner Martina Hingis extended their winning streak to 37 games with a straight sets victory in the opening round of the women's doubles at the St Petersburg Ladies Trophy on Thursday.
The top-seeded pair, which won their third consecutive women's doubles Grand Slam title at the Australian Open last month, continued their rampaging form, scoring a 7-5, 7-5 victory over the Russian-Latvian team of Evgeniya Rodina and Jelena Ostapenko in a thrilling contest that lasted 79 minutes.
Since an upset loss in the French Open quarter-finals, the Indo-Swiss duo are unstoppable, winning 42 of the next 45 matches to take home titles at Wimbledon, the US Open, Guangzhou, Wuhan, Beijing, the WTA Finals in Singapore, Brisbane and Sydney.
"We didn't know how to play them that well in the beginning," said Hingis at their post-match press conference, according to wtatennis.com.
"We lost an opportunity at 3-2, 40-0 to go up and close out the match, and they came back to play a couple of really good games - especially Ostapenko, who hit some really great shots.
"I think it was great experience for them to play a match like that, and also for us to get into the tournament. I'm definitely happy we didn't have to play a deciding set. It's always nice to close out in straight sets; it makes us that much stronger."
"The streak that we're on is amazing," Mirza said.
"To be honest, we knew we could play good, but not this good. We're surprising ourselves as well, and we just want to keep going."
Asked about the media's fascination with their streak, the longest since Jana Novotna and Helena Sukova won 44 straight matches in 1990, Mirza didn't mince words. "We're counting, also."
"Yes, we are," Hingis added.