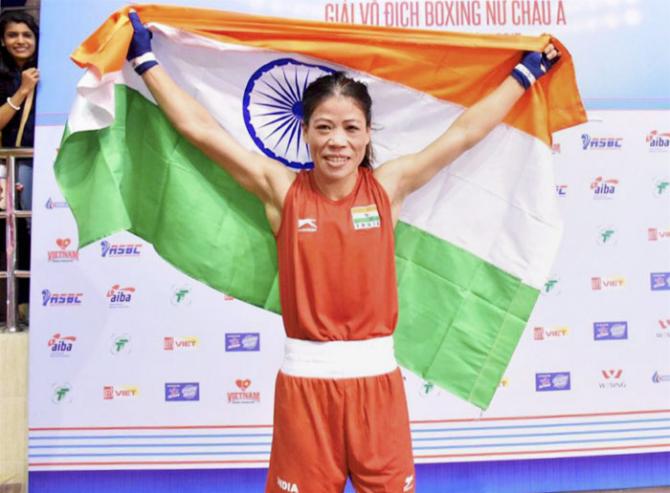 IMAGE: Indian pugilist MC Mary Kom after winning her fifth Asian Boxing Championship gold medal in Ho Chi Minh City in Vietnam. Photograph: PTI
Medals galore at most tournaments they gloved up for and an administrative recovery that held out promise of a better future -- there were loads to celebrate in Indian boxing this year, during which quite a few punched above their weight.
From an unheralded Gaurav Bidhuri and the legendary M C Mary Kom to the well-established Shiva Thapa, and not to forget a bunch of teenaged women boxers -- all of them scripted their little piece of history in a fairly successful 2017.
To top it all, India was back as a major stakeholder in international boxing, getting the hosting rights of the world championships (2018 women's and 2021 men's) for the first time since 2006.
There were a few hiccups along the way too, like the unceremonious exit of the first foreign coach for women,Stephane Cottalorda, due to delay in payment of salary but that could hardly dampen the overall positive mood.
In fact, 2017 was a massive break from the disappointment that 2016 had turned out to be, owing largely to a medal-less Olympic campaign.
The process of rebuilding started in the beginning of the year with the appointment of a fresh set of foreign coaches for men, women and youth boxers.
So, in came European Coaches Commission vice-chairman Santiago Nieva for men and Stephane Cottalorda of France for women. Also joining them was Italian Raffaelle Bergamasco in the youth women's camp.
The gruelling tests came along quite quickly for them and before Nieva could even get a hang of how things run in the national camp, the men's team flew out for the Asian Championships in Tashkent, Uzbekistan.
It was here that Shiva (60kg) touched a unique milestone, becoming the first Indian boxer to score a hat-trick of medals at the continental showpiece, beating an Olympic bronze- medallist en route.
This edition's silver, added to the gold in 2013 and the bronze in 2015, also meant that he achieved the rare distinction of winning a medal of every colour at the prestigious tournament.
Overall, India signed off with four medals, claiming a creditable third spot behind powerhouses Uzbekistan and Kazakhstan in the team standings.
Three months later, it was time for the World Championships in Hamburg, and the first real trial by fire for Nieva as coach.
IMAGE: Gaurav Bhiduri. Photograph: PTI
Beating all expectations and guesses, Gaurav Bidhuri (56kg) became only the second Indian boxer ever to claim a medal on debut at the big stage.
His bronze medal was India's fourth ever and left almost everyone shocked given that he was not even a part of the originally picked team. His entry was a lucky break, thanks to the wildcard handed out by the Asian Boxing Confederation.
The reticent Delhi boxer lived up to the 'luck-favours- the-brave' adage to outshine more established teammates and claim the biggest prize of his career, which had till then been marred by close losses and injury breakdowns.
The season relatively ended for men with the world championships but it was only the beginning for women and the build-up to their Asian Championships was far, far from perfect.
Cottalorda, hired amid much fanfare, refused to join back the team after leaving for France at the end of a training trip to Ireland. Furious with the delay in payment of his salary, the feisty coach resigned within a month of joining in
August.
However, the upheaval had no impact on the performance at the Asian Championships in Vietnam where five-time world champion Mary Kom, added a fifth continental gold to her overflowing cabinet of accolades.
The 35-year-old, returning to her favourite 48kg category, was unstoppable as she proved that age, after all, is just a number, becoming the only gold medallist for India at the tournament this year.
Additionally, India picked up a silver and five bronze medals for what can be called a thoroughly successful campaign.
Within weeks of this, India hosted its first world championship, for youth women, since the 2006 senior women's event.
Not only was the age-group tournament a "first rate success" organisationally, as described by the International Boxing Association (AIBA), but the hosts also emerged team champions for the first time, claiming an unprecedented seven gold medals.
In a way, India's performance, both organisational and inside the ring in Guwahati, was reflective of the sport's revival after four years of diving fortunes.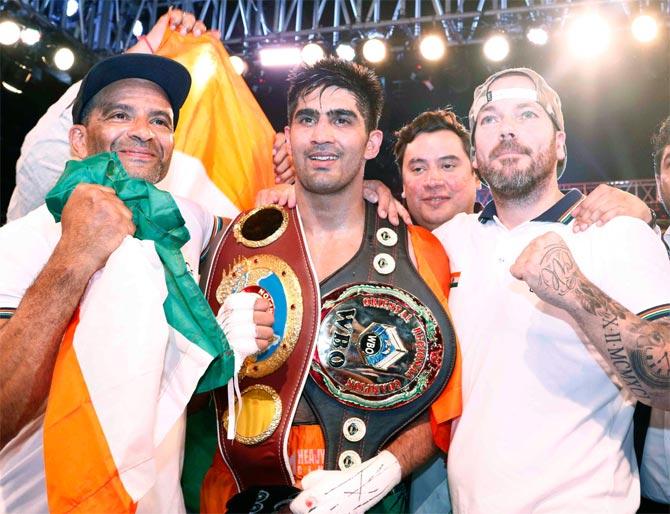 IMAGE: Vijender Singh celebrates after defeating Chinese boxer Zulpikar Maimaitiali.
And given that the country would be hosting the senior women's world championship next year, the confidence would go a long way in putting together another great show.
There were gains to be made in the professional boxing circuit as well. Vijender Singh went about another loss-free year and added the WBO Oriental Super Middleweight title to his Asia Pacific crown.
But the country's pro circuit, unlike the well- established amateur scene, is still far from matching the world both in terms of money and level of competition.
© Copyright 2022 PTI. All rights reserved. Republication or redistribution of PTI content, including by framing or similar means, is expressly prohibited without the prior written consent.