Sania won 10 titles in 2015 -- nine with Martina and one with American Bethanie Mattek-Sands
Paes continued to gather laurels for himself by winning three mixed doubles titles with Martina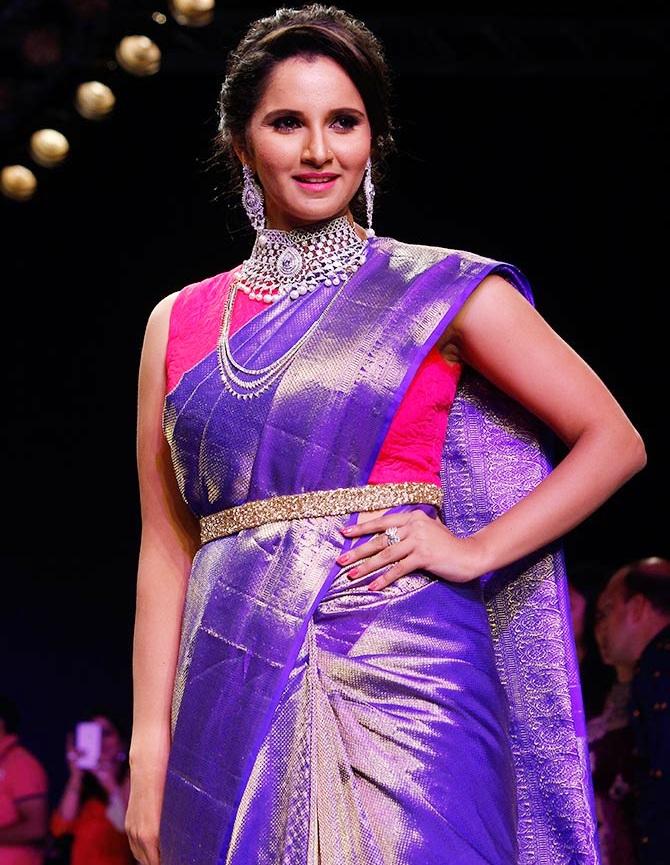 IMAGE: Sania Mirza walked the ramp during the India International Jewellery Week in Mumbai. Photograph: Hitesh Harisinghani/Rediff.com
Sania Mirza savoured a historic 2015 as she became the first female player from India to win a women's doubles Grand Slam title on way to becoming World No 1 even as Yuki Bhambri presented himself in a new 'avtar', raising hopes on the otherwise barren singles circuit.
This season took a dramatic turn for Sania when she teamed up with Swiss great Martina Hingis in March. Sania's powerful game from the back of the court and Martina's agility and manouvering at the net made them almost invincible.
The partnership proved a master stroke as they have become a very strong force with opponents yet to find an antidote to their superiority.
From the very first event, they had sounded out a warning by pocketing the Indian Wells title and till the end of the season; the rival teams were struggling to find out how to beat them.
The win at Charleston, their third in a row, catapulted Sania to top of the ranking table and from then onwards she is firmly holding on to the coveted spot.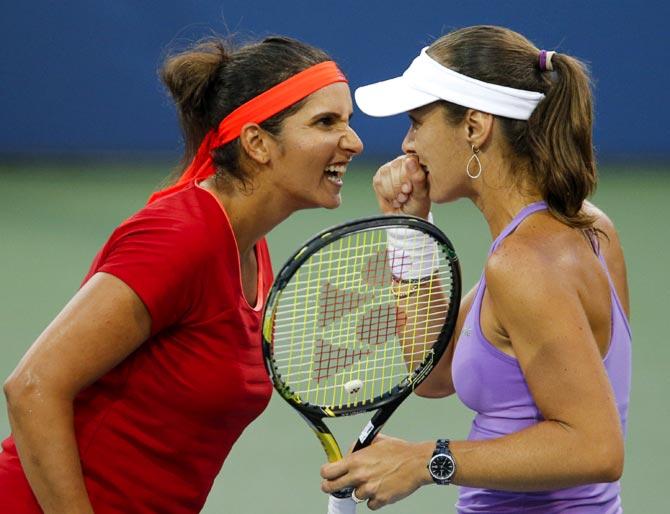 IMAGE: India's Sania Mirza (left) with doubles partner Martina Hingis of Switzerland. Photograph: Eduardo Munoz/Reuters
At the end of 2015 season, the two had won nine titles together including the prestigious Wimbledon and US Open apart from the year-end WTA Finals.
In 16 events played together, Sania and Martina – named 'SanTina' by fans -- they were an astonishing 55-7.
It may be argued that achievements in the doubles had no comparison to success in singles but we must not forget that it took India 15 years to find the next player who could assert supremacy in world tennis even if it was on the doubles circuit, which has its own challenges.
Before Sania, only Leander Paes and Mahesh Bhupathi had achieved the top rank when they were a dominant force in men's doubles in the late 90s.
In all, Sania won 10 titles in 2015 -- nine with Martina and one with American Bethanie Mattek-Sands.
The win at the Wimbledon took a big monkey off Sania's back as till then she had won only mixed doubles trophies at Major events.
The 2016 calendar will be very challenging for the Indian super star as she will be defending a lot of points requiring her to be even more consistent. The opponents will come better-prepared to counter the Indo-Swiss pair.
IMAGE: Yuki Bhambri of India. Photograph: Quinn Rooney/Getty Images
In the men's tennis, it looked like that Delhi boy Yuki had reinvented himself. The promise he had shown years back in his junior days, was finally coming to fore.
It was a breakthrough year for him as he broke into top-100 singles chart for the first time, ensuring that he will get direct entry in the Grand Slams even as Somdev Devvarman's steep fall remained a worry for fans.
IMAGE: Leander Paes poses with the 2015 Australian Open mixed doubles trophy in Mumbai. Photograph: Hitesh Harisinghani/Rediff.com
India's 'ageless wonder' Leander Paes continued to gather laurels for himself by winning three mixed doubles titles with none other than Martina.
Paes, who is gunning for his seventh Olympics, had not only on-court challenges but off-court too as he was locked in a legal battle with estranged partner Rhea Pillai for the custody of their daughter.
It was amazing to see how he switched off from all the distractions and continued to thrive in the tennis world. But that he is a diminishing force in the men's doubles was also evident from the results.
In 26 tournaments he played with different partners, the 42-year-old Paes managed to reach final only thrice and won one title. There were more than 15 tournaments where he did not go beyond the second round. Talking about the singles, Yuki and Somdev, India's biggest stars as of today, met with contrasting fates this season. While Yuki went from strength to strength, there was no end to Somdev's woes. The US-based player was overtaken in the rankings by both Yuki and Saketh Myneni.
It was the first year in Yuki's career when he won two Challenger level singles titles and enjoyed wins over top-100 and top-50 players.
More than anything he has looked more calm in his approach while countering difficult junctures in matches, proof enough that he has become mentally strong. He looks hungry for success at the big stage and has fire that was missing from his game and demeanour earlier.
He has also worked hard on his fitness and staying away from injuries has played a big role in his success.
But it was disappointing to see the fall of Somdev, who was now languishing at number 180. Somdev, without doubt, is the most hard working Indian player. But maybe his defensive style of play has not helped his cause in modern tennis.
He has hired a new coach, who was working very hard on his serve and his fans would hope that in 2016 both Somdev and Yuki will taste more success.