In his nearly 15-year football career on the big stage, Cristiano Ronaldo has memerised fans and opponents alike, with his nimble footwork and goal-scoring prowess.
Not only has the 31-year-old Portuguese set the standards sky-high on the football field, this Real Madrid star also knows how to keep it classy with his expensive suits and stunning arm candy when not donning his football boots.
So, it was no surprise when Real Madrid star Ronaldo posed with model Alessandra Ambrosio for GQ's Body Issue, and needless to say that the cover was drool worthy.
Ronaldo showed off six packs and got cosy with the Brazilian beauty.
The Real Madrid legend was also pictured doing some freestyle football tricks, and was also clicked almost baring all, only surrounded by footballs.
From an exclusive interview with GQ magazine's Daniel Riley, for GQ India's April 2016 issue, here are 12 things you should know about Cristiano Ronaldo - the footballer, the father and the man.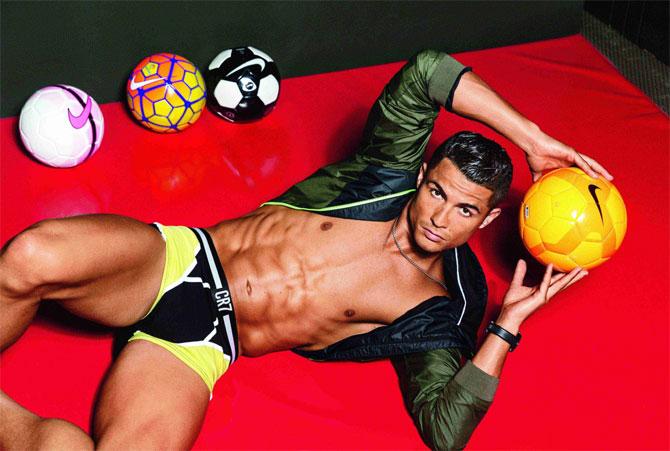 IMAGE: Cristiano Ronaldo poses. Photograph: Ben Watts/GQ India
1. Cristiano Ronaldo dos Santos Aveiro was named, in part, after Ronald Reagan, president of the United States at the time of his birth and his father's favourite actor.
"My parents named me after him because they both liked this name and thought it sounded strong," he tells me.
"I know that my father admired him."
2. He is the world's highest-paid footballer and the third-highest-paid athlete behind Floyd Mayweather Jr and Manny Pacquiao. Forbes values his earnings at $80 million a year.
In addition to his $20 million salary and his CR7 business lines, he has worked with brands like Nike, Armani, KFC and TAG Heuer.
3. Cristiano was an "oops" baby.
His mother, Dolores, and his father, Dinis, had one boy and two girls already, and this fourth was unexpected. His mother has said she considered an abortion – doubly significant due to her Catholic faith – before deciding to keep the baby that would be Cristiano.
"He was a child that I wanted to abort," Dolores has said. "God didn't want that to happen, and I was blessed because of that, and God did not punish me. Sometimes Ronaldo makes fun of me and says, 'You didn't want me to be born. But now you see that I'm here helping all of you.' And, well, sometimes we have a laugh about that."
4. Cristiano left his island home (in Madeira) at 12, when top Portuguese club, Sporting Lisbon, offered him a slot in their academy.
He had never left the island before and was suddenly on his own. He says this was the hardest period of his life.
His mother has said she felt she was abandoning him, "but it was for good reason."
Even at 18, when he was transferred to Manchester United, he was seen holding his mother's hand when he crossed the street in Manchester.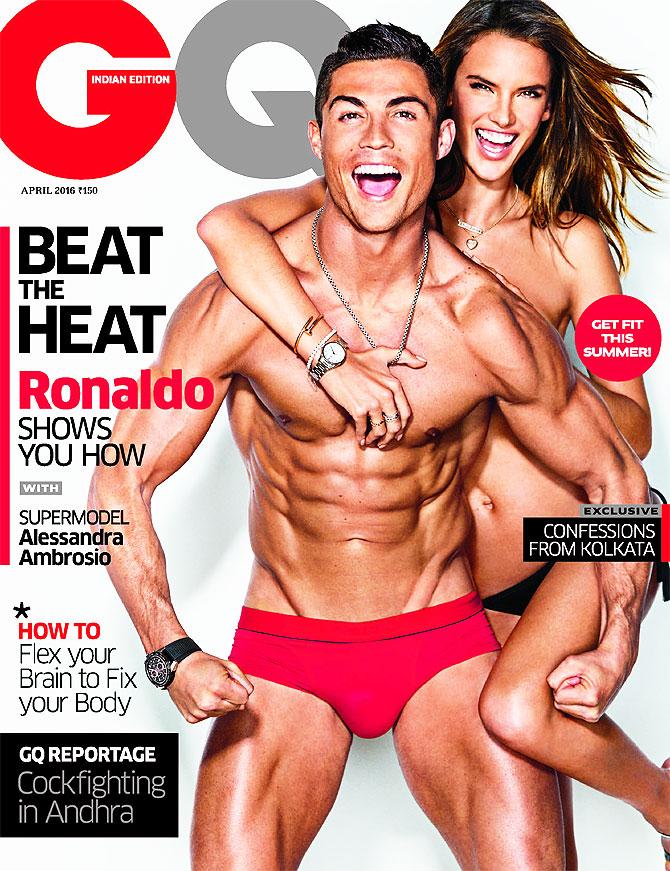 IMAGE: Football star Cristiano Ronaldo poses with model Alessandra Ambrosio. Photograph: Ben Watts/GQ India
5. Cristiano Jr was born in 2010, but the identity of the mother has never been disclosed. Cristiano, 25 at the time, announced his son's birth to the enormous surprise of fans. (He'd been dating supermodel Irina Shayk at the time – she is not the mother – and continued to date her until early 2015.)
In the recent documentary Ronaldo, Cristiano addressed the matter at length: "I wanted to be a young father.… I have learned to be calmer, more cautious.… People speculate that it was with this girl or the other, or a surrogate mother. I've never told anyone and never will. I think I should keep that to myself. And later, when Cristiano is grown up, then I will talk to him and tell him what I did, what I felt, everything that went through my mind. Some kids never get to know their parents, neither father nor mother. Having a father is good enough. I don't care what other people say – it doesn't bother me. I always thought, and still think, that he will understand me."
6. Ronaldo and Messi are two of the best who have ever lived, playing in the same league on the two greatest rival clubs in the sport. The last eight Ballon d'Or awards (for world player of the year) have gone to Ronaldo and Messi – one for Cristiano, followed by four for Leo, two for CR and one for Messi. (Each has finished runner-up to the other in all but one instance).
But Cristiano has made a habit of dismissing the interpersonal, one-on-one conflict.
"The rivalry has been created by the media," he says to me.
"To be honest, there are no problems between me and Messi. People have their own opinions about who they think is the better player. It is what it is, but there is no rivalry beyond games and what happens on the pitch."
7. "When you speak to people who know him, they all say he's the hardest worker in training every day," says Roger Bennett, co-host of the rabidly admired soccer-translated-for-Americans Men In Blazers podcast and TV show.
"But what we're talking about is elite athleticism and elite narcissism in equal measure. Still, you can only marvel at his physical and mental ability to withstand the punishment he's received on and off the field. Considering how he's won, and continues to keep winning consistently with that much pressure, you are dealing with a remarkably calibrated mental and physical being."
8. In January 2009, while playing for Manchester United, 23-year-old Cristiano badly crashed his two-day-old Ferrari in a tunnel near the Manchester airport. He got out of the car uninjured, left it on the shoulder, and caught a lift to practice, but a reputational stain of reckless indifference stuck to him for years afterwards.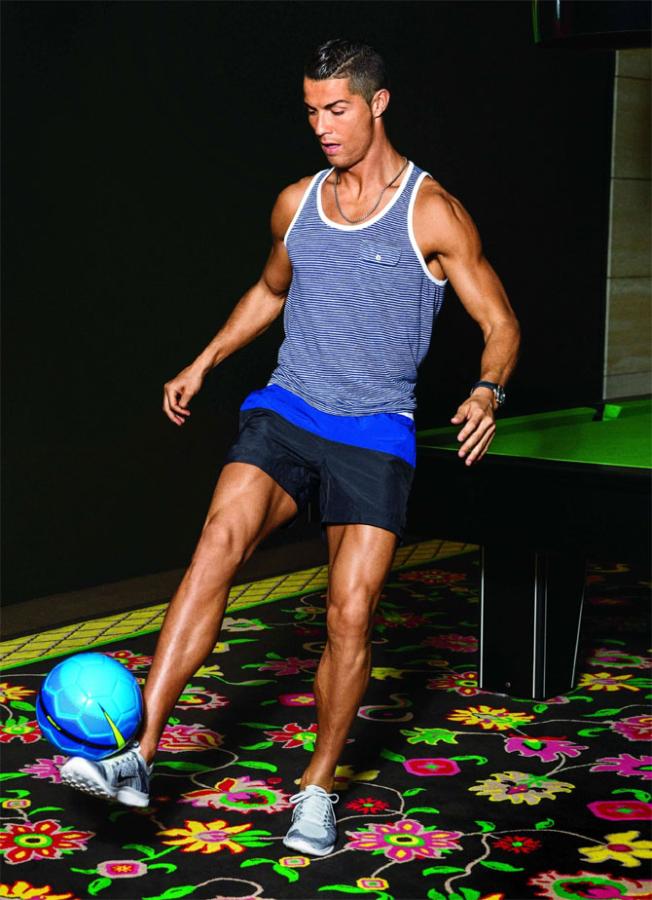 IMAGE: Cristiano Ronaldo freestyling during the shoot. Photograph: Ben Watts/GQ India
9. "I never diet. I don't do this kind of diet. I eat everything. I don't, for example, eat pizza every day or McDonald's every day. But sometimes I think is not bad, especially if you do the right things on the weekends. I take care of myself, train good, sleep good", says Ronaldo.
10. The museum, in Funchal, houses all of Cristiano's trophies and includes a life-size wax figure of Cristiano and a projection of Cristiano that dances on the wall (juggling a soccer ball) like the DNA cartoon in JurassicPark.
11. Seven is Cristiano's number on Real Madrid and on the Portuguese national team jerseys. CR7 is the name of his underwear line, his premium shirts line, his shoe line and his fragrance line (aka Legacy). He looks for 7s everywhere; he feels cosmically entangled with them.
Last spring, a team of astronomers led by a Portuguese guy discovered a galaxy and named it CR7. There seems to be a belief that 7s exist in the service of CR.
12. For all of Cristiano's popularity, he operates within a tight circle, even by famous person standards.
He has his mother, his brother, his agent, his manager, a few friends, whomever he's dating (current rumours say it's the daughter of his agent – further affirming the in-circle-ness of his orbit) and, ofcourse, his son.
In the documentary Ronaldo, he says: "In football, I don't have a lot of friends. The people who I really trust, there are not many… Most of the time, I'm alone."