In his first season as a coach in an Indian club, East Bengal's English coach Trevor Morgan has drawn appreciation from all circles. The red-and gold have had a dream season so far, winning the Federation Cup and the Kolkata Premier League besides staying on course for the I-League crown.
In a freewheeling chat, Morgan says, his biggest challenge was to strike a balance within the team. Excerpts.
What do you attribute East Bengal's success to?
You have to give it to the players. They executed the plan well. They have stayed patient, knowing they will get their opportunity. The best part stays they have performed when it matters. I understand it's frustrating for any player not to be in the starting XI. But they have all co-operated for the bigger cause.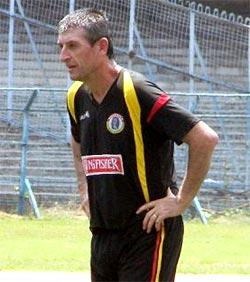 The national team players have not been automatic starters in your team after the Asian Cup. Was that a difficult decision for you?
Everyone in my squad has a role. I have been fortunate enough to inherit a good bunch of players. It's not that the national team players didn't get a chance to play for East Bengal. My toughest challenge has been to strike the perfect balance between the existing set and the national team players. I reiterate, everyone has been patient and I appreciate that.
What has been your impression of the Indian players that you have seen in the I-League? Are they good enough to play in foreign leagues?
The current FIFA rankings won't allow an Indian footballer to play in the higher divisions in Europe. Realistically, they should look at Asia -- maybe, Japan, and South Korea. Once they move out, it will create widespread awareness and generate interest among the sponsors. Some of the players are quite good but they need to work on their fitness a bit more.
What prompted you to sign a three-year contract with East Bengal?
The passion in Kolkata will impress anyone. If you need to be a part of the cause, you need to stay here for long. Rome, as they say, wasn't built in a day. The intention is to create East Bengal as a role model for other clubs -- it's a long-term plan which demanded a longer contract. The support from the East Bengal management has been an inspiring one.
Is the I-League crown on its way back to Kolkata?
Nothing in football is certain till the final whistle. There are other teams too who are gunning for the title and they are quality sides. Let me hope everything stays right for us till the end.