'I am sure this unwanted controversy will only make me stronger.'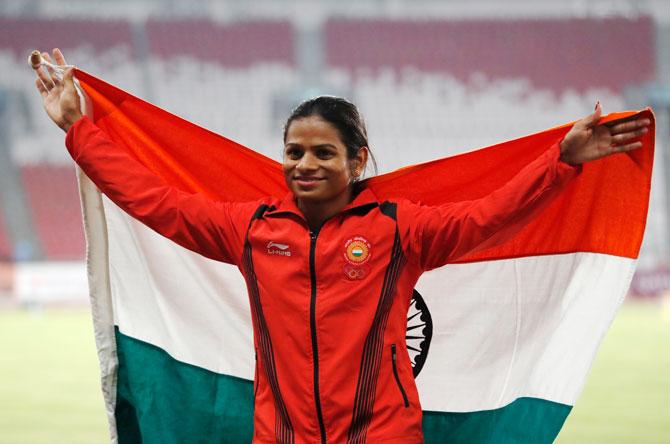 Dutee Chand is the first Indian sportswoman to reveal that she is in a same-sex relationship with a girl from her hometown, Chaka Gopalpur in Odisha.
After the courageous public admission arrived familial hostility.
"I got the courage to speak out after the Supreme Court decision to decriminalise Section 377," India's sprint queen -- who won silver medals in the 100 and 200 metres at the 2018 Asian Games -- tells Laxmi Negi/Rediff.com.
What made you speak out?
I have been friendly with this particular girl for some years now.
When she asked whether we could live together for a lifetime, I could not immediately commit to it because I am an active athlete.
I got the courage to speak out after the Supreme Court decision to decriminalise Section 377 (of the Indian Penal Code) last year.
I decided to make it public to give her a certain security, acknowledging her in my life.
I also read that Australian cricketer Megan Schutt married her long-time partner Jess Holyoake, it gave me some encouragement.
Did you expect this reception to your revelation from your family? (On Monday, May 20, Dutee's elder sister Saraswati Chand said the sprinter's partner pressurised and blackmailed her for wealth and property.)
There is one more reason I came out.
The moment my family came to know about our relationship, they kept threatening her and abusing her. They also abused her family.
She got in touch with me with tears in her eyes.
Since my family was against our relationship I asked her parents whether they would support us and they agreed.
I was moved and that's another reason I came out in open.
Social media has praised you...
Frankly speaking, I was scared about the thought of making my relationship public. I am thankful for the kind of support I am getting from outsiders.
Do you regret your decision to reveal your relationship?
I come from a small village. Deep down I knew my family would be against our relationship, but I didn't know they would go to this extent of maligning the people who have always encouraged me professionally.
My family is accusing the Kalinga Institute of Industrial Technology university and my godfather. They are reacting as if I have murdered someone!
I don't regret anything, but I feel bad when they are not talking to me, but giving statements to the media and accusing the wrong people.
We as a family need to sit across and discuss this, which is not happening.
With this revelation you have landed yourself in another controversy. (In 2014, Dutee was dropped from India's Commonwealth Games team after testosterone-cap rules. The IAAF withdrew the rules last year, which allowed her to run in the 100 and 200 metres.)
(Laughs) Yeah, I am controversy's favourite child. But I am of the opinion that I come back stronger after every controversy.
After I was banned in 2014, I set a national record the next year and made it to the Rio Olympics.
I am sure this unwanted controversy will only make me stronger.
Has training taken a setback?
Oh, yes, definitely! Sunday was a rest day and I was just giving interviews. But today I missed practice.
What next now?
I will get back to training tomorrow. I need to focus on my discipline and the rest will fall in place.
Has this incident made you emotional?
No so much. But only when I hear the kind of statements my mother and father are giving on television, I feel hurt.