'To represent one's country at the biggest stage is what drives us.'
'My goal is to reach the Olympics. So, Beijing 2022 it is!'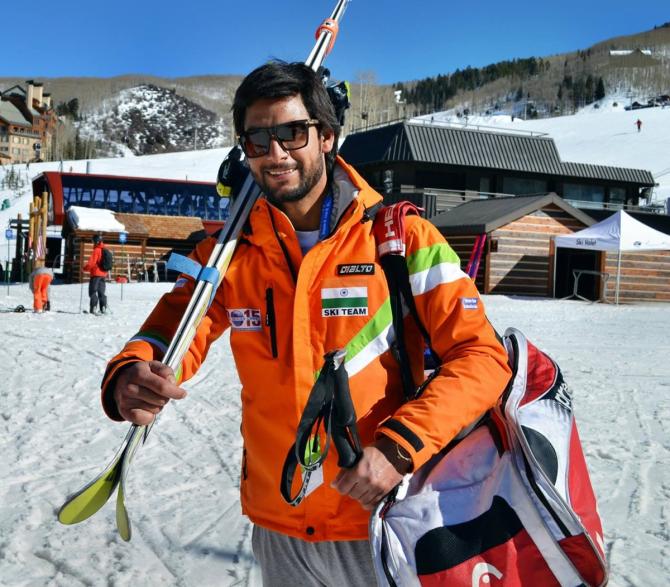 Arif Mohammad Khan took up skiing at the age of four. Coached by his father, who runs a ski rental shop in Kashmir, it took him three years to learn the basics. When he was seven, he was picking the brains of local skiing instructors in Gulmarg.
The result: At 12 the alpine skier participated in his first National championship and won a gold medal in the slalom. Not surprising!
Before turning 15 he participated in the Asian Junior Alpine Ski Championship, and at 17 was one of the top 15 skiers at the Changchun Asian Games in China.
Hooked to the thrill of raw speed, Arif realised that only hard work could take him to greater heights. He resolved to strive for perfection and never lose focus. Since then, he has represented India in the 2013, 2015 and 2019 World Ski Championships.
The lanky skier's most recent success is winning another championship in the slalom at the National Winter Games.
For the uninitiated, alpine skiing is fast and dangerous and offers must-see races at major championships.
The slalom is the shortest, yet most rapid-paced event. Racers launch out of the start to arc around hinged poles, called gates, often knocking them down in order to ski the tightest line.
Alpine skiing uses Newton's Second Law of Motion: Force on an object produces acceleration. Force is created by the skier kicking out of the gate and pushing on the snow while the object or the skier produces an initial surge of acceleration down the slope.
As the 30 year old sets out to hit the slopes at the FIS Alpine World Ski Championships, the biggest event in the alpine skiing world after the Winter Olympics, from February 8 to 21 in Cortina d'Ampezzo, Italy, he can't help but notice how financial help is lacking.
In 2018, Arif ran from pillar to post for financial aid after being refused by the sports ministry and the Indian Olympic Association, as they felt there was no real hope of winning a medal at the Winter Olympics.
Three years later, Arif is preparing for the Beijing Winter Olympics in 2022, but, again, faces the funds crunch.
India's Champion skier speaks to Laxmi Negi/Rediff.com: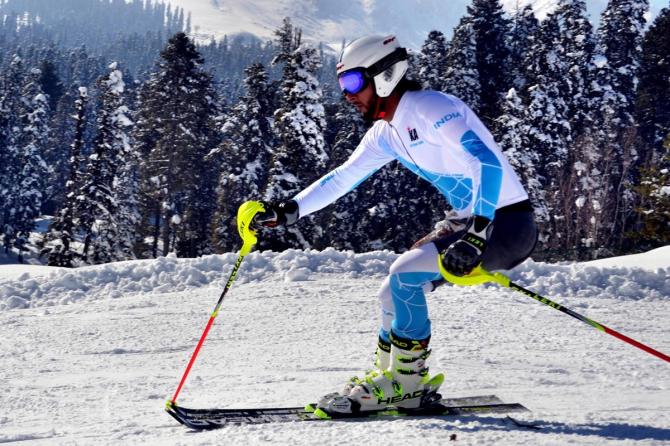 How did you start skiing?
My father ran a small ski rental shop in Gulmarg. For three months my family spent winter there helping my father.
When I was four my father gave me the smallest pair of skis from his shop and taught me whatever he knew of the sport. I still have memories of my first skiing lesson!
I am from Tangmarg, district Baramulla; there are mountains everywhere. As children we used to play football and cricket, but there was no playground around us.
Skiing was the only convenient sport for us. We used to wait for winter to ski during those three-four months.
Who was your first coach?
Apart from my father, till I was 12, I used to keep asking local instructors about the different methods and techniques. I was also polishing my basic skills.
When my father thought I was ready I entered my first National Junior Championship at the age of 12 and came back with a winner's medal.
I kept winning continuously for three years in a row. In 2005, when I was 15, I went to China for the Asian Junior Alpine Ski Championships.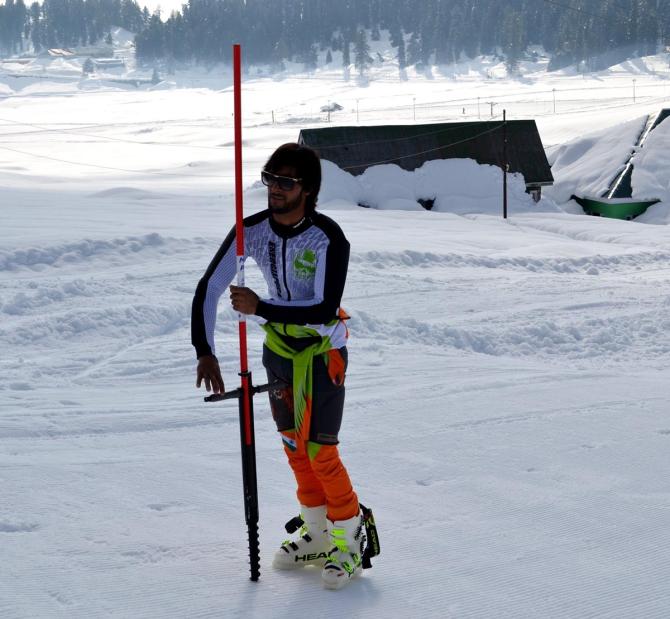 What did you learn from your first international championships?
I realised that it is a great sport for me if I continue the hard work.
Worldwide, skiing is a very popular sport that brings business. I took it as a sport because we live in the mountains and Jammu and Kashmir is all about the mountains.
They are not just any other mountains, but the great Himalayas. The world needs to know that we also have mountains, we also have snow and sportspersons.
Skiing is not just in Europe or the USA or Japan; we too can also take up this sport.
When I was 18 and I travelled around 5-6 countries, I decided that we have great potential to build this sport in India. I decided to take this sport professionally and show the world that India has the potential in skiing too.
The tough part is we need to not just make the world aware of skiing in India, but also other parts of our country which are unaware of the fact that we compete in winter sports and the life of the people in the mountains.
I would like to take this sport to an international level where the world can recognise India as a sporting nation.
See, skiing brings a lot of business to the locals in Gulmarg, Himachal Pradesh and Auli in Uttrakhand in winter. We get a 3-4 months business out of this sport.
But what we lack is infrastructure and good financial back-up. Let me tell you, there is no dearth of potential and talent in our country; what we lack is financial support.
There is government support, but they cannot invest crores of rupees. They provide award-winning money and sometimes equipment, but what we need is private funding.
Internationally skiing is followed by millions of people. In Europe, this sport generates $35 billion and in, the US it is a $12 billion economy.
In India, if private investors come and develop infrastructure for this sport it will be great.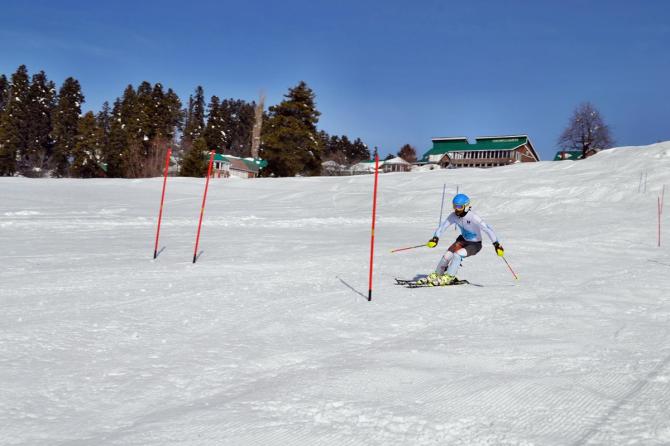 What is an alpine skier's day like?
It is hard work, but I really enjoy it.
It is 7-8 hours of hard work which starts at 5 am. We hit the slopes by 7 am.
The coaches prepare the slopes and the lifts start operating. It starts early in hard conditions with 2-3 hours of training.
In the evening I prepare my skis and other equipment for the next day which again takes 1-2 hours.
I ski 7-8 months in a year.
I hardly get to stay a month in Gulmarg. Last year was different due to COVID-19, but for the last 10 years I have been travelling all over the European countries and training with their teams.
I train in Switzerland, Norway, Sweden, Austria and there is skiing all-round the year in France.
The USA has excellent infrastructure and in Asia, Japan is one of the best countries in skiing.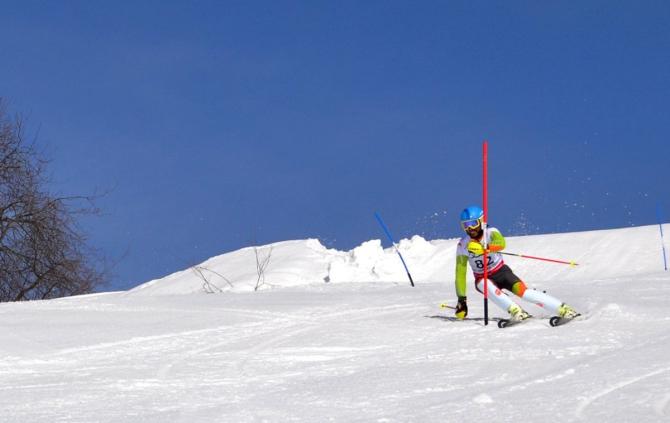 What is your goal?
My goal is to reach the Olympics. So, Beijing 2022 it is!
To represent one's country at the biggest stage is what drives us. It is with this motivation that I am moving forward.
For that I need certain amount of money for my training and a personal coach whom I need to pay. Once these things are sorted, you can do anything.
Because if you don't have funding, you cannot train, you cannot travel for the races, you cannot buy equipment.
I try to cut corners by staying at the most basic accommodation. I have requested my coaches to give me slightly discounted rates. And we have an understanding wherein I help them as their assistant while they train other recreational skiers.
Training abroad easily costs almost Rs 50 lakh for a few months and in a sport like skiing it is impossible to find a sponsor.
My family and friends have helped me so far, but it is not a feasible option every time. I have approached companies, but they don't see this sport which could benefit them.
Do you ever think of taking up some other sport?
I would never want to give up this sport.
Winter sports gives you wings and when you are good at it, it gives you hope to do much better and you never want to leave the slopes.
When you go down at the speed of 100-120 mph you inspire yourself.
When you finish and you look back at the slope, it lifts your spirits.
You can support Arif Khan's crowdfunding campaign, set up by his friends, with a donation here.