All work and no play makes Jack a dull boy!
That is what ace shooter Heena Sidhu also believes. The 23-year-old, who will take part in the London Olympics this July-August, feels that training the whole day can be mentally tiring and end one's hunger towards the sport.
Her approach to training is different, just like her selection for the Olympics was. She earned a quota place for the Games after the National Rifle Association of India (NRAI) decided to exchange a spot in the 50m Rifle 3-Position event, won by Imran Hasan Khan, with the women's Air Pistol event.
- Sidhu says Govt yet to fund her Olympics training
The selection was clouded in controversy as she was chosen ahead of Athens Olympics silver medallist Rajyavardhan Rathore. The NRAI, though, justified their stand, insisting 'merit' was the sole criteria.
But that hasn't fazed Sidhu a bit; she is now only focussing on the mega event.
In a freewheeling conversation with Harish Kotian, the Olympics-bound pistol shooter reveals why she took up the sport after giving up dental studies in Patiala and her different approach to training. 
How does it feel to make it to the Olympics? Were you expecting to make it to the squad?
I was pretty positive about it. What more can I say about it? Everybody is asking me the same question. In fact, I am not feeling anything. I was pretty positive about it and was happy when I got selected. Now there is no feeling.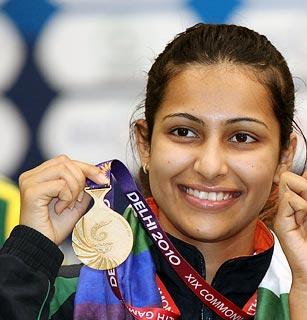 There was some controversy with regard to your selection. Did it affect you?
No, it didn't affect me, because I was not paying attention to it.
How important is winning an Olympic medal for you?
It is important. It is every athlete's dream and everybody works hard for it. I don't know if I am going to win or not, but I want to be satisfied after my performance.
You took to shooting quite late, after you turned 16. You were studying dentistry in Patiala but decided to switch over to the sport . What made you switch over?
I loved guns since I was a child. I wanted to do something in sport, because I was so bored studying the whole day. I was passionate about guns, so I thought let's take up shooting as a sport or hobby.
At that time, it was not a sport; it was more of a hobby for me. So that's how it happened.
Did it also help that you have a shooting range in the backyard of your house?
Yes, it does help. I didn't help me initially, but, as of now, I don't train much at my house. It is only when I am taking a long break that I train at my house. I just pick up the gun and train for an hour or two just to be in touch with the game. The basic shooting and training that I do is in Pune now.
You are also someone who does not believe in training the whole time. What is the thinking behind it? We have seen shooters generally train for hours to get better...
I don't believe in training for shooting the whole day. I know some of the shooters, not in my team, but some others, who believe that training the whole day and firing shots for six to eight hours can make you a better shooter. That is not the thing. You need some time to cool down and give your body and mind some rest before you pick up the gun again.
I think when you go to the shooting range you should have some hunger for shooting inside you. If you keep shooting the whole day, then after 10-15 days you will not even look at your gun.
The NRAI said you were undertaking some mental and technical training at your own level, as you knew your chances of making it to the Olympics were bright. What sort of training did you undertake to prepare yourself?
I think mental training is important for the Olympics, where you have players taking part for the first time. In such a big event you might get overawed, because there will be so much media pressure, so many people asking you questions, so many expectations on your shoulders. So mental training becomes important. That's my main goal is at the moment.
The technical training would be about shooting. It is about what to do when I am on the firing line, what aspects of shooting I should pay attention to, about the technique of shooting and many more.
You won medals at quite a few big events, like the silver in the 2009 ISSF World Cup at Beijing, a silver in the 10m Air Pistol Team event at the 2010 Asian Games, a gold in the team, and silver in the individual events at the 2010 Commonwealth Games. How much confidence does that give you heading into the Olympics?
The performances that you have shown in 2010 are not going to give you confidence when you go into the Olympics in 2012. Even if I had shot badly there, and if practice is good and I am working hard, I can do well in 2012. Experience is a slow and steady process. You gain experience from every match and it is not important that if you win a medal in the World Cup or Commonwealth Games you may come out with a very big experience.
Sometimes a small domestic match can teach you a lot of things which you never knew; so experience is an ever-learning process. You win something and you lose something in every match.
Performing in big competitions only helps you to perform under pressure, because competitions come with big pressure and big expectations. You just learn to perform when there are a lot of expectations and under pressure.
What is your schedule for the next four months, heading into the Olympics?
As I told you, I will be paying attention to my physical training, mental training and technical training. There is nothing more to it. If I get into more details or go in for something else, it will only end up complicating my mind. There are just three things a shooter needs: physical help, mental help and technique.
I will also be taking part in two World Cups before the Olympics.
Indian shooters face problems, like buying the weapon or importing ammunition. Have you also faced such problems? How do you manage?
I have been associated with the Mittal Champions Trust for the last 4-5 years. I have never faced any problems, because they have helped me with everything, including equipment, training, stay during the competitions or training, and all that I need.
For the Olympics, I have given my budget and training programme to the government, so let's see when they sanction the money. I think it's already very late. It is March now and only four months left for the Olympics. The government hasn't sanctioned any money yet.
My budget for this year, till the Olympics, is very huge. The team is training together and they are going to get the money from the government for all the camps and training sessions. But because I will be training alone, I need the money as soon as possible to start off.
As of now, the Mittal Champions Trust is helping me, but the budget is quite big, so I need the government's help. They are not sanctioning the money as of now.
Did you try and contact anyone in the Sports Ministry to find out why the money is not being sanctioned?
I don't know whom to speak with. I have sent it [the budget and training programme] to my association and they have forwarded it to the ministry. The association has done whatever had to be done, and it is now in the hands of the ministry.
Photograph: Graham Crouch/Getty Images