Away from the I-League, India football captain Bhaichung Bhutia is sweating it out for United Sikkim Football Club (USFC) in the 2nd Division League in Shillong. In a freewheeling interview, the ace striker said he won't ever play for any other Indian club other than USFC.
What prompted you to launch United Sikkim Football Club?
The game needs to spread to all over the country. Let's not forget India is a vast country and football has a huge fan following. But there are certain parts which hasn't had a representation as far as the I-League is concerned. Hence, I thought we should have a local team from Sikkim which should serve as a role model to others.
How much of a difficulty did you face in incurring the expenses?
Every club has to be a commercial entity. United Sikkim is no different. We need to reach out to the people and can never ignore the socio-cultural aspect. Community development is something we stress upon. The kids need to be involved and the academies will follow. 
We have undertaken a three-year plan to take USFC to the I-League.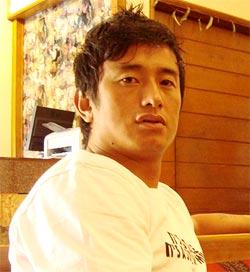 Will you be considering playing for other I-League clubs too in the future?
My playing career is committed solely to United Sikkim. I will never play for any other Indian club apart from USFC. I am getting offers from I-League clubs for the next season but I will not move out anymore. Even if USFC doesn't qualify for next season's I-League, I won't change my mind.
But yeah, I will retire in an East Bengal jersey. 
How long do you want to continue playing for the national team?
Right now, I'm yet to reach peak fitness. The injuries have been troubling me for a while. I will wait for some time and see how my body responds. But yeah, I haven't retired as yet. Wearing the National Jersey is something I have always relished and am up to the challenge.
Was it difficult to convince national team players like Rennedy Singh and NS Manju to play in the 2nd division?
Indeed, it was. Both had offers from other clubs. But they trusted me. All I told them was that I will be building a good squad for sure.
Now that Bob Houghton has resigned, what kind of coach do you intend to see taking charge of the national team?
The momentum needs to be sustained. Indian football is at the threshold of something big. The team did perform well in the last four years.
We need to carry on from there.