'It's not just the wins and losses, but the competition is something they live for.'
'That will be missing whatever Sania takes up.'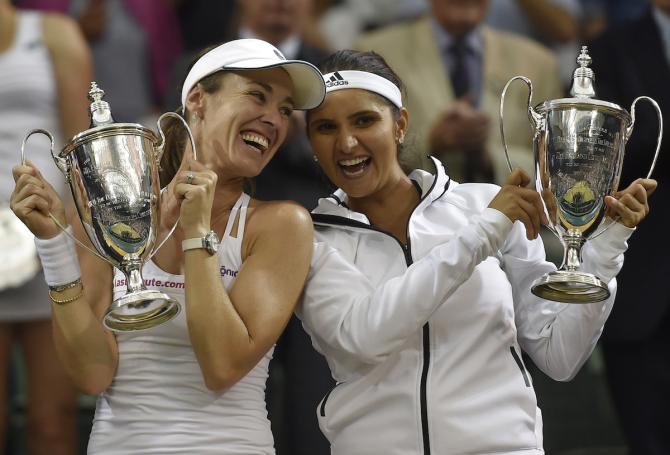 "I wore dark glasses because my eyes gave me away." This one line describes a plethora of emotions. Sania Mirza's father may be the parent of a Grand Slam winner, but he is still just a dad at the end of the day.
As Sania called time on an illustrious career, Imran Mirza -- Sania's father, coach, mentor, guide -- opens up about the making of a champion in a candid chat with Chitrangada Datta Chaudhuri for Rediff.com.
Sania first held a racquet at the age of six and finally called time on her career at the age of 36. A rewarding career, but as her father points out, everything has a "shelf-life".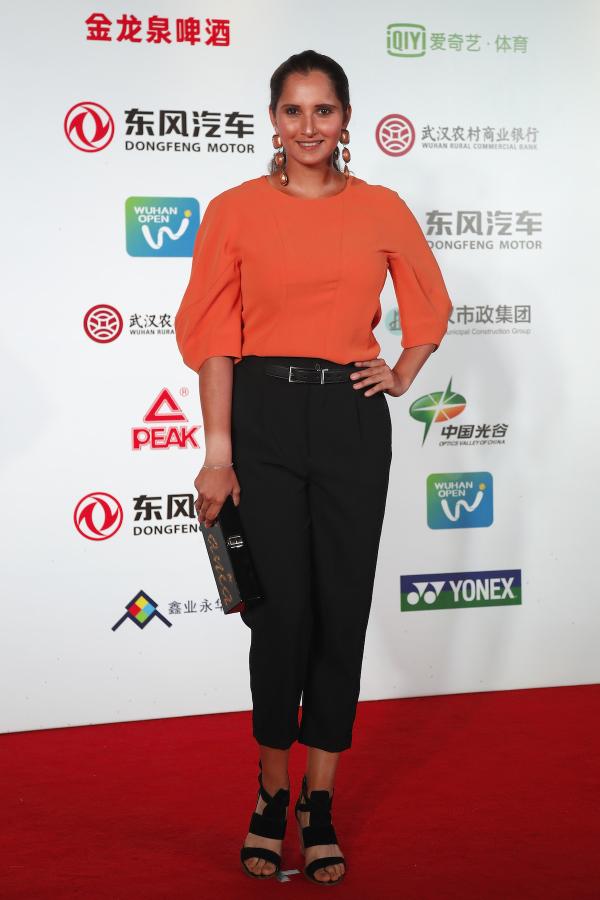 Could you take us through the early stages of Sania's career? How did it all begin?
We are a sporting family. It's part and parcel of the way we function. It's normal for any child to play a sport, not necessarily to become a champion. The values and tradition of sport is important.
She started playing tennis at the age of six. Within a week her coach called me and said it was unbelievable the way she is hitting the ball: 'You have to come and see her play.' I've watched enough sports and been around enough coaches to realise that maybe they were exaggerating because they wanted to get parents to be totally involved.
I was trying to make ends meet at that point of time. Six months later, I went to watch her, and I really saw something very special in her. Of course, we didn't realise one day she would win Wimbledon! It was more like you know maybe she can be a state or an under-14 champion.
We kept encouraging her and she kept on performing. That's how it all began.
As you said, she was special, but a Grand Slam winner?
She had a very special talent, there's no doubt about it. I had an eye for that because apart from being actively involved in sport and having followed sport very closely, I also ran a sports magazine. So, I had an analytical eye. I could see there was something very special.
Of course, I didn't see at that time that she would win Wimbledon and end up being No 1 in the world.
She was definitely special; the way she was striking the ball and the way she was hitting the balls.
Parental Pressure: The demons of the glitzy sporting world. Players deal with pressure, but where do parents come in?
For us, it was about enjoying the sport. It was reaching what you are capable of, not winning the world championship. It was something that I believe kept the pressure away.
Today's parents -- the moment kids step onto the tennis court, after the first few months, they are thinking of when their child is going to win. That was never there with Sania, it was only about enjoyment, not feeling pressured by the parents, or the pressure to win matches.
For Sania, it was about trying to reach the pinnacle of what you are capable of doing.
Wimbledon was a far-off thought. It was only a dream. It was more about winning the next under-14 title or reaching the final there or the doubles there and enjoying the moment. That, I think, was responsible for taking away any kind of pressure from her.
Today there is lot of pressure from parents to perform. Sania was never there to earn money. She was there to enjoy the game, learn the ethics of sport, the values of sport and that was very important for us.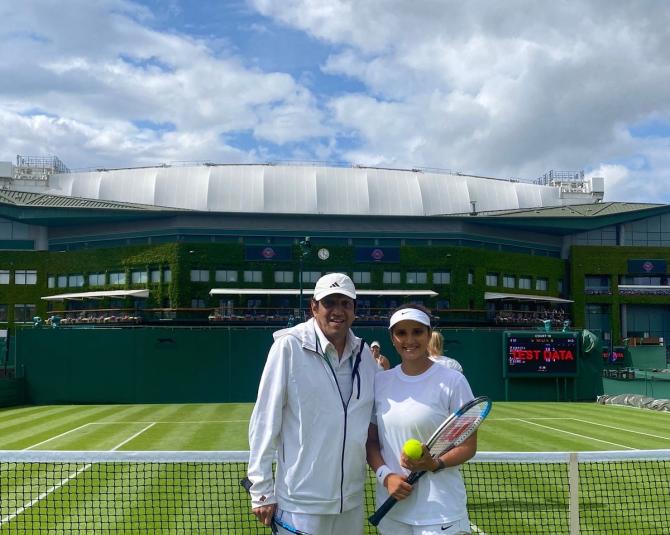 Could you take us through the changes that followed, after her Wimbledon win?
Obviously, the pressure changed. But those kinds of pressures, professional sportspersons have to handle. But when you have a grounding of this kind, that as a child you are not pressured by your parents, or what the world thinks. Once we are confident that winning and losing isn't everything in life -- that was something we taught her very early -- that kind of pressure wasn't there.
You cannot avoid the external pressure where people are expecting you to win every match, but I think the grounding was very solid.
She enjoyed the pressure, that's something that she did. I remember asking her how she deals with it, you know when you are a match point down, she's like 'the other person has more pressure...I use that.'
A champion has to enjoy and take in the pressure, otherwise you can't be a champion. Champions are not necessarily those that play the best forehand, backhand, they are those who perform under pressure. And I think that's where Sania came out. I think the early grounding helped her.
How they are treated when they lose is important.
Family pressure is something I cannot do anything about. As a coach you are there with the child for the two hours, but then you go home and spend the rest 22 hours with your family. And that's where their responsibility comes in, how they are treated when they lose and how they are treated when they win. All those things put pressure.
I remember there was one very talented player -- she used to put so much pressure on herself. She was playing at the WTA level, she was very talented, but she would get very nervous, and her performance was very below what could be expected.
I remember asking her why do you put so much pressure on yourself -- she was about 21-22 then -- she said when I was a child my parents used to put so much pressure on me to win that I used to dread losing. Today they have stopped putting that pressure, but I've started putting pressure on myself.
So that's the way it affects the child. For us it was extremely important to enjoy the sport. Even today that's what I try to teach most of the parents who come to the academy with their kids -- that you must take the pressure away, because once the child stops enjoying the game it's over.
The child will automatically reach their pinnacle only if they enjoy the sport. If they stop enjoying the sport, they will give into the pressure.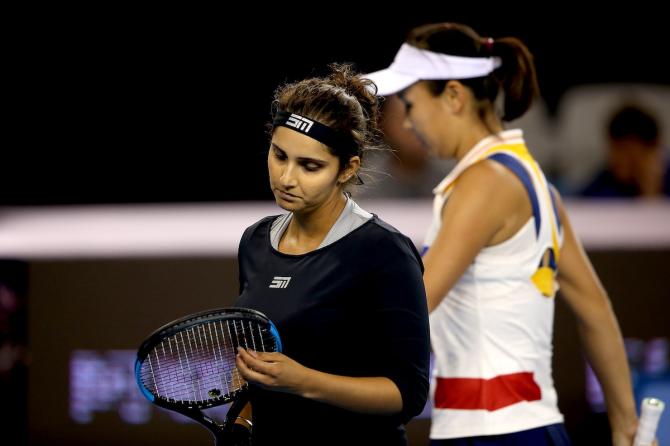 How did you balance the role of being Sania's coach and father?
Tough balance. I was always a parent first and then a coach. It wasn't the other way round like most people. For me she was my daughter first and then my student. It wasn't an easy role to play.
One of the things I used to do and still do whenever she was playing was wearing dark glasses, because even though I may not show any emotion, my eyes give me away sometimes. My disappointment with a shot or something like that, and I don't want that to happen. So even as a child if she lost we would celebrate -- go out for dinner and have a good time.
We wanted to make it clear to her that winning or losing, it was all part of the game and we were not disappointed as long as she tried her best, it was okay. Those are things which are not easy to do.
I remember we were spending all our money, I used to drive her down. I went all the way down to Thiruvananthapuram for a tournament, when she was 12 or 13, putting all the money I had. We drove for around 30 hours to get there. And she goes and plays an awful match and loses.
It can be very heart-breaking as a parent. That's where you have to step up, that's where your role as a parent comes in. That's what I try to teach to the parents at the academy. It's not going to be an easy role, but these are things that will help the child immensely.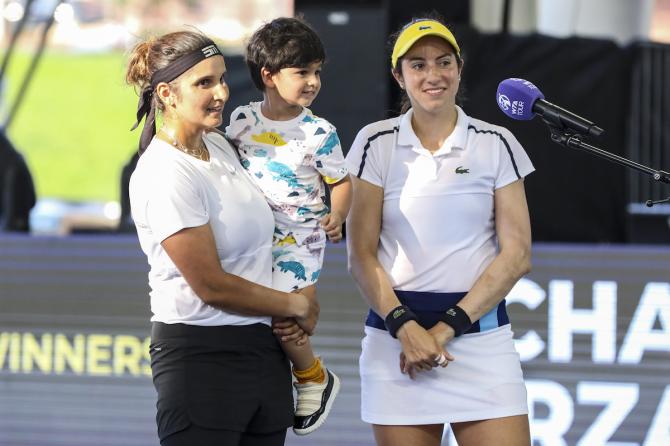 On Sania making a comeback after becoming a mother.
It was very important to her. To make a point that life does not end once a child is born, or your career doesn't end for a woman once a child is born.
She wanted to prove that if you can get back into such a competitive sport like tennis, then any other profession should not be a problem and I think she did that, despite all the problems.
Sania is set to don the mentor's hat for RCB in the WPL. What changes the most after an athlete hangs up their boots?
What we will mostly miss is the competition. That's something that keeps you going. It's not just the wins and losses, but the competition is something they live for. That will be missing whatever she takes up.
But it's a challenge, it's a change in lifestyle. Everything has their shelf life. She has had a long career, 20 years as a professional, she's had a great career. Can't ask for anything more than that!