'I could not believe that the prime minister knew me.'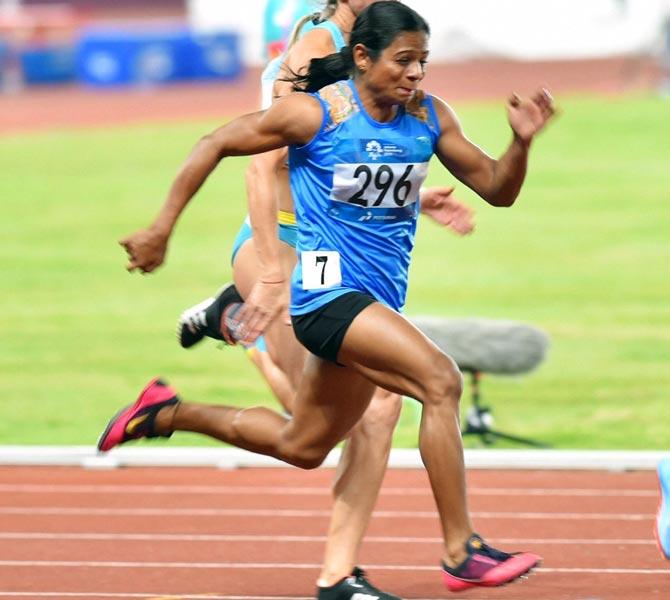 Dutee Chand is the first Indian lady athlete fter the legendary P T Usha to win two sprint medals in a single Asian Games.
The 5' 3" sprinter finished second in the 100 and 200 metres at the Jakarta Games.
What Dutee achieved is certainly commendable after everything she has gone thorough.
The 22-year-old runner from Odisha was not allowed to participate in the 2014 Asian Games as she was serving a ban under the International Athletics Federation's hyperandrogenism policy. She filed a plea against the policy before the Court of Arbitration for Sport and won her appeal.
On Wednesday, September 5, Prime Minister Narendra Damodardas Modi acknowledged her achievements at a felicitation for India's Asian Games medalists.
The prime minister told the champion that he has been following her struggle and promised her all support.
Those words from the prime minister "boosts an athlete's morale," Dutee, delight in her voice, tells Laxmi Negi/Rediff.com
Is there pressure when you are compared with P T Usha?
Since I broke the National record in the 100 metres in 2012, the media has been calling me the next P T Usha.
I have been compared to the legend from childhood, so I am used to it.
I am glad that during the Asian Games that potential materialised. There is no looking back now.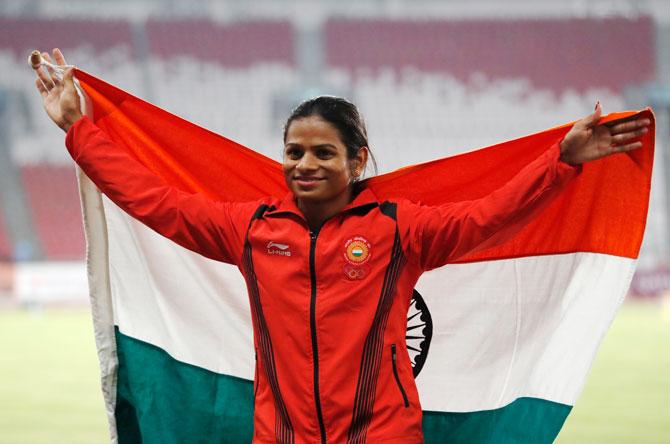 How did you prepare for the Games?
I lost out on a lot of training during 2014-2015 when I was fighting the (hyperandrogenism policy) case at the Court of Arbitration for Sport.
I was under too much pressure and could not concentrate on training.
But in 2017, when I was cleared, my main focus was training.
My coach realised that during the Olympics and World Championships in London, training in the night was crucial, so we incorporated night training.
I can now say that for this Asian Games I have been training from morning till night.
My state government has been very supportive. Whatever I needed they have given me in terms of doctors, physios and training facilities. That aspect helped me.
Did it occur to you that had you been a little taller you would have won gold at the Asian Games?
Of course! I really think I would have won gold had I been a little taller.
But I am glad that I gave tough competition to my opponent and only a micro second separated the gold and silver medals.
How important is a supportive sports minister?
(Colonel Rajyavardhan Singh) Rathore sir has been an athlete and he knows what we want and when we want it.
It was such a surreal experience to see him interact with athletes in the Games village and serve us food.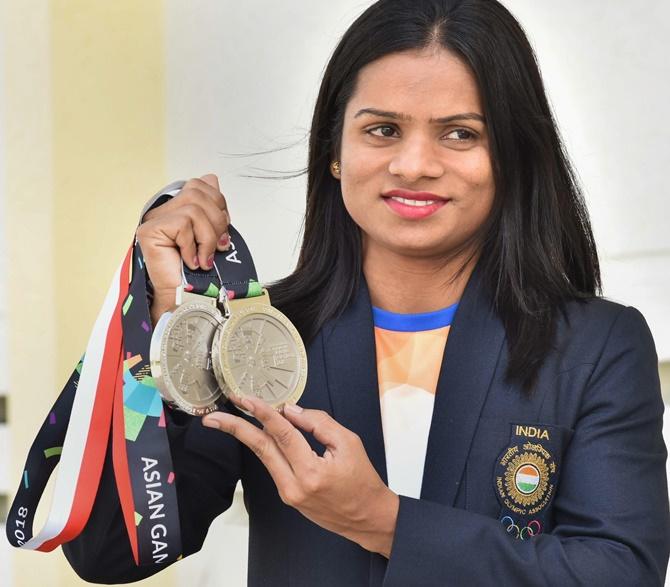 What did Prime Minister Modi tell you at the felicitation ceremony?
I could not believe that the prime minister knew me.
He told me he has been following my story and knows about my struggles. He assured me that his government will help me in whichever way possible.
When your PM knows you, it boosts your confidence. What else can you ask for?
What next?
I hold the National record of 11.29 seconds in the 100 metres, so my coach N Ramesh has set a target of sub-11 times in the run-up to the Tokyo Olympics.
All I know is there is no time to rest. I have to get back to training for the 2019 SAFF Games and the World Championships.