'I will try my best to win gold at the Olympics. You can be assured that I will put in more than 100 per cent to achieve it.'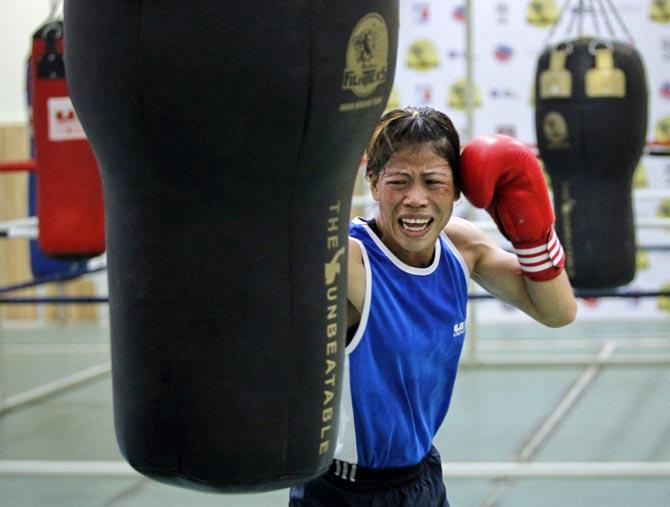 IMAGE: M C Mary Kom during a training session at the Balewadi Stadium in Pune. Photograph: Danish Siddiqui/Reuters
With exactly a year to go for the Olympics, M C Mary Kom is leaving no stone unturned to excel at the Rio Games.
Having claimed a bronze in the London Games, she is determined to return with a gold medal from what she says "will be the last boxing tournament of my career."
The 32-year-old Manipuri boxer, who won gold at last year's Asian Games, is currently working on her fitness and boxing skills in Pune.
She wants to do well at the World Boxing Championships in Astana, Kazakhstan, in February, which will enable her to qualify for the Olympics.
In a freewheeling chat with Harish Kotian/Rediff.com, the Indian boxing legend reveals how she plans to win gold at Rio and more.
A year to go for Rio. Are you in right shape, physically and mentally?
Definitely! I am more than a hundred per cent fit, mentally. I am getting into my best shape day by day. I am looking to get back to top physical shape in time for the World Championships. I am working really hard towards it.
Are you confident of winning gold at the 2016 Olympics?
I will try my best to win gold. It feels good that the entire country is supporting me and wants me to do well. Right now, I know I have to improve my fitness and work hard in the training sessions.
At the last Games you were not happy with the colour of your medal...
I want to change the colour of the medal, win that bright yellow metal and make my country proud. You can be assured that I will put in more than 100 per cent to achieve it.
You are 32. Will you retire after the Rio Games?
It will be difficult to continue after the Olympics. I think it will be my last tournament.
I don't want to continue for too long as it is affecting my health. I enjoy training and going out in the ring, but I also need to take care of myself.
Male boxers may not find it that difficult after a certain age, but for women, after having a family, it is not that easy.
I proved to everyone that it is possible to be a successful boxer despite having kids. I underwent a couple of surgeries in between and feel I should pay attention to my health.
After winning the bronze at the London Olympics, you underwent two surgeries and had a baby. You returned to training last year after a long gap. After failing to qualify for the Commonwealth Games, you won gold at the Asian Games. How do you stay fit after regular breaks?
It is a not a problem to get my peak fitness levels back. I would say it is easy for me. I am training with different coaches under whom I did well at the Asian Games last year.
Right now I am working on my boxing under Lenin Meitei, who was unfortunately banned during the Asian Games. I have two coaches -- Lenin and Chhotelal Yadav -- under whom I am training currently in Pune.
They were very good boxers during their time and won a lot of medals at international events. I am feeling good training under them. I think I am improving every day and learning a lot from these two experienced boxers.
Olympic Gold Quest is playing a big role and helping me with everything, including my training programmes, travelling and all that I need.
Talking about getting my rhythm back, it was quite difficult in the first week, but after that things became a bit easier.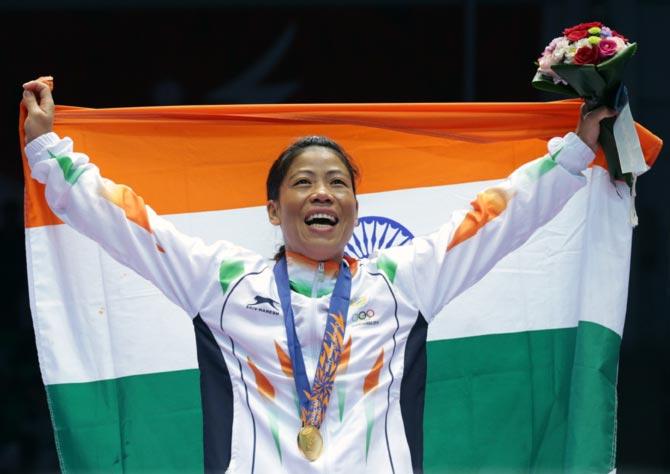 IMAGE: M C Mary Kom celebrates after winning the gold medal at the 2014 Asian Games. Photograph: Chung Sung-Jun/Getty Images
There was some controversy about you training separately, not attending the national camp. Do you find it better training on your own?
It is better to train as a team, but only if there are no problems within. We trained together for so many years at national camps. You support each other, try and help each other in training; it feels good when you train together with all your fellow boxers.
But there are some problems which keep happening in between and you can't focus on your training completely.
So it is better to train alone and focus on your boxing completely.
I find it easier to train separately with my coaches who can give me full attention. That is not possible when you train in a group.
The ongoing problems with the Boxing India Federation have also not helped. I decided to take things in my hands so that my performance does not suffer.
Do you expect the women's World Championships to be very tough?
My preparation for the tournament started last month when I underwent a fitness camp in Bangalore. After that I came to Pune, where the focus is more on boxing and the fitness routine.
I will be training non-stop till the World Championships where I have a chance to qualify for the Rio Olympics. I will be taking a few breaks in between, but mostly, I will be training continuously for the next one year.
Was missing out on the Commonwealth Games the worst experience of your career? Did it hurt you?
I was very hurt. I will never forget that incident. I have never seen such a thing happening in a competition. How was the result of that match decided? No one supported me at that time and I felt really upset and sad.
I did not mind losing, but felt the decision was not correct. I used all that anger in a positive way, did not speak about it and focused on my boxing.
Women's boxing was introduced for the first time at the London Olympics. Will the competition be tougher at Rio?
The World Championships will be an important tournament for everyone because it is a qualifying event for the Olympics. Winning an Olympic medal is easy if you have a bit of luck on your side, like if your opponent gets injured or if you get a favourable draw.
The World Championships will be tougher because everybody will give their best to make it to the Olympics. Even a slight mistake can cost you a place in the Olympics, so you have to be at your best in that tournament and not make even a small mistake.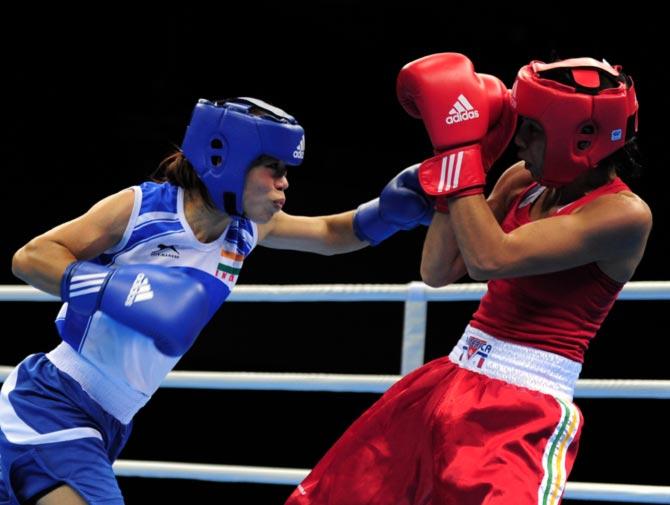 IMAGE: M C Mary Kom, left, in action against Pamela Paoloa Benavidez of Argentina during the quarter-final bout at the 2012 Olympic Games. Photograph: Jamie McDonald/Getty Images
Not many sportspersons have had a movie made on them during their active careers. Were you happy how Mary Kom turned out and how it portrayed your life and career?
After that movie came out a lot of children and parents landed up at my home. The parents wanted their kids to take up boxing. I think everyone in the country got to know about my life and achievements. Hopefully, it will inspire more young boys and girls to take up boxing and make the country proud.
Priyanka Chopra won appreciation and awards for portraying you on the big screen. Before the movie started she came down to Manipur and visited your home to learn about your life. Any plans to invite her for the launch of your boxing academy?
Construction is still going, so right now I have not thought about it. If Priyanka can make it for the opening of the academy I would be very happy.
After retirement you will have more time to give to the Mary Kom Boxing Foundation in Manipur which you are setting up with your funds to train young women boxers...
After retirement I will concentrate full-time on my boxing academy. It is not complete yet because in Manipur there is this ILP (Inner Line Permit) problem going on; this Inner Line Permit is needed by people from other states to work here.
The people who were working on building my academy were from outside the state so they had to go back. That is why the work has got stuck.
Not much work is left; 99 per cent is done, only the finishing part is remaining.
Hopefully, the ILP problem will be resolved soon, I can complete the work soon and start my academy.
How many boxers train at your academy?
There are 35 boxers in my academy; they include men and women from Manipur as well as other states. We are trying to help young kids who are interested in boxing but don't have enough funds to pursue their dreams.
Anyone in Manipur or anywhere in India who is interested in taking up boxing seriously can come and join my academy.
How are you sourcing funds for the academy?
We need lots of support to get the academy running. I have worked really hard to get this dream of having a boxing academy in Manipur get so far. I have got support from a lot of people and I am hoping more and more come forward.
I want more individuals to come forward and make contributions which will go a long way in producing future World and Olympic champions for India.
You will find the details on my Web site (http://www.marykomfoundation.org/). People can make a contribution for one day training of one athlete, or for a week or A year.
This project is not for me, but for my country.