Non-playing captain Shiv Prakash Misra is one of the pillars of India's Davis Cup campaigns since many years. Part of the Ramanathan Krishnan-Jaideep Mukherjea-Premjit Lall quartet in the 1960s, the Hyderabad-based national selector is now busy building a brand new, young Davis Cup team for the future. This, even as the All India Tennis Association's decision to ban Mahesh Bhupathi and Rohan Bopanna for two years has left a bad taste in the mouth. 
Misra spoke with T S Sudhir on the Davis Cup team, the ban and future of Indian tennis. 
Congratulations on such an emphatic victory over New Zealand. Surely you would not have expected to win by a 5-0 margin considering you were shepherding a very young Indian team. 
Thank you. Yes, the New Zealand team is very experienced, especially in the Davis Cup, while we had players who hardly played best-of-five games. But we banked on the youth factor of the team and their fitness. Having said that, a 5-0 result was definitely not something I had expected from the boys.
The first singles match that Yuki Bhambri played was critical, wasn't it? If he had lost, the morale of the team would have gone down.
That is true. Yuki was just not responding to all the talking I was doing to him; he was moving around like a zombie on court. He lost the first two sets 3-6, 0-6 and was trailing by one game in the third set when I told him that he has a world ranking of 188, and, as India's number one player, the country expects him to win.
I guess the pressure of being the number one player and to deliver in home conditions was too much. But that talk did the trick and he played superb tennis to win the next three sets and match. 
Vishnu Vardhan, who played with Leander Paes at the London Olympics, also came to the party…
Yes. Vishnu has a big serve and his game suits the synthetic courts. Plus, he has this ability to practice hard in such conditions. He played brilliantly.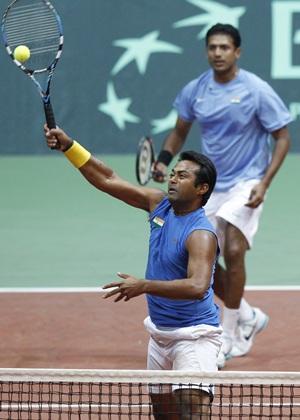 The doubles was the most important game, since, in the past, you had stalwarts like Leander Paes and Mahesh Bhupathi representing India. 
We had initially thought of fielding Vishnu Vardhan and Saketh (Myneni), but since Divij Sharan had played the final at the Shanghai ATP Challenger with Yuki earlier this month, we decided to field him with Vishnu and they played very well for India on debut. They got plenty of break-points in the second and fourth sets which they should have converted. 
The gains made in Chandigarh have, however, been offset by the unsavoury controversy off-court. If the dispute over selection before the London Olympics wasn't bad enough, now the All-India Tennis Association (AITA) has gone ahead and banned Mahesh Bhupathi and Rohan Bopanna for two years. You think that was a harsh decision?
I have nothing to say on whatever decision has been taken by the AITA. I do not want to take any sides; I want to stay neutral. Players can defend themselves.
Obviously, as the non-playing captain of the Indian Davis Cup team, you would be concerned about its impact.
Well, Bhupathi and Bopanna were not part of this tie against New Zealand. Also, remember, the seniors were mainly playing the doubles, but we still needed youngsters to play the singles. Don't forget, there are four singles matches but only one doubles match in the Davis Cup.
Seniors are welcome since they can provide guidance, but India will have to focus on singles. 
Do you think the AITA should have let bygones be bygones and forgotten the pre-London episode and moved on?
If the AITA feels that this decision had to be taken, what can I say? There have been too many unnecessary controversies and very unpleasant ones at that. This one was the fall-out of the London Olympics.
The rules do not permit players to give entries directly, which is why there is a selection committee. It would have been good if they had accepted the decision of the committee. They are facing the consequences now. 
You have been Mahesh Bhupathi's captain. What do you say to him now?
Mahesh Bhupathi has contributed a tremendous lot to Indian tennis; he has performed exceedingly well for the country. You cannot take the credit away from him. For him, at the fag end of his career, to end up like this, is unfortunate.
You reckon his career is practically over, especially playing for India?
At 38 years-plus, what else do you expect. 
Why do you think the Indian tennis scene is so murky?
When I took over as captain of the Indian Davis Cup team after the other players refused to play under Leander's captaincy, I had managed to sort out the differences and the dressing room atmosphere was good. Even London, where I managed the tennis team, there were no disturbances. The luck of the draw was against us, but I think everyone put up a good show. 
Do you think Rohan Bopanna has suffered as a result of this controversy?
Rohan still has age on his side. Let us see how things develop. Maybe, the AITA will want to end this acrimony in some way. 
This Davis Cup tie has marked the first step towards forging a brand new Indian tennis team. How do you see it developing?
We had to go for a new team as the seniors were ageing. This Davis Cup tie offered us the perfect opportunity and the boys came good. I must say all the six players given to me are excellent players and any of them could have taken us to the next level. 
Photograph: Reuters