'Starting my run from the sea and finishing it in the Himalayas will be quite an adventure.'
'I will be running two marathons a day.'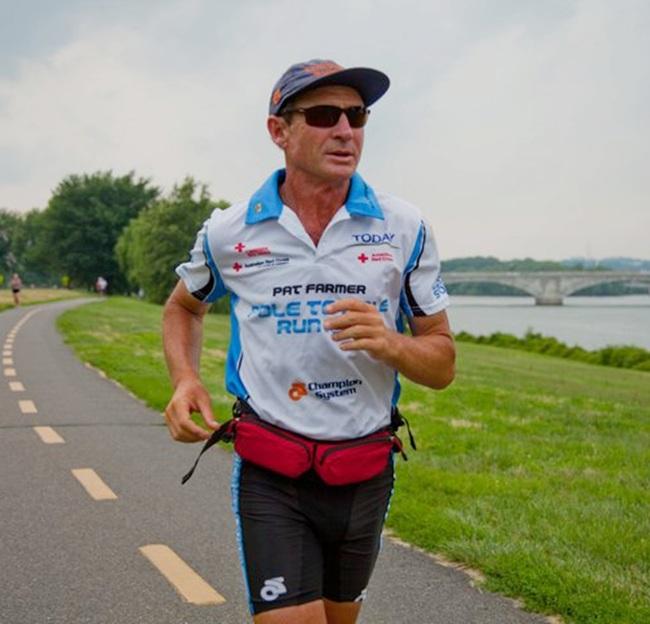 IMAGE: Ultra marathon runner Pat Farmer. Photograph: Kind courtesy patfarmer.com
He is a multiple world record holder in the ultra marathon, but little known in India.
Come January 26, Pat Farmer, a 53-year-old former Australian member of parliament, will be a familiar name when he turns out for the Spirit of India Run, during which he will traverse 4,600 km of the country over 60 days.
Starting at Kanyakumari in Tamil Nadu, India's southern-most point, he will head north, to Srinagar, running an average 80 km each day.
Farmer has run from the North Pole to the South Pole, across Australia, New Zealand, Vietnam and North America. In India he will journey through cities like Mumbai, Surat, Ahmedabad, Udaipur, Ajmer, Jaipur, Agra, New Delhi and Chandigarh.
"The temperature will vary in India as I will travel from Kanyakumari to Kashmir; the increase in heat will lead to exhaustion," says Farmer.
The run will be captured by Anupam Sharma, an Australian filmmaker of Indian origin.
"I looked at it as a dream opportunity. Pat Farmer is a very interesting character and I could not have asked for more with him running in my homeland. He will be running two marathons a day and it will be a challenge for the human spirit," says Sharma. "On the other hand, India will be my canvas to show its vibrancy and beauty."
"Pat runs for charity, peace and is raising funds for girls' education in India. He is known for bringing two countries together. When he runs, everything will be out of focus," insists the maker of unINDIAN, starring Brett Lee.
Ahead of the run, Farmer tells Laxmi Negi/Rediff.com how he plans to conquer India, south to north, over 60 days and 4,600 km.
Why did you opt to be an integral part of the Spirit of India run?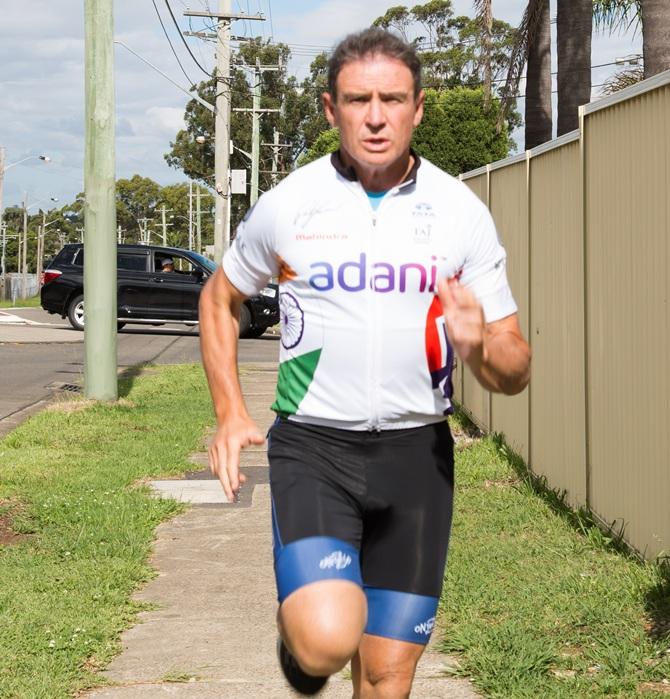 IMAGE: Pat Farmer set to run in India.
There is a very high population of Indians in Australia. So India was always at the back of my mind. It is also a very dynamic place with its diverse people, culture and traditions.
I am sure it will be a fascinating experience for me.
There are a few Indians who have done this: Arun Bharadwaj and Raj Vadgama, for instance. How is running from Kanyakumari to Kashmir challenging for you?
The course is very difficult. On an average, I will be running two marathons a day. I am sure no one has done it in such a short period.
Apart from running, I like adventure. Starting my run from the sea and finishing it in the Himalayas will be quite an adventure.
Do you train specifically for every run? In your case, it is like a mission.
IMAGE: Pat Farmer gears up for the Spirit of India run. Photograph: Kind courtesy patfarmer.com
I am working on strength training. The temperature will vary in India as I will travel from Kanyakumari to Kashmir; the increase in heat will lead to exhaustion.
It will be taxing on my mind and body and, therefore, I am training in soft sand for almost 20 km a day. I also run on roads to acclimatise. These days I am running almost 60 km a day.
What new training process have you included for your run in India?
I am used to running in different countries. I have run marathons in Colombia and Central America, where the traffic conditions are similar to that of India. So it is not foreign to me running in the midst of cattle and high-end cars.
I don't have the fear of unruly traffic and chaos; it will add an attraction for me.

The most common word that marathon/ultra marathon runners are associated with is 'crazy.' How often are you referred to as crazy?
It is easy to call people crazy or to pull them down, but I feel if we have the potential we should work hard to achieve our goals.
Are you planning to run with sportsmen/celebrities in India?
There are talks going on to include the prime minister of India in New Delhi. I will also be joined by some members of the Australian hockey team and cricket players who will be in India during my run.
Do unreasonable cut-off times make you tense? How do you enjoy the run?
I derive enjoyment from fulfilling the task at hand. There is a satisfaction in achieving each day's goal. There is an incredible sense of achievement in doing that.
Are you obsessed with timing or Did Not Finish (DNF)?
Yes, I am obsessive. I believe that if you start something, you need to finish it.
I have this task of 60 days of running and covering 4,200 km and I will finish it by running, walking, crawling on my hands and knees.
What is your ideal fuel (food) while running? Will you try Indian cuisine on the run?
I live on fresh fruits, vegetables and different types of breads. Also, coconut water, as it replaces a lot of minerals lost during the running. I also plan to try Indian cuisine, but will stay away from spices.
I have heard that ultra runners cry, maybe due to the pain or pure emotion. Have you experienced it?
Yes! Running long distances is like a roller coaster ride. There are high points and sense of euphoria and there are sometime doubts. These moments of despair can also bring tears.
There will be bruises and we have to accept pain as part and parcel of the sport.
I believe that nothing is worthwhile if it is easy.
Please click on the icons and be amazed at Pat Farmer's ultra marathon running career!