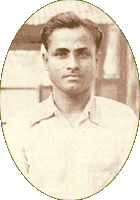 On his 98th birth anniversary, we salute the legend.

Days of Genius
Images from a dazzling career.

My Father Dhyan Chand
'Hockey did not give my father what he deserved,' Ashok Kumar tells Faisal Shariff.

Making of A Legend
How a soldier in the British Indian army became the darling of the sporting world.

Would Dhyan Chand be a legend today?
Modern hockey is all about synthetic surfaces, speed, hit and run tactics. What do you think?

The Indian who captivated Hitler
From the archives.