'We are all members of a tennis paradise that this year improbably promises to last forever -- and we owe it in no small part to the two champions' parents,' notes Rahul Jacob.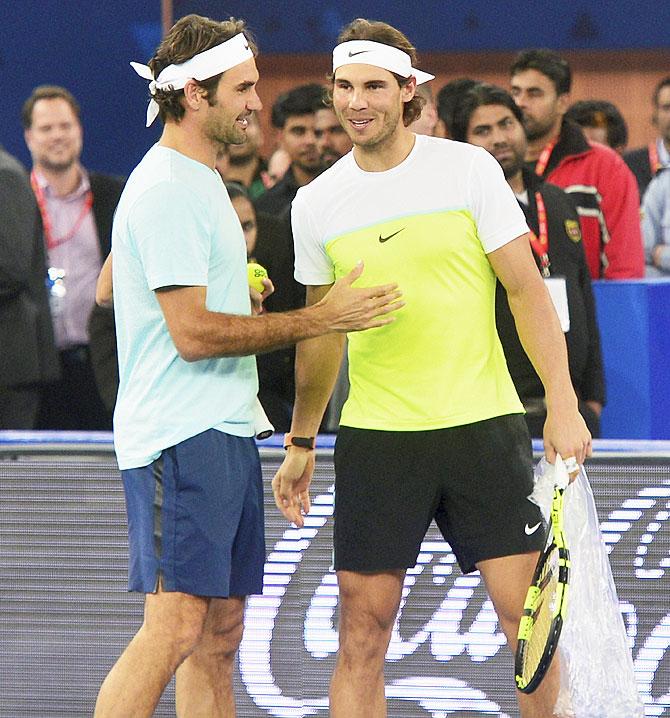 IMAGE: Rafael Nadal, right, and Roger Federer. Photograph: PTI
When Rafael Nadal was a teenager, he was scolded by his uncle and coach Toni Nadal for lazily forcing his foot into a new pair of sneakers instead of untying the laces.
Nadal had recently caught the eye of Nike, which was sponsoring his sports kit. Toni told his nephew he was showing disrespect for the factory workers who had made them.
A few years earlier, the teenaged Roger Federer had been on the receiving end of a similar lecture from his parents.
Federer had celebrated winning the world junior championships, the Orange Bowl in Florida, by dyeing his hair blonde.
When he returned to Switzerland, his parents scolded him severely for the outrageous extravagance of the $200 he had spent at the hair salon.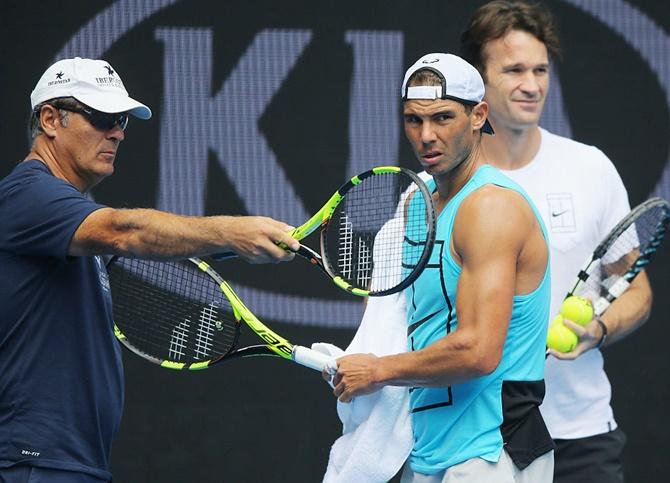 IMAGE: Nadal listens to coaches Toni Nadal,left, and Carlos Moya during a practice session. Photograph: Michael Dodge/Getty Images
One of the reasons for the success and longevity of arguably the most charismatic double act in sporting history is that they both had very normal middle class childhoods during which they had no pressure put on them to be anything other than courteous, grounded children.
Both families were comfortably well off. The Nadals have a family glass and window business in Manacor and a beach home to which he still returns.
Robert Federer was an executive with the Swiss pharmaceutical firm Ciba. When as a 14 year old, Roger opted to attend the Swiss National Tennis Centre and live away from his family during the week in a part of the country where he could not speak his native Swiss German, Federer made the decision on his own.
When I interviewed his mother Lynette in 2005, she said she first got to know by reading of it in a tennis newsletter.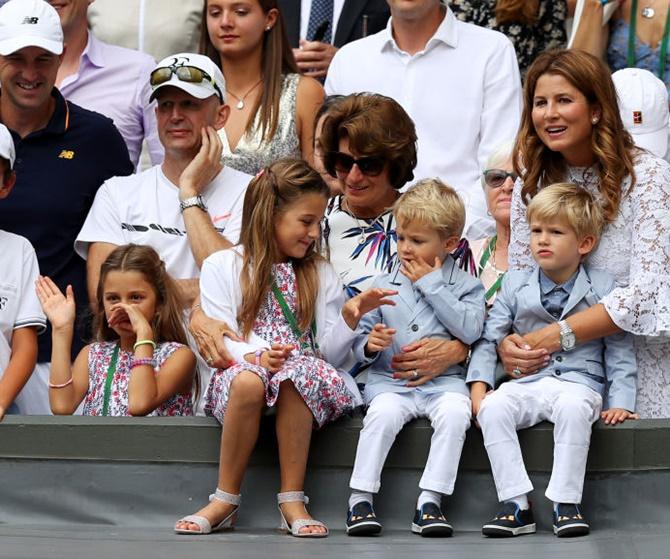 IMAGE: Lynette, Federer's mother, centre, with his wife Mirka, right, and his children celebrate his Wimbledon victory. Photograph: Daniel Leal-Olivas/Getty Images
The moral in the morality play of the sport's two most likeable champions may be that this sort of laid-back parenting has contributed to Federer and Nadal playing decades later simply for the pleasure of being the best they can be.
Child prodigies, who were pushed by their parents, such as Andre Agassi confess to having hated tennis as a result.
Pete Sampras confessed that at the age of 31 he no longer had the willpower to practise.
A video made for his fans by Federer, who turns 36 on August 8, of a practice session in Dubai last December, by contrast, shows a champion getting ready in earnest for a comeback after a six-month lay-off for injury.
Serious stuff you might think, but the predominant sound on the video is of a miked-up Federer laughing.
One moment, he says it is traditional to tease your coach for feeding the balls inaccurately.
Later, he giggles as he starts whispering theatrically when he realises his practice partner, the world number 15 Lucas Pouille, can hear him discussing tactics with Ivan Ljubicic, his coach.
It is impossible not to be envious of Federer for the sheer enjoyment with which he approaches the grind of a daily practice session.
When I interviewed Pouille last month at the Mercedes Cup in Stuttgart, he told me that what was remarkable was Federer's appetite for trying variations of his strokes and testing his stamina, with sessions sometimes stretching to four hours as he got ready for five-set matches ahead of the Australian Open. (Nadal has been restrained by his new coach from practising too much.)
Watching that video, I was reminded of Lynette and Robert coming to their teenaged son's defence after his first months at the Swiss National Tennis Centre transformed a bubbly teenager into one who was depressed and withdrawn.
Federer clashed with the regimented routines of the coaches there. Instead of regarding this as an inevitable rite of passage, Lynette and Robert told the coaches they would not allow them to change the personality of their son.
"He is mischievous, but if you give a little, he will give you back so much," Lynette recalled.
By such conversations are children made -- or unmade.
For 10 days this summer in Stuttgart and at the Wimbledon warm-up at the Aegon Championships in London, I attended tennis matches that did not involve Federer or Nadal. In quick succession at the Queen's Club in London, I watched the dreary Croatian giant Marin Cilic, the increasingly tentative world number one Andy Murray and the hopelessly awkward Canadian Milos Raonic.
The serves thundered down in monotonous fashion, the groundstrokes were hit at more than 100 mph, but this was mostly so charmless it could have been another sport.
My mind wandered to that riveting Australian Open final between Federer and Nadal.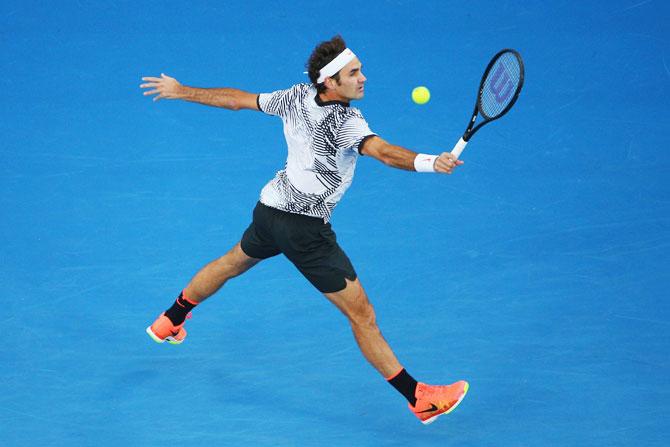 IMAGE: Federer plays a backhand return. Photograph: Michael Dodge/Getty Images
Federer's balletic elegance versus Nadal's pirate-swagger exaggerated topspin and their tenacity are what make their encounters so exciting.
It made me shout and jump to my feet so often that my aunt's eight-month-old German Shepherd puppy in Kottayam decided this was a signal to start wrestling with her.
I ended the match with my left ear bleeding, but fighting back tears of exhilaration.
Federer magnanimously said it should have been a tie.
In fact, we are all winners, members of a tennis paradise that this year improbably promises to last forever -- and we owe it in no small part to the two champions' parents.