How expensive was this 'picture of the century'?
Sandeep Goyal finds out.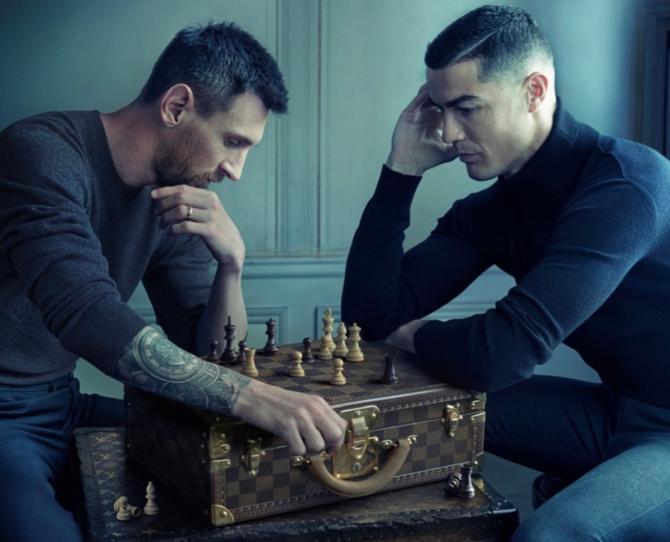 Argentina may have lifted the World Cup. But the advertising honours certainly went to Louis Vuitton.
As the World Cup gathered momentum, Louis Vuitton launched a campaign starring football icons Cristiano Ronaldo and Lionel Messi, photographed playing chess together.
This photo has been making waves on Instagram, with about 38 million 'likes' on Cristiano's account and 29 million on Lionel's.
Plus another 5 million on Louis Vuitton's. Result: You have probably the most liked photo ever on social media.
The two sports legends are seen playing chess over a chessboard improvised from a Louis Vuitton Damier attache case.
Lensed by photographer Annie Leibovitz, the cinematic campaign, called 'Victory is a State of Mind', reached incredible buzz levels this football season.
Ronaldo is seen wearing a plush turtleneck sweater with jeans, while Messi is in a jumper and black trousers.
The two have been long-time rivals and seeing them in a setting far from their home courts was enough to stir an incredible online buzz.
The cinematic visuals are a sequel to LV's 2010 campaign featuring Pele, Maradona and Zinedine Zidane: 'Three great journeys, one historic game.'
This chess match picture was apparently inspired by the Magnus Carlsen and Hikaru Nakamura draw in Norway in 2017.
The legends were in fact not in the same room for the photoshoot.
Both men look the epitome of refined elegance with their sleek and somewhat understated sweaters and crewneck adding to the dark academia aesthetic.
The campaign celebrates the French luxury house's artistry and expertise in the arena of travel trunk craftsmanship as the brand has created storage pieces for both athletes.
Moreover, a Louis Vuitton case carried the Fifa trophy at the opening ceremony.
The bag is actually supposed to be a metaphor for the trophy, while the two players placing their pieces on the board illustrates the strategy for getting their respective teams to the final.
With a combined following of about 870 million on Instagram, enlisting the help of Messi and Ronaldo was a no-brainer for Louis Vuitton as the luxury brand looked to leverage their huge fan base globally.
In addition to being the chief trunk maker for the World Cup trophy, Louis Vuitton also used the World Cup to launch a capsule collection of football-themed leather goods.
Iconic products of the brand like the Keepall and their backpack were reinterpreted in black Taurillon leather and references to the sport were also made like how the leather tag is shaped like a football league bag and other features such as five protective bottom studs resembling football cleats.
How expensive was this 'picture of the century'? Ronaldo (also popularly called CR7) apparently charged $2 million as reward for exposure to his 500 million followers on Instagram.
Messi, with his 376 million Insta followers, charged $1.7 million. That's a lot of money for one picture, isn't it?
Coca-Cola's World Cup campaign, called 'Believing is Magic', showed a woman drinking a Coke being suddenly swept up in a huge street party.
Nike had for the World Cup imagined scientists coming together to create a multiverse where the greatest soccer players of all time could face off against one another.
Frito-Lay got David Beckham, Peyton Manning and Mia Hamm to weigh in on a classic debate: Is the sport called football or soccer? Lead advertisers on the World Cup, including the likes of Ford, Samsung, T-Mobile and the ones mentioned above cumulatively splurged over $2 billion on the month-long extravaganza.
Compared to these vast sums, the Louis Vuitton outlay of about $4 million actually appears minuscule.
There are many learnings from the success of Louis Vuitton's 'Victory is a State of Mind' campaign.
First and foremost, it was an only-digital -- in fact, an only-Instagram -- advert. No TVCs, no print ads, no outdoors, no experiential or surround media. And just a single picture. But what Louis Vuitton did very cleverly was to leverage and convert the huge Insta followings of the two football legends into brand visibility for itself.
In India when brands contract celebrities, they use them maximally on television and through always-on digital campaigns.
Virat Kohli alone has 216 million followers on Insta. He's been used by over a hundred brands so far, but not one has ever planned and run an only-Insta blockbuster with him. The temptation to shoot a commercial with him is just too much.
Here's a tip: The one big celebrity choice all brands seem to have missed out on is Neha Kakkar. She has a following of 71.5 million on Insta -- a notch above Bollywood heart-throb Alia Bhatt.
Wonder why no brand has ever decided to leverage her immense social media stature and use the singer to best advantage.
Much to learn from Louis Vuitton: Play for high stakes, be strategically focused and aim for bullseye media targeting.
Sandeep Goyal is Managing Director, Rediffusion
Feature Presentation: Rajesh Alva/Rediff.com