If you don't have power in a game you are masters of, the world will walk all over you, notes Shekhar Gupta.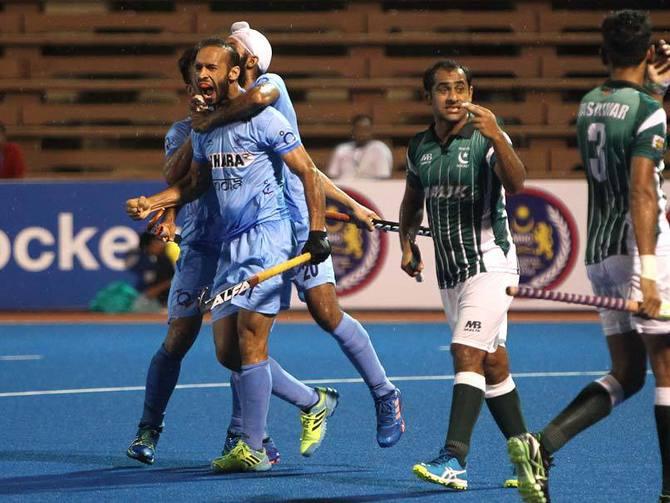 IMAGE: Indian players celebrate after they won the Asian Champion Trophy beating Pakistan 3-2 in the final at Kuantan, Malaysia, October 30, 2016. Photograph: Hockey India
Unless you are among the many preparing for the UPSC exams, chances are you won't recall when Indian hockey won a genuine medal at the Olympics.
Genuine, because we discount the gold in Moscow, 1980, which most hockey powers had boycotted in protest against the Soviet invasion of Afghanistan.
The answer is, a bronze in Munich, 1972.
After that the only big trophy in Indian hockey's cupboard is the World Cup won in Kuala Lumpur, 1975.
Then on, Indian hockey declined in a manner that seemed terminal, struggling for Olympic, World Cup and Champions Trophy qualifications and then failing.
We first blamed it on the Indian Hockey Federation officialdom, then on cricket and finally on the introduction of astro turf, which made hockey an all-weather, rain-proof game.
Soon enough, we stopped talking about hockey, although it continued officially to be our national sport.
Inevitably, Pakistan too declined. The era of subcontinental hockey had ended.
European domestic leagues and national teams thrived, rattling up tennis-like scores against India and later Pakistan.
Until the decline became so total that even the holy Fédération Internationale de Hockey, FIH, as the sport's world body is called, panicked.
What will the consequences be if the sport fully died in its home? They now started gifting money to the Indian Hockey Federation.
It was because of this panicky benevolence that some famous foreign coaches -- including legendary Australian Ric Charlesworth -- came to mentor India.
The game had changed much too radically, making our traditional skill of dribbling, ball control, feint-and-dodge considerably less relevant.
Astro turf wasn't the main issue. It was the rule changes to make the game faster, minimising the referee's whistles.
So, fouls like sticks (not allowing raising the hockey stick above the shoulder while hitting), 'turning' and off-side disappeared, and carried (ball hitting the player's feet) was made minimally applicable.
All of it pretty much destroyed the advantage the intricate pattern-weaving subcontinental skills gave us.
If you watch football, you know the mystique of off-side, and how easy it would be to score if it was abolished.
New hockey was now all hit-and-run. The Asian attacking doctrine of 5-3-2-1 (five forwards) was buried.
With new rules you could have an attacker lurking right around the rival's danger area, trap a long pass, and nudge it in.
The game became like ice-hockey minus the skates. It suited the Europeans perfectly and the golden era of hockey was ushered in there.
Between 1924, when the FIH was set up, and 2017, when an Indian Narinder Batra took over, no non-European had ever headed the body controlling a game Asia dominated.
The fate of the game followed where the power was.
The FIH allowed European countries to have their domestic leagues between March and September. This meant the subcontinent's teams, where it is too hot to play hockey in the summer, had nothing to do, nowhere to tour, in these months.
Because they had to travel for global events, domestic leagues died.
The lesson of the first story: If you don't have power in a game you are masters of, the world will walk all over you.
The second story is about cricket.
Like India, Pakistan inherited its cricket structure from the English club system. But unlike India, the government took control, setting up the cricket board through an ordinance (later law) in 1952.
The establishment considered it a national duty -- and entitlement -- to control the game.
Ayub Khan (then the military ruler of Pakistan) reconstituted the board in 1957 and appointed three vice-presidents -- including himself.
Shenanigans that began never ended and chairmen of the board had tenures even less predictable than the heads of State.
The PCB Web site doesn't give a real chronology (because there really can't be one, given so many ad hoc interregnums), but some Googling and trawling the fan'S memory (also in Pakistan, where I called two well-informed cricket crazies) tell you that in 1974 the first ad hoc board was set up by gathering government in Pakistan.
Since then, a serving lieutenant general (Tauqir Zia, under Musharraf), top bureaucrat (Shahryar Khan), many politicians, and an editor now (Najam Sethi) have been appointed to run the board while the prime minister or president (depending on whose reign it is) remains its chief patron.
Everybody has had a chance running the Pakistan board except a cricketer and a professional. Including indeed -- and I say it purely matter-of-fact, any comparisons with the Indian situation are your own -- a serving chief justice of Pakistan.
Remember Nasim Hasan Shah dancing the bhangra on the pitch after Pakistan beat India in Sharjah?
How good has it been for cricket in Pakistan?
Despite the country's great talent, it has made headlines for cheating and ball-tampering, has seen Test players in foreign jails, and then return to play for the country.
Its economics has been a disaster. A Pakistani domestic circuit never developed unlike in India.
Until about 15 years ago, when the best in the world still went to play English county cricket, Pakistani talent grew there. The decline of county cricket has dealt a crippling blow to Pakistan.
In fact, it is India now that draws the best talent from the world to play here. The trajectories the game has followed in the two countries are as different as in most other areas.
Our second story tells you of the consequences well-intended state or judicial intervention can have on professional sport.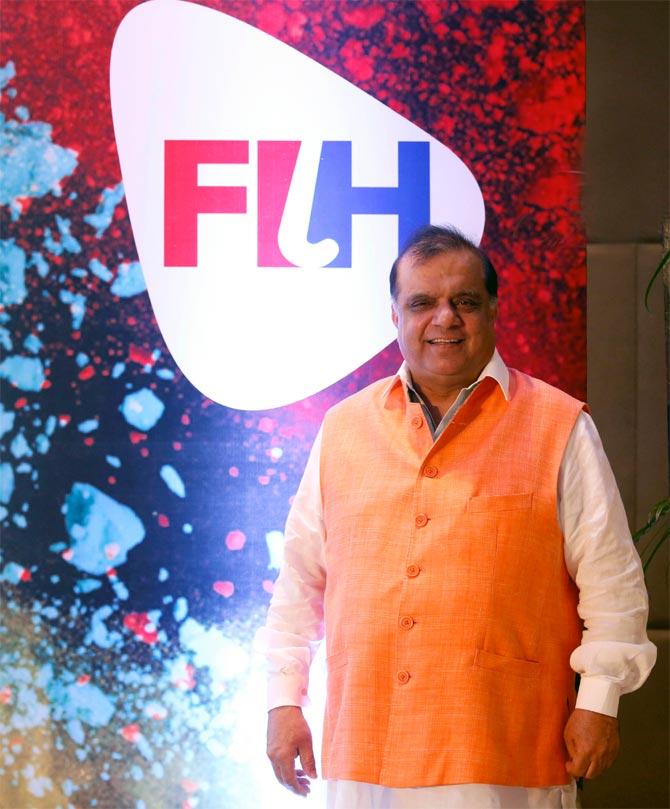 IMAGE: International Hockey Federation President Narinder Batra, the first Indian to head the FIH. Photograph: Hockey India
The third is a very joyful story, of India's hockey revival.
A new leadership took over the near-dead game (with some hands-off government backing), and advice from those running Indian cricket.
A domestic league was attempted. After a couple of failures, it emerged as a real success, drawing the best talent from the world (because of prices auctions fetched in India), filling up the stadiums, particularly in non-metros such as Ranchi, and giving a lucrative new living to scores of talented Indians.
India is now consistently Asian No 1, in the global top 6, and thereby qualifies for the big league.
Our performance against the big powers has improved. Despite not being a world beater yet, India has acquired global hockey power unprecedented in its golden days.
India has created a market for hockey and gifted it to the world.
The result is, an Indian becoming president of the FIH this year.
This is such a brilliant lesson in how you use your financial power on the high table of global sport, where money speaks more than medals.
What if India lost power in global cricket as hockey had?
Not because it doesn't have performance or money power, but because of a misplaced Nehruvian morality that abhors exercising it, an obsession to be good boys so the more evolved Englishmen give us a few pats on the back.
What if the ICC, with India (under the outrageous new governance structure) reduced to just one vote among 15, rather than be a first among the Big 3 out of just 9, were to start tinkering with rules as the FIH had done?
Please do not say this is unlikely. When cricket was run from Lord's, what did they do after India won just two series overseas in 1971 with spin? They put restrictions on fielders in the leg-trap.
Again, when the West Indies were rampant with their pace, the same wise, entitled men, put limits on bouncers. West Indies cricket hasn't recovered since.
It is because India knew how to exercise power in the past two decades that such things no longer happen.
Now we are being ordered to give up that power and become 'good boys' again.
You don't believe me, read the two firmans issued by the Committee of Administrators to the BCCI.