Rajeev Srinivasan wonders about India's quest for Olympic glory.
The most vivid moment for me at the Asian Games was on the first day of the track-and-field events, when unheralded Preeja Sreedharan and Kavita Raut delivered a magnificent 1-2 finish in the grueling 10,000 metres, taking gold and silver with personal best timings. They followed up later with silver and bronze in the 5,000 metre run.
As I scoured the news for the next few days, it was a pleasant surprise that there were a number of golds in track events: Sudha Singh won the 3,000 metres steeplechase, Ashwini Akkunji and Joseph Abraham won the women's and men's 400 metres hurdles in an unprecedented sweep; and the women's team in the 4x400 metre sprint, defending champions from 2002 and 2006, won again.
I remember the agony and ecstasy of the wins and losses of P T Usha a generation ago, and I have been a fan of track events since then. There is something inherently thrilling about a race: It is the primal sporting event. It is electric, immediate, and direct: there is nothing but raw human talent out there on display. No devices, no second chance, nothing -- it's man-to-man, or woman-to-woman.
I wonder if it is a cliche to suggest that running perhaps brings out something primitive in us -- the racial memory of trying to outrun a saber-toothed tiger or chase down a woolly mammoth. Incidentally, science suggests that long-distance running is a human specialty -- we can keep going at a steady trot for hours because of our efficient cooling systems, whereas the sprint kings of the animal world overheat quickly: They have no stamina.
But the sprint events in particular are the glamour events of the Games. Even the field events don't quite come close, because there is the delay -- for instance, in the jumps, each individual does their thing, then comes back for another try.
Somehow, the foot-race is far more thrilling. The spectator's adrenaline is pumping: and you are jumping up and down and screaming like an idiot, cheering like there is no tomorrow for your countryman or woman. This is what makes for true fan-dom.
And there's nothing to beat the sprints for high drama. Did anybody watch the women's 4x400m relay at the Commonwealth Games? It was thrilling, with the first two legs going neck and neck, but then Ashwini Akkunji put on a fine spell of acceleration to blow past a surging Nigerian runner, and anchor Mandeep Kaur made no mistake. Even though I watched the video after I knew the result, I was on my feet, cheering. That was the first athletics gold for India in the Commonwealth after Milkha Singh's 440 yard win in 1958 -- a long wait indeed.
I believe the Asiad saw a repeat of the same modus operandi, with the tall Ashwini reprising her heroics in the third leg. I have not yet been able to find a video, but I heard Ashwini powered ahead of the Kazakh runner Margarita (the 800 metres gold medallist), giving Mandeep a cushion to fend off the Kazakh anchor, Olga, the 400 metres gold medallist.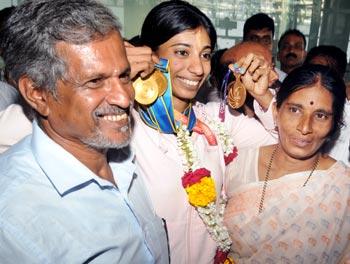 For my money, that makes Ashwini Chidananda Akkunji from Udupi, Karnataka, left, centre, the best athlete of the Games: Two golds, and excellent teamwork. There is only one other double gold winner for India, Somdev Devvarman in tennis singles and doubles. And Preeja Sreedharan missed a long-distance double gold by a whisker, ending up with one gold and one silver.
But how come these athletes are not household names? Why are they not lionised, and how come they do not earn millions appearing in advertisements? I had barely heard of Preeja even in the Malayalam media. These are truly unheralded, unsung heroes. Preeja, I found, works for the Indian Railways. Joseph Abraham is in the army.
Why is that only the railways and the armed forces (they have an Operation Olympics, which is beginning to pay dividends) are the only sponsors of anything other than cricket?
Why this disproportionate support for cricketers, who make a thousand times what a track-and-field medallist makes? There is no question this national obsession with cricket is strangling the growth of all other sports. Money talks, and if a gold medal brings in Rs 1 crore (Rs 10 million), that will motivate athletes all the more.
There was the sad story of a Kerala girl, a nationally ranked rower, committing suicide last year because she could not afford to train. There is also the story of Usha's sports school, which is languishing from lack of monetary support.
My good friend Rajan, once on a photography tour through Kerala, just dropped in on the former star athlete, and although she was a gracious hostess, he could tell that she was worried about the school. One of Usha's proteges, Tintu Luka, did win a bronze at the Asiad, although more was expected of her. They are now looking at the 2012 Olympics.
There is nothing inherently wrong with Indian youth in its sports potential that money and attention will not fix. Communist countries -- from East Germany to China -- have shown how this will work wonders. The trick is to catch them young, and also to concentrate on events wherein India might have a competitive advantage. For instance, train strapping lads and lasses for boxing, wrestling and weight-lifting: and we already have clusters of excellence in these events.
Chess -- even though the Asiad finish of just two bronzes was greatly disappointing -- is something that India should excel in (after all, we invented it). And let it be said that a lot of the credit for popularising chess in India goes to just one person -- Viswanathan Anand. Other heroes, other sports -- for instance Saina Nehwal and Sania Mirza are inspiring others to follow in their footsteps.
There are a few events in which brute strength and bulk may go against Indians, who may be smaller and lighter than competitors: This was seen in field hockey when rule changes and new surfaces made the Europeans more competitive. But the young generation of Indian athletes, especially if identified early and trained, may not be physically inferior specimens.
And it is true that junior Indian teams do quite well in almost all events around the world. But they do not live up to their promise. I remember years ago when there was talk in the tennis world of the 'ABC Powers': Amritraj, Borg and Connors. The latter two went on to great heights, but Vijay Amritraj just faded away.
That might be because of an even bigger hurdle: mental toughness and the killer instinct. I have always been astonished by this bromide casually thrown around in India: 'The important thing is not to win, but to participate.' This is so utterly ludicrous that I don't know whether to laugh or to cry when I hear this. Wake up, folks, you are the only people in the world who believe this! Everyone else goes to the Olympics strictly to win.
Somehow this dumb Socialist idea has taken firm root in India, perhaps India has been so mediocre in everything that we could simply not believe Indians could be world-beaters. In particular, it has been a failure of leadership.
India's leaders have aspired to make India 'one among the top ten' or whatever, never to make India Number One. But being Numero Uno is the only goal worth pursuing! Sure enough, since we aspired to too little, was are number ten. Isn't it shameful that India is only sixth in the Asiad?
I don't think Preeja Sreedharan and Kavita Raut and Vijender Singh went to the Asiad just to participate. They went to win, and more power to them! That's the attitude that needs to be cultivated, or else our long-distance runners -- and others -- are going to be lonely indeed: no fans, no cheers, no guts, no glory.
The title of this column comes from an excellent short story by the British author Alan Sillitoe. The protagonist, who speaks in the first person if I remember right, is a rebellious teenager who is put in prison school (Borstal). There his talent at running attracts attention, and that is his ticket to freedom. But on the day of the big race, when he is far ahead, he deliberately stops just short of the finish line, in a declaration of contempt for the entire system.
Fortunately, India's athletes are not so alienated. Not yet. But they will be, if they continue to be ignored and abused by an uncaring system. They do have a way out: They can, and they will, emigrate to more welcoming lands.
Image: Ashwini Chidananda Akkunji, with her parents, displays her gold medals at Mangalore airport.
ALSO READ: Complete coverage: The Asian Games
Indian Army's Mission Olympics reaping rewards
New stars shining high on Indian horizon
Images: India shining at the Asian Games