'If he is being spoken in the same breath as Dhyan Chand, then you can image how good he was.'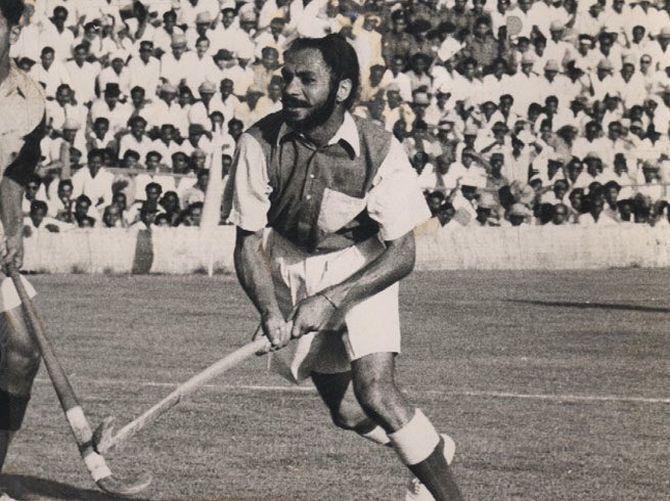 Former goalkeeper Mir Ranjan Negi played under the legendary Balbir Singh Sr who was the Indian hockey team's manager for the 1982 Asian Games.
Negi, whose career as coach of the Indian women's team inspired Shah Rukh Khan's film Chak De! India, remembers that Balbir Singh's presence was a huge motivation for the Indian players.
Negi, who was the goalkeeping coach of the Indian men's team which won the Asian Games gold in 1998 and the women's team which triumphed at the Manchester Commonwealth Games in 2002, shares his memories of The Hockey Legend with Harish Kotian/Rediff.com.
---
"He was one of the greatest players to have graced the sport of hockey.
If he is being spoken in the same breath as a legend like Dhyan Chand, then you can image how good he was.
He was a magician with the hockey stick. I never saw him play, but as kids we used to hear stories of Balbir Singh Sr, about how good he was.
We used to hear stories of the three Balbirs, how good they were. We wanted to be top players like them and win gold medals for our country.
He was the team manager at the 1982 World Cup. Unfortunately, things didn't go according to plan for us in the final against Pakistan and it is something that I don't remember fondly.
He didn't talk much to us. We used him to respect him so much that we never went up to talk to him.
He was that great icon of Indian hockey that merely the sight of him was a big inspiration for us players. We were all in awe of him.
He used to stress on fitness and health.
He once told us that he had gone somewhere and he was given a bottle of drinks. He says he finished the entire bottle, but it didn't affect him at all, because he was so healthy and fit.
He used to tell us 'Stay fit and healthy and nothing will affect you.'
Balbir Singh Sr was a polished guy. He always dressed well and looked the part. You never saw him dressed casually. He also spoke very well. He had vast knowledge of the game and he spoke about his experiences.
Unfortunately, he was never a part of the Indian Hockey Federation after his playing days. I think he would have made a great administrator because he had such a good brain for hockey and he knew what the players wanted.
Even today, great players like Dhanraj Pillay and others are not involved in the running of Hockey India whereas in cricket Sourav Ganguly is the BCCI president.
It is a sad day for Indian hockey, but Balbir Singh Sr lived his life to the fullest."