Racing against time to qualify for next month's Winter Olympics, alpine skier Himanshu Thakur is stranded at the Frankfurt airport and is awaiting Iranian visa clearance for a qualifying event in Darbandsar.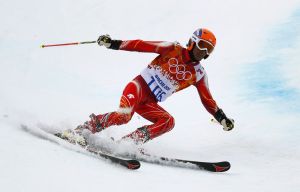 Himanshu, who finished 72nd in the giant slalom at the Sochi Winter Olympics four years ago, needs a score of 140 points or below in five races to qualify for the Winter Games in Pyeongchang from February 9 to 29.
The 24-year-old has got the required score in four races but needs to record 140 or less in one more race before the January 21 cut-off date.
If he doesn't make the Darbandsar Ski Resort in Iran for the two-day event starting tomorrow, his chances of making the cut for Olympics are as good as over.
His sister Aanchal, who won India's first international medal in skiing earlier this week, took to social media on Sunday seeking government help for her brother.
She has written to External Affairs Minister Sushma Swaraj.
"My brother Himanshu Thakur has tomorrow last chance to qualify for Winter Olympics 2018. I kindly request hon'ble PM @narendramodi, foreign minister @SushmaSwaraj, sports minister @Ra_THORe,chief minister HP. @jairamthakurbjp to help him in granting arrival visa in Tehran,Iran," she posted on Twitter tagging the Prime Minister, Swaraj, Sports Minister Rajyavardhan Singh Rathore and Himachal Pradesh Chief Minister Jai Ram Thakur.
According to Roshan Thakur, father of Himanshu and Aanchal, his son is staying put at Frankfurt airport with coach Hira Lal in hope that he gets the necessary visa clearance to board the flight to Tehran.
"They have got the visa approval but it is not stamped on their passports. Therefore, they were not allowed to board the flight to Tehran after they reached Frankfurt from Iceland," he said.
"We are keeping our fingers crossed," said Roshan, who also happens to be the secretary of the Winter Games Federation of India.
Image: Himanshu Thakur
Photograph: Ruben Sprich/Reuters