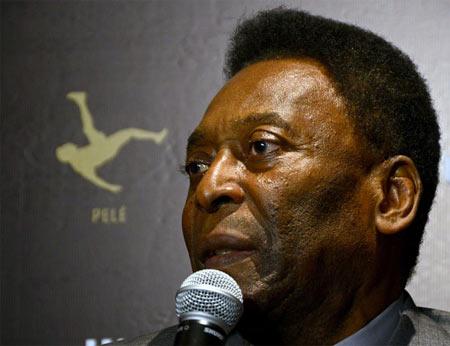 Athlete Of The Century: 1999
17. In 1981, Pele starred in Escape to Victory, a World War II drama about a team of prisoners of war who play their Nazi captors in a football match. Unsurprisingly, he played the team's star attacker, Corporal Luis Fernandez, who hailed from Trinidad and Tobago.
18. He was voted Athlete of the Century by the International Olympic Committee (IOC) in 1999. The world's National Olympic Committees voted him as No. 1 in their top five 'Athletes of the last Century' even though he's the only one of the five who didn't take part in the Olympics.
19. In 2000, Pelé was named second in the BBC's 'Sportsman of the Century' award. Boxing legend Muhammad Ali beat him to the first spot.
20. In 2005, Pele was the face of an advertising campaign for the drug Viagra, and was widely credited for breaking the taboo about speaking or receiving treatment for erectile dysfunction.
IMAGE: Pele speaks at a news conference. Photograph: Lucas Landau/Reuters