February 27, 2009 20:51 IST
Last Updated: February 27, 2009 22:13 IST


Sania Mirza [Images] is back in the news.

On second thoughts, she always was in the last few years (so our due apologies for making the first statement).

But what kept her in public eye had little to do with her on-court achievements; in fact, they were mostly her moves off court -- be it her many ad campaigns, her injuries, her somewhat controversial statements or even the controversy surrounding her otherwise, related to anything from her religion to her t-shirt.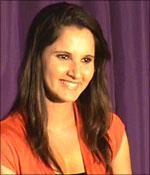 However, it is for the first time since her breakthrough year (2005) that we can actually discuss Sania because of her tennis more than anything else.
The 22-year-old started the year winning the Australian Open [Images] mixed doubles title in partnership with Mahesh Bhupathi [Images]. It was the first Major of any kind for her and was even sweeter considering they had faltered in the final at the same stage a year earlier. No wonder that is the first topic she's been discussing since.
"One of the best things to have happened to me is that I won a Slam," gushed Sania. "Even if I have to retire at this moment, it would be without regrets thanks to the Australian Open win." Probably never before has a mixed doubles title assumed so much importance.
But a couple of weeks later, Sania strung together a few wins, this time in singles, as she made it to the final of the Pattaya Open in Thailand, her fourth singles final overall and first in almost 18 months. In the decider she came up short against Russian Vera Zvonareva and that ensured her a third defeat in those four finals. But, more importantly, it was after a long time that there was a certain consistency in her results. And it is probably this consistently that has resulted in a new-found confidence.
"I like the way my career is going right now," she enthused. "I feel I'm playing well and there's no major injury as of now."
And like many others before her, playing more doubles has helped her regain composure while playing singles.
"It (playing doubles along with singles) has always been like that," said Sania. "But singles was, and will always be a priority till my body holds up."
Does that mean she will cut down on her doubles assignments?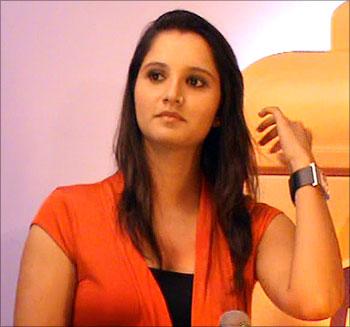 "I may have to sacrifice some doubles tournaments to further my singles career," she reasoned. "But I will try to balance it out as much as possible."
The Indian is heading for Las Vegas [Images] for a stint with Gil Reyes, the former strength and conditioning trainer for the University of Nevada-Las Vegas who has been associated with big names like Andre Agassi [Images].
"Gil is the best trainer in the world," said Sania. "He's trained the likes of Agassi and more recently Fernando (Verdasco) and I am looking forward to training with him."
There's a tinge of regret though.
"I know one week is not enough but definitely it is a beginning," lamented Sania.
Whatever she has achieved so far has undoubtedly been a first for an Indian woman but still there remains many more goals.
"I think it is human nature to be greedy," reasoned Sania, a tad philosophical. "I may have achieved a lot so far but I keep building new goals for myself."
But ask her if there is a target she has set for the rest of year and she nods her head in disagreement.
Talk then veers to Yuki Bhambri [Images] and Sania goes to a rehearsed speech even before the question can be completed.
"Yuki is our biggest talent at the moment," she said. "He's a guy to look out for in the years to come. But I sincerely hope he makes a smooth transition from the junior level to the senior circuit," she adds cautiously.
So with herself, Mahesh (Bhupathi), Leander (Paes) and Yuki doing well is this the start of yet another good spell for Indian tennis?
"At the Australian Open, we had three finalists -- Yuki was playing in the boys' singles, Mahesh in the men's doubles and myself and Mahesh in the mixed," she said.
"So it was pretty good for India. I would say Indian tennis is at its healthiest best today.
"But it is definitely harder to sustain the momentum."
Photographs: Uday Kuckian