Advertisement

  

Advertisement

NBA legend calls for professional league in India
April 08, 2009 22:29 IST
Legendary US National Basketball Association cager A C Green called for NBA-style leagues in India, insisting that such professional events will help the game to challenge the huge popularity of cricket in the country.

"The ultimate goal for kids playing basketball in India is to make it to the national team. There are thousands of children who are shooting for that goal but that's not enough," Green said after inaugurating a refurbished Nagpada Neighbourhood House's basketball court in South Mumbai [Images] on Wednesday.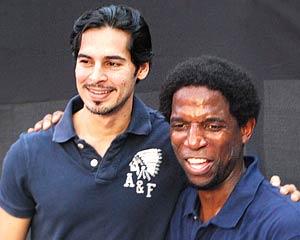 "There are only 12 players in a team but to take the game at the grassroot level and make it more competitive we need to develop leagues in India.
"I want the game to take on cricket here," he said.
Green, who holds the record of playing the most number of consecutive games (1,192) in NBA and American Basketball Association (ABA) history, is currently in India to promote basketball.
"The game is still developing in India and cannot compare with other countries. There are not so many facilities for emerging players. This has to change and that's what we are aiming to do," Green said.