Advertisement
September 09, 2008 10:40 IST


For someone who burst into exuberant celebrations after winning her ninth Grand Slam crown at the US Open [Images], Serena Williams [Images] made a startling admission.

"I'm not a big trophy girl," Williams told an invited group of journalists just 12 hours after her victory on Sunday night.

Asked if her growing collection of silverware was on display at home, she said: "No, not really. They are just kind of around. Maybe someday I'll show them to my kids."

Her cool response was in stark contrast to her reaction on Sunday after she beat Serbia's Jelena Jankovic 6-4, 7-5 to clinch a third US Open title.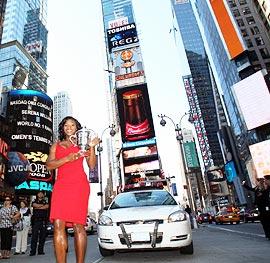 After drilling a backhand crosscourt winner on match point, Williams flung her racket into the sky, shrieked and repeatedly leapt and skipped around court to celebrate her triumph.
The triumph also lifted the 26-year-old back to the summit of the world rankings for the first time since August 2003 and this time she does not want to let go.
"I want to hang on to it forever, or at least as long as I play. But I still have to put in the work, put in the time and do it," said Williams, who was ranked 81st when she won her last Grand Slam title at the Australian Open [Images] 20 months ago.
LIFE'S JOURNEY
"I always felt I could be number one if I put in the effort. It's been great. I enjoyed the journey because it wasn't overnight, and life's a journey not a destination."
Should Williams hang on to the top spot for the rest of the season, it might at long last bring some stability to the pecking order in the women's game.
Each of the four Grand Slams this year has produced a different winner and since Belgian Justine Henin [Images] unexpectedly announced her retirement from the sport in May, the number one ranking has changed hands five times.
The battle for supremacy became so wide open that six women arrived in New York two weeks ago with a chance to grab the top spot by the end of the hardcourt major.
Williams won the latest round of musical chairs with her victory on the Arthur Ashe Stadium court. Despite now being the best player around, she ominously warned: "I've never felt like I've played my best tennis.
"Playing my best tennis means serving well, moving well, returning well. I'm almost there but not quite," added the American, who won her third US Open title without dropping a set during the entire tournament.
Photograph: Jay Mandal
© Copyright 2008 Reuters Limited. All rights reserved. Republication or redistribution of Reuters content, including by framing or similar means, is expressly prohibited without the prior written consent of Reuters. Reuters shall not be liable for any errors or delays in the content, or for any actions taken in reliance thereon.