| | |
| --- | --- |
| Roger Federer | |
| | |
| | |
| | |
| | |
| | |
| | |
Advertisement
September 09, 2008 18:10 IST
Last Updated: September 09, 2008 19:33 IST


People doubted whether Roger Federer [Images] could get over the tough loss at Wimbledon [Images] and win a Grand Slam ever again. Bjorn Borg said he wouldn't be surprised if Federer took a long break from the game. John McEnroe [Images] thought it would be tough for the Swiss to match or surpass Pete Sampras's [Images] record haul of 14 majors.

As Federer stood there alone in all his glory, with his fifth US Open championship trophy, smiling endlessly, posing for the cameras, he not only proved them wrong; but also that when it comes to him the common malaises, emotional and physical pitfalls don't apply.

He was on the top of the game for four-and-a-half years. It's easy to lose focus, easier to get burnt out.

Borg argued Federer would feel the fatigue of the relentless race to stay atop. He could turn away from the competition, hang his racquet for a few months, enjoy the Swiss Alps. Twelve Grand Slams were enough to put him in the 'all-time greats' category.

Federer has already made it a 'lucky' 13 and promised he won't stop at it.

In the past few months, he suffered a scarring defeat and Roland Garros, surrendered his Wimbledon crown to an overpowering Rafael Nadal [Images] in an epic final, had his Olympic [Images] dream crushed by James Blake in the quarter-finals and lost his coveted number one ranking, a spot he owned for so long that the aura still refuses to go away.

Federer did not shrug and cave in.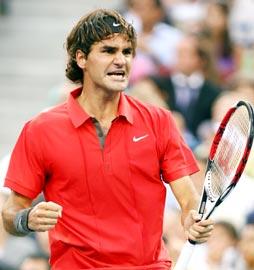 After years of doing the routine at the US Open [Images], he had a purpose again. Not just history, but a reason to redeem his season and set him back on the Grand Slam track. As his third-round opponent, Radek Stepanek, said, "The hunger was back."
He came into the US Open a four-time defending champion but a decided underdog. The mountain of expectation was off him.
Nadal had pulverized opponents in his pursuit for the No 1 ranking and then the Olympic gold. He looked untouchable for a while at Flushing Meadows. Given his strong, almost manic, will to earn a Slam on hard courts, the Spaniard winning the US Open looked like a logical conclusion.
When the world started looking away, Federer again brought the spotlight firmly on himself.
The cool Swiss, who admitted he was ready to show more emotion on the court to push his game forward, was fired up. He was still not invincible at the Open, and had some tough battles laid out for him.
Russian Igor Andreev stretched him to five sets; a qualifier from Luxembourg, Gilles Muller -- also a left-hander -- showed Federer was fallible.
The errors still came from his racquet. But Federer displayed the tenacity that had been concealed in his smooth run before this. The same tenacity and a sense of pride that had seen him locked in an intriguing battle against Nadal in the Wimbledon final.
He did not mind playing hard against the baseline bullies; did not mind sweating it out.
When he freed himself of the inhibitions, let the cool demeanour of the champion slip, he endeared himself even more to the New York crowd. He was human and not afraid to show it. For an audience that thrived on the emotional quotient of a match, his class and charisma proved the perfect mix.
When the time came, Federer also played smart. Brute power wouldn't be enough against a tactically strong Andy Murray.
He saved the flamboyant serves, which had reeled 20 aces in the semi-final against Novak Djokovic [Images], for a later day. The Swiss, surprisingly, had only three aces to his name in the final against Murray. His pace was too much to handle for the first-time Slam finalist and Federer continued to move forward, daring Murray to make the moves.
For long, Federer was prided himself in being the one attacking player in a largely defensive field.
And when he stuck to his strengths he looked the master of the game once again. "I almost felt invincible there for a while," he admitted after winning the 13th Grand Slam.
After the US Open triumph, he also said following his disappointing run this season, all "sorts of people had come out of the closets" to offer him emotional help. "I am happy to put them to rest," an amused Federer concluded.
They will be back, soon; whenever he slips again. So will the doubters and the ghosts from his past, especially at the French Open and Wimbledon. The victory at the Open might blind them for a while and help him to carry on.
But for the great player that he is, they will be put to rest only once he is done. Then, we can reflect and realise what a privilege it has been.