Home > India > Sports > First Look


Paes to be India's comic superhero

March 31, 2008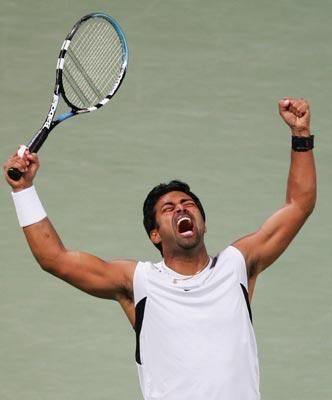 India's Davis Cup captain Leander Paes [Images] is soon to be featured as a superhero in a cartoon television series aimed at promoting an active lifestyle in children.
'Leander plays above his ability'
Paes, a Cup stalwart who also won a singles bronze medal at the 1996 Olympics [Images] in Atlanta, is to play a miracle man who helps school kids in each of the 26 half-hour episodes being planned, The Indian Express reported on Monday.
Called The Magic Racquet, the project will be a collaboration between Paes's company, Leander Sport Private Limited, and Mumbai-based Maya Entertainment Limited (MEL).
"It pains me when I see kids today spending a lot of time in from of TV sets and on unhealthy diets," Paes said.
"As a father and a national sports figure, I feel it is my duty to impart love for sports and an active lifestyle so the next generation can develop the mindset of champions, both on and off the field," he added.
Paes, a multiple Grand Slam winner in doubles, is his country's best known tennis player and a medal hope at the Beijing [Images] Olympics in August.
A date has not been set for the launch of the series.
Photograph: Getty Images | Text: Reuters