| | |
| --- | --- |
| Bob Brett | |
| | |
| | |
| | |
| | |
| | |
| | |
Advertisement
March 24, 2008


He coached the likes of Boris Becker, Goran Ivanisevic and Andrei Medvedev to unprecedented success. His final assignment, Mario Ancic, was the last man to beat Roger Federer [Images] at Wimbledon. And he also taught Sania Mirza [Images] the tricks of the trade in her early days on the WTA Tour. Having quit coaching since, he continues to work for the development of the sport.

Legendary coach Bob Brett talks to Bikash Mohapatra about his coaching days, the importance of a coach today, his current assignments and, of course, Sania.

What keeps you occupied these days?

I live in Monte Carlo and have my centre in San Remo (Italy [Images]), which is just 30 minutes away. It is a small boutique sort of operation with not more than 20-24 people, but I always wanted it that way.

Marin (Cilic) is a player I have worked with since he was four and he is still a part of my academy.

I am also a consultant for Tennis Canada [Images] and am involved with the development of the under-12, under-14 boys and girls. I go to Canada eight times [about 120 days] in a year.

I am also in charge of a sports science group.

Do you miss coaching?

No.

Why?

You are asking me why? [He retorts, somewhat surprised]. When I stopped coaching and did my MBA, I thought I'd keep doing what I was. But it is not very easy on the Tour -- when a player is winning you don't have to do a lot of work (and he obviously takes the entire credit) but when he loses you are responsible for it. It is sort of depressing [laughs before doing a volte-face].

Actually, it's not depressing. After 24 years on the tour, I felt the need to stop. I enjoyed my time though.

What are the best memories of your coaching career?

I had so many. Four of the players I coached were in the top five.

From Boris (Becker) winning at Wimbledon, then the US Open and, finally, the Australian and becoming No 1 to John (Lloyd) reaching the quarter-finals of the US Open at the age of 29.

Or watching Mario (Ancic), who I had been with since he was 13, beat Roger (Federer) at the centre court in Wimbledon.

For that matter, watching Sania (Mirza) play when she was ranked somewhere around 500 and saying she will be a top-30 player.

Coming to Sania, what do you think of her as a player now?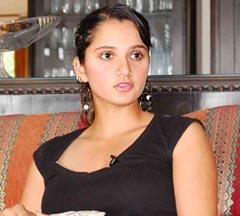 She can definitely be a better player. I have already said she's a top-30 player. What's her rank now?
She is now ranked 32...
Well, in tournaments like the one at Indian Wells she has shown she can play well against the big players. Didn't she beat any top players in the tournament?
She beat Shahar Peer and lost to Daniela Hantuchova [Images]..
She should have beaten Peer anyway. I think Sania has a better game than Peer. But against Hantuchova, it was a different level. On the tour, the difference between the top-20 players and the others is huge, it is two different levels. It is up to a player to bridge that gap. Sania still needs to show that she has it in her to be a top-20 player. 
Please elaborate...
When you are trying to get into the top-30, a lot of other players you are competing with give you a chance to hit a winner. So it is comparatively easier. But, at a higher level, the top players are able to neutralize your game rather easily.
Also as you play at a higher level, your body needs to reach a certain fitness level and, more importantly, sustain it. It requires a much greater level of conditioning.
Sania is getting frequently injured these days. Do you think this could be the reason?
It is tough for me to say that. But as you play higher up, your body needs to reach a certain fitness level.
Sania has one of the best forehands in the game. But if you have only one good shot, as it is in her case, it only helps in taking advantage against some players. In other cases, a lot of balls are hit back and in order to neutralize that you have to make that extra effort. That does take a toll on your body, especially if you are not prepared -- not resilient to that extra strain.
Are you saying Sania is not fit enough?
I am not aware if she has been able to start and maintain her physical programme.
It's very hard to judge an injury, say what the threshold of pain is. But preparing for a season does require a lot and she should start doing that well in advance.
The people working close to her need to understand where her body is breaking down. There is a certain commitment that your profession demands, but she probably cannot do that as she is a superstar in India and has other commitments.
What was your advice to Sania when she trained with you?
I always told her to prepare early. You cannot prepare for the top-20 only after you are among the top-30. It's too late.
Justine Henin [Images] is the benchmark for every player these days. I have seen her work and when you do that you understand why she's where she is.
Sania has changed quite a few coaches in her three years as a professional. Do you feel this factor has somewhere affected her progress in the rankings?
If she has worked, say with six coaches in the last three years, she has spent about six months with each on an average.  Why do people take coaches?
Every coaching change requires six to nine months before you are able to see the results.
You only get to your set goals because of patience and believe in that person's method. Champions generally make the right choices. The relationship they share with their respective coaches stay long.
For instance?
For example, when I started working with Boris (Becker), he was ranked No 5 (in 1987). His ranking subsequently dropped to eight but we continued working and he managed to reach the No 1 spot.
The same thing happened with Goran (Ivanisevic). We started working when he was ranked No 9, then he fell to No 16 and, finally, achieved a career-high rank of No 2. For that matter even Nicolas (Kiefer) fell to the forties initially but then climbed to as high as No 4.
So you see, it takes a certain degree of loyalty.
Why only me? For that matter even Brad Gilbert did a very good job with Andre Agassi [Images].
But he (Gilbert) couldn't reach the same levels of success subsequently -- with either Andy Roddick [Images] or Andy Murray?
That's because he didn't get much time to work with either of them. I definitely believe Brad is a much better coach than his record with Roddick and Murray might suggest.
In Sania's case, it is important to understand if it is her father who is coach or is it the coach who is actually the coach; if it is the coach who is actually involved in the ideation and training methods, or if he just does what he is told to do.
The last time we spoke, you had said Sania can be a top-30 player but can't make it further. Do you still stand by that statement?
She has had some good results but needs to be consistent. I do believe she can move further up but, for that, she has to first work on her fitness. In order to go to that next level she has to put in that extra effort.