Home > Sports > Tennis > Report

Uzbek ace Akgul is a tall prospect

Deepti Patwardhan | March 13, 2008 16:40 IST


| | |
| --- | --- |
| Akgul Amanmuradova | |
| | |
| | |
| | |
| | |
| | |
| | |
There is a generation that grew up admiring Pete Sampras -- his serves, his precision. One of them, 6'3" tall WTA player Akgul Amanmuradova also seems impressed by his on-court fashion.
Shunning the fashionable skirts and A-line dresses, the Uzbek hits the courts in shorts and loose T-shirts. The short-hair is tied behind and hidden under a cap. In the only "glamour game" for women, Amanmuradova, with a booming serve and a booming voice, tries to be as unglamorous as possible.
"I am not really interested in it," shrugs the 23-year-old. "You saw, I didn't even partcipate in the fashion show [at the Bangalore Open] that took place. It's not for everybody; you need to know what you like. The girls who were walking on the ramp were enjoying wearing the sarees and everything. I don't; I am not comfortable, I will always wear shorts and T-shirts, no skirts for me."
"You tell me to play basketball, anytime I'll be ready," says the NBA and Michael Jordan fan. "I haven't been able to meet him, but I am a huge, huge fan of Jordan. If you bring him here I'll come to meet him from anywhere, even leave my match and come."
As a youngster Amanmuradova had a choice between tennis and basketball, but opted the former.
"I used to play basketball just for fun for my school. One of the junior national coaches saw me play and called me for the trials but I didn't go. I still like basketball but I made a decision to make a career out of tennis and I don't regret it till now."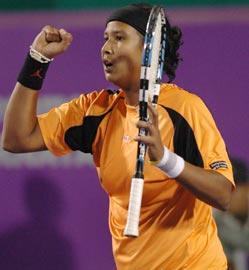 After finding her feet on the circuit for some years, Amanmuradova finally got the results going her way. Born to Turkmenistani parents in a land where tennis was still a Soviet legacy, the player overcame the early problems of facilities and travel, that seem common to the tennis breed, and has started playing consistently at the WTA level for a year.
"There are always problems. I could write a book on it," she smiles.
"Everyday there seems to be some new problem. There are flight delays and problems of travelling alone. Like when I was coming here [Bangalore] from Dubai, I lost the bag of strings. I complained to the police there, but they didn't help. When I landed here I was supposed to stay with a friend but discovered that she was staying with someone else.
"At the hotel, I lost the keys to my room and had to bring the duplicate ones. I was just wondering what else could go wrong now. Such days are frustrating; some times you can laugh about it, but not always."
Despite the hassles leading to her trip to Bangalore, Amanmuradova advanced to the last eight in the Tier II tournament. Her booming serves have left opponents bemused and she has met the lack of movement on court with a big forehand and rising confidence.
Amanmuradova made her first top-20 clash when she rallied from a set down to beat fifth seed and world No18 Agnes Szavay 4-6, 7-6, 6-4 in Bangalore. She had eliminated defending champion Yaroslava Shvedova 6-3, 3-6, 6-3 in the first round.
"It's always better to win in two sets. Not that I like playing three sets or take more time on TV," she laughs.
"It's just that players at this level are so good. I was a set and break down (against Szavay) and was able to win. I am happy with my serve in the tournament, even the doubles. I was happy to beat the defending champion earlier and now Szavay, who beat me at Wimbledon last year. So I was happy to take revenge."
India has also been a happy hunting ground for the Uzbek. Of her eight ITF titles, five have been in the country.
Currently, testing her prowess at the WTA level, several rungs above the Futures and Challenger events she came through, Amanmuradova has also updated her favourites from "childhood hero" Sampars to current hero Roger Federer [Images].
"I grew up watching Sampras and Agassi. Sampras is my childhood hero but right now I like Roger Federer a lot more. Just seeing Roger play is great; he is an amazing player and an amazing person, everything about him is just perfect. Everyone wants to meet him, the press the fans and even the players."
Given her fetish for winners, and a fresh attitude, Amanmuradova could well tower over her peers in time to come.