Home > India > Sports > News > Report

Glory for Gulf at Le Mans 2008

June 18, 2008 20:06 IST



In front of the assembled ranks of Gulf affiliates from all over the world, the blue and orange factory Aston Martin race cars successfully defended their GT1 title at Le Mans. In doing so, they created another memorable chapter in Gulf's long and glorious motorsport history, something that David Brabham was quick to mention in his victory interview on the winners podium.

The Le Mans 24 Hours forms the opening portion of Gulf Oil International's 2008 Global Convention and its theme, "Winning Then, Winning Now, Winning in the Future" could almost be the story of the weekend.

"It was an incredible weekend for Gulf. On Friday we commemorated the 40th anniversary of Gulf's first and Pedro Rodriguez's sole win here in 1968, with a beautiful tribute from the Scuderia Rodriguez [the family and friends of Pedro] as they handed on their racing colours to Aston Martin Racing. Now we have this fantastic result to celebrate with our racing partners," Gulf Vice President International, Alain Dujean said.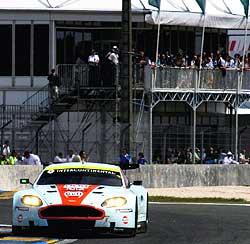 From the start of the race, it was obvious that the competition was going to be as close as the testing and qualifying times had suggested. The leading GT1 contenders swapped places on pitstops in the opening hours but, by the evening, the blue and orange 009 car had established the slenderest of leads. This it held to the finish, coming home to victory by less than a lap at the end of 24 hours. The factory Chevrolet Corvettes took the finish right down to the wire, they too running at almost exactly the same race pace as the Aston Martin Racing DBR9s throughout the 24 Hours.
The race had started in bright sunshine on Saturday, but as it went on, conditions changed and much of the second half was contested in the rain, making driving conditions extremely tricky.  The leading four GT1 contenders -- the Gulf-liveried DBR9s and Chevrolet's Corvettes -- all had to stay out of trouble, as the slightest mistake from any of them would have handed victory to one of the others. As cars were spinning out everywhere, incredibly, all four GT1 leaders barely missed a beat, ensuring that nobody could relax, all the way through to the end.
The Gulf-sponsored 007 Aston Martin of Heinz-Harald Frentzen, Karl Wendlinger and Andrea Piccini finished fourth, only missing out on a GT1 podium place by two laps -- the time lost during the night when they had problems restarting at a pit stop -- on what was an amazing team performance.