June 16, 2008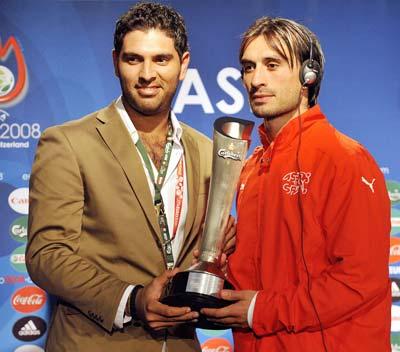 India's Yuvraj Singh [Images] hands over the man of the match trophy to Swiss forward Hakan Yakin after the eliminated co-hosts finished their Euro 2008 [Images] campaign on a high, beating a second string Portugal side 2-0 in Basel on Sunday.
- Complete Coverage: Euro 2008
Yuvraj was chosen to represent India's sportsmen by Euro sponsors Carlsberg.
"I've been a big fan of football for years and I still am, although I don't get a chance to watch as many games now," the ODI vice-captain was quoted for saying before his visit to Switzerland [Images].
"Obviously it's a huge honour to be invited to give away the Man-of-the-Match award in a tournament like the Euro.
"I've always supported Manchester United [Images] and try and watch their games even if I can't watch other matches in the Premiership. Even recently, the day my IPL team beat the Mumbai team, I stayed up and watched the Champions League final where Man U beat Chelsea."
Photograph: Getty Images