Home > India > Sports > Interviews


Discuss |
Email |
Print | Get latest news on your desktop

The Rediff Interview/

'The world is now scared to face Indian boxers'

July 23, 2008


| | |
| --- | --- |
| Vijender Singh | |
| | |
| | |
| | |
| | |
| | |
| | |
If his recent performances are anything go by then expecting a medal from Vijender Singh at the Beijing [Images] Olympics [Images] should not come as a big surprise.
After all, it was only a couple of months that the 22-year-old boxer thrashed reigning Olympic champion Bakhtiyar Artayev of Kazakhstan (12:7) in the quarter-finals of the President's Cup.
The 2006 Commonwealth Games in Melbourne saw Vijender come to the fore, as he won the silver medal. He followed it up with a silver medal at the 2006 Asian Games in Doha.
A back injury threatened to put his preparations off track, but the youngster recovered in time to strike gold at the Olympics qualifier in Kazakhstan.
With as many as four boxers having qualified for the Olympics, Vijender believes that the pugilists could be India's best bet for a medal at next month's Games. He lost in the first round at the 2004 Olympics at Athens, but is confident of erasing that nightmare with a top-notch performance.
In an exclusive interview with Special Correspondents Harish Kotian and Bikash Mohapatra, Vijender discusses his preparations for the Olympics.
'I believe this time we boxers have the best chance to win a medal at the Olympics,' Vijender claims.
Tell us about your preparations for the Olympics?
The preparations are going on quite well. The climate is very hot here in Patiala, where the boxers going to the Olympics are having a camp, but it does not bothering us. We are preparing well. All the boys are fit and training well.
Can you tell us in detail what exactly is going on at the camp, since there are only a couple of weeks left for the mega event?
We are following a rigorous training schedule leading up the Olympics. All our coaches and officials from the Indian Boxing Federation are giving us good support and looking after us well. We have been having sparring fights amongst ourselves everyday, since the last three weeks. We have three sessions of training daily to ensure that our intensity level is always high.
We all have our individual coaches, who give us personal attention. At the same time, we also look to guard against injury or any type of sickness. We take care on the food we intake and water we drink. Care has to be taken in everything we do. Any injury at this time will be very harmful.
What are your targets for the Games?
My target is to do well at the Olympics. I am hoping to do well, because I have the necessary experience. I believe this time we have the best chance for us to win a medal at the Olympics. That is why all the boxers are extra-motivated in training and looking forward to it.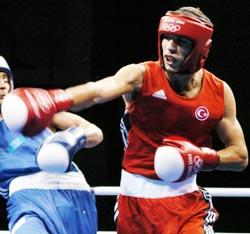 You did not do well at the last Olympics in 2004. What went wrong?
I did not do well the last time because then I was young and did not have the experience. I have just made it to the senior level and qualified for the Olympics. Now I have the experience. I have won medals at major tournaments like the Asian Games and Commonwealth Games. Recently, I also beat the 2004 Olympic Games gold medallist [Bakhtiyar] Artayev [in the AIBA President's Cup], so I have done quite well at the international level. So, definitely, everyone can expect a good showing from me in Beijing.
How has your journey been since that disappointing showing in Athens?
Now I have quite a lot of experience after competing at the international level regularly. I just want to say that Indian boxers are no longer a weak lot; all are doing well at the international level. Our boxing graph is going up all the time and the rest of the world is now scared to face Indian boxers.
Did you ever think that you would register such an easy victory (12-7) against the current Olympic champion Atrayev at the President's Cup recently?
It is never easy against any boxer when you step in the ring, because they can also punch. There is nothing like an easy opponent, but definitely there is the question of confidence that makes you believe that you can beat your opponent.
Against Atrayev, I was quite confident going into the match and it helped. In fact, I was gunning for revenge against him because I lost to him at the [2006] Asian Games. So, it was quite special to beat him. I think that victory is the biggest achievement of my career so far.
You won bronze in the 2006 Asian Games and then lost in the semi-finals of the President's Cup despite beating the current Olympic champion in the previous round. Do you feel nerves get the better of you ahead of important matches?
There is definitely some nervousness, but it is mainly the quarter-final matches, when you are fighting to get into the medal round; those are real tough matches. Once you enter the semi-final stages, and are assured of a medal, you get a bit relaxed. The bouts which I have lost in important tournaments have all been quite close ones.
So you cannot say that nervousness was the only reason, because I have performed well but lost by just a couple of points.
If you see that semi-final bout in the President's Cup, which I lost, it was definitely interesting. At one stage I was leading by around four points, but somehow I was made to drop those four points and I still don't know why. If you do not believe me, you can ask our chief coach Gurbax Singh Sandhu. People can stand outside the ring and make analysis, but only if one enters the rings can they know how tough it is.
So have you been working on your mental toughness?
Yes, I have been preparing to get mentally tough. I have been doing meditation and visualisation of my fights. I am doing everything I can to get my mental focus on track.
How was the stint you underwent in Germany [Images] recently, when you practiced with German boxers and also took part in a few tournaments?
All the top boxers from around Europe participated in the tournament in Germany. It was a good experience. There also I did well and won a gold in one of the events. In the process I also beat a German boxer. Overall, the experience in Germany was quite helpful.
How would rate the Indian boxing team? We will have four boxers fighting for medals.
I am very confident that they will do well. Where there is hope, there is definitely a way to achieve it. We are under pressure as we are also trying to live up to the expectations of the Indian public. Indian boxers are doing well, making a name on the world stage, so it becomes necessary that we win a medal in Beijing.
The cream of the boxing world will be at the Olympics, but we are prepared to do well against them. Our main opponents will be from Kazakhstan, Cuba and Russia [Images]; we will need to guard against them.
More Interviews
Email |
Print | Get latest news on your desktop