January 21, 2008
Reader Vignesh Seker sent us these pictures from Coimbatore.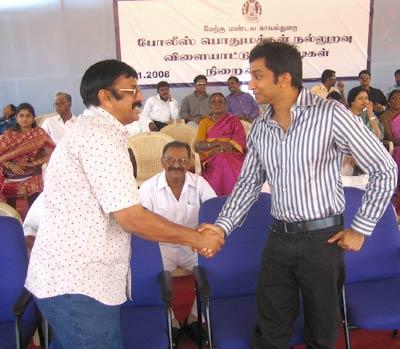 'We had the pleasure of meeting Narain Karthikeyan [Images] in Coimbatore (Tamil Nadu), when he had come for a function hosted by the Inspector General of Police. He was also honored for his A1 GP victory in Beijing [Images],' writes Vignesh.
'We shook hands with the affable racer wishing him good luck for the season ahead. Narain (who is from Coimbatore) was cheerful and pleasant.
'In the first picture my dad, Mr Sekar greets and shakes hands with Karthikeyan. My wife Vasupradha is in the background - Red colour Salwar Kameez
'In the second picture (below), I (Vignesh) shook hands with Karthikeyan.
'In the third picture, Inspector General of Police West Zone Mr. K Rajendran (presently ADGP, Tamil Nadu), felicitating Narain Karthikeyan in the joint Public and Police festival sports meet.
'Note: I would like to thank rediff on starting such an initiative such as 'Celebrity Spotted'. It is a novel and praiseworthy effort to bring celebrities and commoners together.'
Thanks, Vignesh, for sharing these pictures!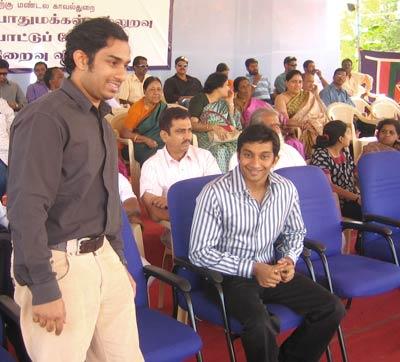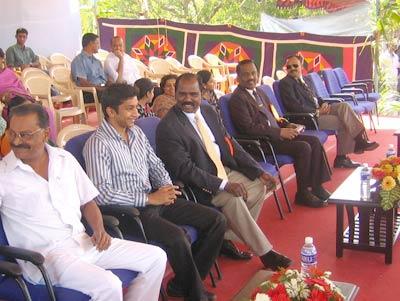 If you encounter your favourite cricket/sports personalities, send us the photograph or video on sportsdesk@rediff.co.in We will feature the best images right here on Rediff Sports or Rediff Cricket.
Please check more Reader photographs