Home > India > Sports > Olympics 2008 > First Look


Discuss |
Email |
Print | Get latest news on your desktop


Phelps quote hanger

August 23, 2008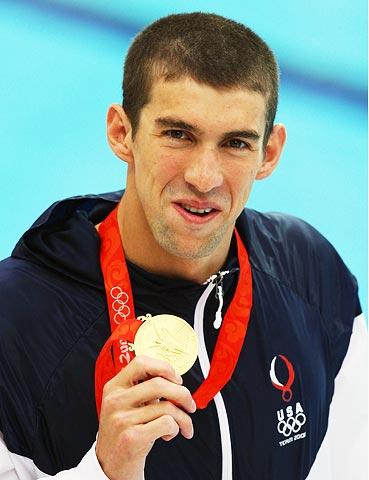 Following is a selection of quotes about and by American swimmer Michael Phelps [Images] whose eight gold medals in Beijing [Images] set the record for the most golds at a single Olympics [Images]:
"I want to change the sport of swimming. I want people to talk about it, think about it, and look forward to seeing it" - Phelps himself.
"He may be human but he's from a different planet" - Russia's [Images] Alexander Sukhorukov after the 4x200 metres freestyle relay which provided Phelps with Olympic gold number 11. "A different galaxy."
"I wish him all the very best. I don't think he will do it, but I'd love to see it" - Australian swimmer Ian Thorpe at the beginning of the year, a quote Phelps memorised for motivation.
"There's a thing called competition. It won't just be one athlete that will be competing, and in a lot of events he has a lot of strong competition."
"He's perhaps the greatest swimmer that we've seen in the last 20 years. This time I think he's going to break my record...but my wife would like to think he's not going to. That's why I'm married for 35 years" - American Mark Spitz [Images] who held the previous record of seven golds in a single Olympics.
"There's nobody in any sport that can like win like he wins. He's not just winning, he's crunching world records, he's crunching the field" - US men's head coach Eddie Reese. "I've seen him do some of the most amazing things. I would safely say I would never bet against him."
"I noticed the first time I saw him swim, I think he was 10, it was just apparent he was just going to do whatever it took. When he swam you could see that kind of intensity" - Phelps's long-time coach Bob Bowman.
"He's head and shoulders above everybody else. Let's go to the village and pick up those tickets" - US basketball player Kobe Bryant [Images] in Beijing.
"He's a billion dollar man. He won't have to get a job ever. He can live off this for 50 years" - Australia-based celebrity agent Max Markson.
"There are times in my sleep when I literally dream my race from start to finish" - Phelps in his 2004 autobiography 'Beneath the Surface'
"Other nights ... I visualise to the point that I know exactly what I want to do: dive, glide, stroke, flip, reach the wall, hit the split time to the hundredth, then swim back again for as many times as I need to finish the race."
Photograph: Getty Images
Email |
Print | Get latest news on your desktop