Home > India > Sports > Olympics 2008 > First Look


Discuss |
Email |
Print | Get latest news on your desktop


Chinese hurdles champ Liu Xiang pulls out hurt

August 18, 2008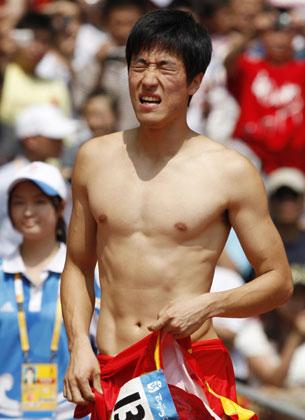 Liu Xiang's dream of defending his Olympic title on home soil was shattered on Monday when an injury forced him to hobble away from the track before his first-round 110 metres hurdles heat.
China's World champion, the host nation's best hope of an athletics gold medal at the Beijing [Images] Olympics [Images], was clearly out of sorts and grimaced in pain as he went down into the blocks.
After a false start, he stumbled forward for a few paces obviously hindered by the injury to his right foot before walking away and leaving a packed Bird's Nest stadium in stunned silence.
''The problem today is his foot; it's not clear exactly when it began but it is six or seven years old. It was there before the 2004 Athens Games and it has been coming and going,'' his tearful coach and mentor Sun Haiping told a news conference.
''It's the end of the Achilles tendon in his right foot,'' he added. ''I'm afraid he won't be able to compete before the end of the year ... he can barely walk.
"He was in tears, he's very depressed."
 China athletics team's head coach Feng Shuyong said the injury had recurred in training on Saturday and worsened on Monday morning.
''This morning he felt the pain intensify,'' he said. ''Even though he felt the pain he decided to compete in the first heat.
''Liu would not withdraw unless the pain was intolerable and there was no other way out.''
Along with basketball player Yao Ming, Liu is China's favourite sportsman and there was a huge weight of expectation on him to repeat his triumph of 2004, when he became his country's first male Olympic champion on the track.
''We have done everything we can ... I believe all the Chinese people will understand this situation,'' Feng said.
Sun said Liu, who he discovered 12 years ago and has coached ever since, cried after walking away from the track.
The son of a Shanghai truck driver, Liu became a national hero overnight when he matched the then world record to win Olympic gold in Athens in 12.91 seconds four years ago.
STORMED BACK
After a 2005 season where he struggled with injury and only managed a silver behind France's [Images] Ladji Doucoure at the world championships, he stormed back in 2006 to set a world record of 12.88 in Lausanne.
Victory in Osaka last year gave him his first world title and further ramped up the expectation that he would win gold again in Beijing.
Chinese fans were left in shock but most were sympathetic towards Liu.
''It must hurt, we can see he has impression of pain in his face,'' said Tracy Yang, a Tsinghua University student. ''We support him, he will be back.''
Cuba's Dayron Robles, who qualified from his heat on Monday morning, took Liu's world record with a run of 12.87 seconds in June.
Liu's preparations for the Games were disrupted by a hamstring injury which forced him to withdraw from a meeting in New York on May 31 and he has not competed in public for more than two months.
Feng said that the hamstring was now ''no problem at all'' and said surgery on the injury to his foot was unlikely.
''It is a little too early to know, the result (of the scan) showed no problem with the bone,'' he told Reuters.
''I don't think we will need to have surgery but this is something of course we will ask the doctor to check.''
Email |
Print | Get latest news on your desktop