Home > India > Sports > Olympics 2008 > First Look


Discuss |
Email |
Print | Get latest news on your desktop


Abhinav rubbishes gun tampering reports

Onkar Singh in Delhi | August 14, 2008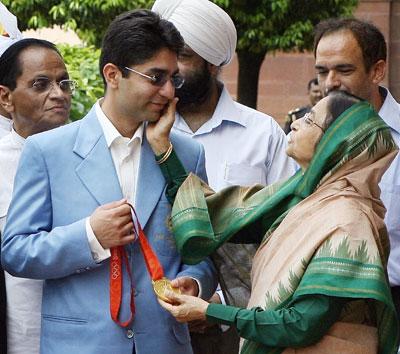 Olympic gold medallist Abhinav Bindra [Images], who called on President Pratibha Patil [Images] along with his father Dr A S Bindra and mother Babli on Thursday morning, denied reports that his gun was tampered with before the final of the 10 metres Air Rifle event at the Beijing [Images] Olympics [Images].
"No, it is not true at all. I am not aware of any such thing," he said.
"As I said, everything went off well; hence, there is no need to comment on everything about which I am not sure of. Why bother?"
Abhinav, who scored a thrilling come-from-behind victory in the 10 metres air rifle event on Monday to earn India its first individual Olympic gold medal, returned from Beijing in the wee hours of Thursday morning to a hero's welcome and hours later met with the President.
"My meeting with President was good. She was very kind and gracious. She blessed me and hoped that I would do well in future as well," said Abhinav, in reply to a question from rediff.com about the meeting in the forecourt of the President's residence.
"I am happy to be back in India and I will be heading for Chandigarh shortly," he added
To another question he shot back: "Some people asked me if I believed that I could do it [win gold]. My answer is that I always believed that I could do it."
Abhinav's mother said she had no time to cook anything special for her son. "Once he is back to Chandigarh I will cook his favourite dishes. He has a series of meetings. He is meeting the vice-president, Mrs Sonia Gandhi [Images] and Prime Minister Manmohan Singh [Images], and had just an omlette and bread in the morning," she added.
A S Bindra thanked the media for supporting Abhinav and the family and invited them to join the press conference at Kamal Mahal in Maurya Hotel at 1400 IST.
Photograph: India's gold medallist Abhinav Bindra meets Indian President Pratibha Patil in New Delhi [Images] on Thursday/PRAKASH SINGH/AFP/Getty Images
Email |
Print | Get latest news on your desktop