| | |
| --- | --- |
| Raj Bhavsar | |
| | |
| | |
| | |
| | |
| | |
| | |
Advertisement
August 12, 2008 15:49 IST
Last Updated: August 12, 2008 16:09 IST


In a perfect world, Raj Bhavsar [Images] should have won an Olympic medal for India.

Instead, the gymnast did America proud in Beijing [Images].

The 28-year-old Houston lad, born to Gujarati parents Bob and Sue Bhavsar, was part of the six-member American men's team which won the bronze medal in artistic gymnastics in the Beijing Olympics [Images] on Tuesday.

Raj, a member of 2001 and 2003 World Champion US team, thus became the second Indo-American gymnast, after Mohini Bhardwaj, to win an Olympic medal.

Mohini was part of the American women's team which won a silver in Athens in 2004.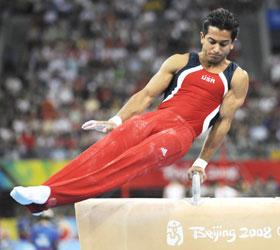 Raj proved third time lucky after twice coming close to make it to the Olympic team in Sydney and Athens. He, in fact, mulled quitting it altogether after the double jolt.
The dream finally materialised in Beijing, but not without Dame Luck's intervention.
It was only a fortnight ago that he got a call-up to fill the void created by Paul Hamm's injury and the gymnast of Indian origin, who tried everything from Jack Canfield books to Bikram Yoga, finally had his day under the sun on Tuesday.
"I'm so grateful to everyone. This has been a fairytale. This medal represents the heart and soul of the team. No one thought we could win a medal together but deep down, we knew we could do it. We never doubted ourselves and it happened.
"This makes all the blood, sweat and tears worth it. Personally, I exceeded my own expectations and I think the team did so as well," he gushed.
Though Raj was initially kept as standby, he said teammates were kind enough to offer encouraging words to keep him keyed up.
"The spirit of many other people kept me going," he said.
On his Pummel Horse show, Raj said he did not set alight the National Indoor Stadium but did enough to see the side through.
"My routine was surely not the best but there was no way I was coming off that horse," he said.
Complete coverage: Beijing 2008 Olympic Games
© Copyright 2008 PTI. All rights reserved. Republication or redistribution of PTI content, including by framing or similar means, is expressly prohibited without the prior written consent.