Home > India > Sports > Olympics 2008 > First Look


Discuss |
Email |
Print | Get latest news on your desktop


Boxing: Jitender Kumar storms into last 16

August 12, 2008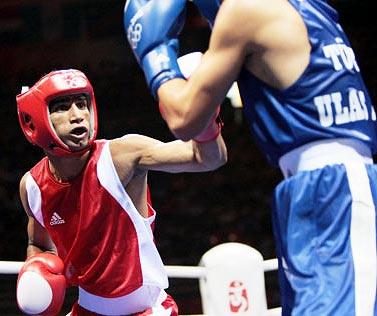 Jitender Kumar pummelled his Turkish opponent Ulas Furkan Memis in less than three rounds to storm into the fly weight pre-quarterfinals of the boxing competition at the 2008 Olympics [Images] in Beijing [Images] on Tuesday.
Jitender, who was making his Olympic debut, led 12-3 before Memis threw in the towel just a few seconds into the third round of the lopsided bout.
Jitender, an Asian Championship bronze medallist, was aggressive from the word go and launched a flurry of straight punches on Memis, who was left scurrying for cover.
The Indian led 5-0 in the first round before stretching the lead to 9-2 by the end of the second round.
The Haryana-lad rarely had his guard up but with lightening fast reflexes, he easily managed to evade whatever little challenge Memis threw at him.
Jitender's persistently aggressive assault left Memis with no choice but to surrender.
Middle weight pugilist Vijender Kumar is the other Indian boxer to have advanced to the pre-quarters. Commonwealth Games [Images] gold medallist Akhil Kumar opens his campaign in the bantam weight category later in the evening.
Email |
Print | Get latest news on your desktop