Advertisement
September 27, 2007


Having been a chair umpire for more than 25 years, sitting on the fence comes naturally to Gerry Armstrong. Every answer is delivered with maximum thought and minimum controversy.

The hottest topic in tennis nowadays is how good is Roger Federer [Images] really? Is he the best ever?

For a man, who has officiated matches of everyone from Bjorn Borg, John McEnroe, Pete Sampras and, most recently, Rafael Nadal [Images], Armstrong is curiously non-committal.

"If everyone says he is the best tennis player ever, I am not going to disagree," he says.

That's as diplomatic an answer you'll get!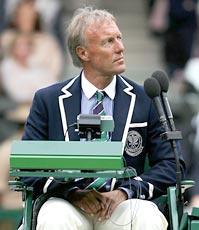 "He is the best ever I've seen. He does not volley as much, but Federer has such a great all-round game he can do whatever he wants. He can dictate the tactics. I am not meant to give opinions; but by the time he finishes, his record would say that he is the best. It's a bit like Tiger Woods [Images] with golf; he has taken the game to a different level."
Armstrong, 51, who is the ATP Supervisor at the Kingfisher Airlines Open in Mumbai, has had his fair share of moments on the court. In 1990, he defaulted McEnroe at the Australian Open after the American unleashed a verbal volley on the umpire. McEnroe had already been warned twice in the match and was red-carded on the third.
"It was very clear-cut; the rules said that," explained Armstrong, even though McEnroe, back in 1980 had claimed that he was unaware of the new Code of Conduct.
"And we did what we had to, though nobody likes to do it.
"You can't be affected by who the players are. You have to make a decision. Some players are more fiery than the others. But that's the nature of sport, every official has to deal with it and make a call correctly. We are not always correct but you can't make influences like that affect what you do.
"But I think that's a different era now. Players these days are very professional. They are still very demanding to get things right, which is fine. In everything, players are more professional now, whether it's behaviour or training.
"The thing with umpiring is that a lot of it is very routine, but very often things happen when you wonder whether you did the right thing. Nobody wants anyone else to win by an officiating mistake or anything like that."
Of all the unusual things he's seen on court, the British tennis official rates Goran Ivanisevic conceding his match against Hyung Taik Lee in Brighton in 2000 as "right up there".
"He had only three racquets and he broke all of them," remembers Armstrong. "I was called onto the court and asked whether he had any spare racquets. His doubles partner (Ivan Ljubicic) was sitting in the stands so I asked if he could borrow one of Ljubicic's racquets, but Goran said he uses a different brand. So he had to concede the match.
"Yeah, that was quite a unique incidence."
Armstrong started as a linesman at Wimbledon, after his father George, also an accomplished tennis umpire who officiated the 1975 final between Arthur Ashe and Jimmy Connors, "bribed him" to work at the tennis courts since the grass-court Grand Slam tickets were too expensive.
"My father said the tickets are too expensive. If you come and call on the lines you can watch it for free."
He's come a long way since then. Having umpired four men's and women's finals, the last of which was the 2006 final between Federer and Nadal, Armstrong gave up the job as he was made the assistant referee this year.
And, as luck would have it, he was quickly drenched into the job immediately, as Wimbledon faced its wettest year since 1982. The 'referee's office' faced further criticism as there was no play on the sunny middle Sunday of the tournament.
"There were always two arguments on that; the first one was: Do you play on a Sunday every year? And the answer was no.
"Should we have played on Sunday this year -- and again we were up-to-date by Saturday morning. If you are going to play on a Sunday at Wimbledon you need more than a day's notice, security everything organized -- that decision needed to be made on Thursday or Friday and Saturday morning; we were only five doubles matches behind on Saturday morning.
"We do stick to traditions, but that's Wimbledon! There were reasons for not playing on Sunday. One of them is it gets the courts the time to prepare and it gives people a day off.
"It was a great working experience for me; working there I got to know how Wimbledon does things."
And Armstrong, who claims to be the "India expert" in the ATP, seems to have brought the rain with him. The Mumbai ATP has been jinxed by the weather, as the heavens have opened at the most inopportune moments. The Briton, like everyone else, is now keeping his fingers crossed for sun to smile on the tournament.
More Specials