Home > Sports > Tennis > Report


Sampras, Federer prepare to battle

October 17, 2007 16:11 IST
Last Updated: October 17, 2007 17:59 IST


| | |
| --- | --- |
| Pete Sampras | |
| | |
| | |
| | |
| | |
| | |
| | |
It will be a high noon showdown when reigning king Roger Federer [Images] meets his predecessor Pete Sampras in a fascinating duel in Kuala Lumpur, Malaysia, on November 22.
The Clash of Times battle between the two most successful players in the last two decades -- part of the 50th anniversary celebrations of Malaysia -- will go some way towards resolving the debate on who is the better player.
The clash is being tipped as greatest match-up in sporting history -- on par with the famous 'Rumble in the Jungle' between Muhammad Ali and Joe Frazier, Bobby Moore's England [Images] taking on Pele and Brazil [Images] in the football World Cup in 1970, or the 'Miracle on Ice' classic between the United States and the Soviet Union at the 1980 Winter Olympics [Images].
"It will be electric," said Sampras, who lost 7-6(7), 5-7, 6-4, 6-7(2), 7-5 to Federer at Wimbledon in the fourth round in 2001, the only time the duo faced-off.
"Roger and I playing each other is great for the game of tennis. It will definitely create a lot of interest. I am sure I will be a little nervous as there is a lot of history there."
Sampras retired in 2002 after defeating Andre Agassi [Images] to win his record 14th Grand Slam title. Federer, who won his first Slam in 2003, is only two short of the American's record.
"I hold the record for most Grand Slam titles ever but I am confident that Roger will break that record someday. For us to play each other while I am still young enough to play very competitively is truly special. Having this take place in Malaysia is remarkable for tennis in Asia," Sampras added.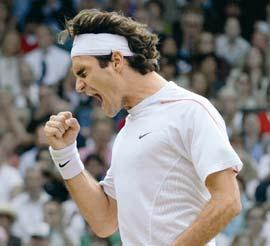 For Federer, 26, it is a "dream come true" to play the man whose shoes he has filled so admirably since bursting on to the scene in 2001.
"The only time I ever played Pete was in my first Centre Court appearance at Wimbledon in that famous match which I won 7-5 in the fifth set. I was still very young and Pete was clearly reigning at that time," said Federer.
"I am so excited to play Pete. There is no doubt that we will play some great tennis."
The Federer Xpress, as he is known due to his ability to 'roll through' even the best players in a express train fashion, may break the Grand Slam title record as early as next year at Wimbledon or the US Open.
The two legends will play a best-of-three sets match and while time has caught up with Sampras, 36, the American is fit and has prepared seriously for the duel.
"I practiced with Roger in March and this has given me confidence as I felt that I really could hold my own. I can still serve very well. And playing Roger competitively will be so special. It will be two players who have a similar temperament playing some great tennis for the sake of history. Both of us like to let our rackets do the talking", said Sampras.
Federer is wary of the threat posed by his predecessor. With his reputation at stake, he promises to give it his all.
"After practicing together and seeing how well Pete can still play, I felt we should share our brand of tennis with the fans," said Federer, who holds the record of longest reigning world No.1 ranked player.
"Pete and I practiced together earlier this year at his home in Los Angeles and the tennis was fantastic. Although I will not get into who won the practice tie-breakers and sets we played, I will say that the tennis was of very high quality.
"We both felt that for the good of tennis we should play in front of the tennis public and we are now putting this into practice. I am excited about playing Pete as he dominated tennis for many years but more importantly, he went about a decade of playing and winning matches, tournaments and Grand Slam titles demonstrating the utmost sportsmanship," added the five-time Wimbledon champion.
Demand for tickets for the all-time greats' showdown has been immense with the best seats selling out in one weekend and 12,000-seat area is nearly sold out. The match is expected to be televised to over 100 countries and to attract one of the largest television audiences in tennis history.
The Clash of Times is one of three events which comprise the 'one of a kind' Malaysia Independence Tennis Festival -- the second being a challenge match featuring world No 2 and three-time French Open champion Rafael Nadal [Images] on November 20 against French top player and Wimbledon semi-finalist Richard Gasquet.
The third element of the tennis extravaganza takes place at the national Tennis Centre in Kuala Lumpur is the world's richest ATP Challenger Series event and will be held from November 17-25.