Home > Sports > Tennis > Reuters > Report


Tursunov wins Indianapolis final

Sandra Harwitt | July 30, 2007 10:27 IST

Russian third seed Dmitry Tursunov won his second career title with a 6-4 7-5 victory over Frank Dancevic of Canada [Images] at the Indianapolis championship on Sunday.

The 27th-ranked Tursunov had been in two previous finals, winning the 2006 title at Mumbai and finishing runner-up at the 2006 Los Angeles tournament.

Dancevic, ranked 109, was competing in his first career tour final. Before this week the Canadian had never reached a quarter-final.

Tursunov broke serve in the third game of the first set and the 11th game of the second set to set up his victory.

"Most of all what I'm happy about is I know I can play matches when I'm not playing well and win," Tursunov told reporters.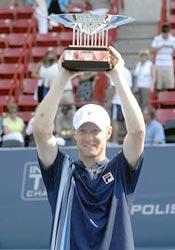 Suggesting that playing consistently day-in, day-out even when not playing his best tennis makes for a better player, Tursunov made a Freudian slip and said "it make me a better person."
He then joked: "Maybe I mean a better person. I'm much prettier now. You have no idea how many girls were calling to me."
Dancevic was vying to be the first Canadian since Greg Rusedski won the Newport 1993 and Seoul 1995 tournaments to win a tour title.
Rusedski, who became a British citizen in May 1995, was the last Canadian to reach a final.
"It was my first final ever and I kind of felt a little bit nervous," said Dancevic, who has lost to Tursunov in straight sets in their previous two matches.
"I kind of felt like I was catching up the whole match."
Despite the loss, Dancevic put together an impressive performance during the week, upsetting top seed Andy Roddick [Images] in the semi-final which marked his first career victory over a top 10 player.
Dancevic also upset eighth-seed Benjamin Becker of Germany [Images] in the first round.
"Going into the tournament I was just happy to beat a guy like Becker in the first round," said Dancevic, who warmed up for the final with his sister, Monica, who plays college tennis at the University of Georgia. "I know this will help out with my confidence."
Tursunov had trouble with his serve and only had a 48 percent first serve percentage. However, the Russian did win all 26 points when his first serve went in.
Tursunov never offered Dancevic an opportunity to break his serve in the 77-minute match.
Tursunov broke Dancevic's serve in the third game of the first set and the 11th game of the second set.
Photograph: John Sommers II/Reuters
© Copyright 2007 Reuters Limited. All rights reserved. Republication or redistribution of Reuters content, including by framing or similar means, is expressly prohibited without the prior written consent of Reuters. Reuters shall not be liable for any errors or delays in the content, or for any actions taken in reliance thereon.