Home > Sports > First Look


Bopanna-Qureshi bag third title

August 05, 2007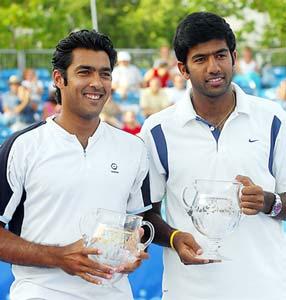 Rohan Bopanna and Aisam Qureshi overcame a stiff challenge from Michel Kratochvil and Gilles Muller in the Segovia final to clinch their third doubles Challenger title in as many weeks.
The Indo-Pak pair beat Swiss Kratochvil and Muller of Luxembourg 7-6 (8), 6-3 in the final of the 125,000 ATP Challenger event in Segovia, Spain on Saturday evening.
Bopanna-Qureshi had won the doubles events in Manchester and Nottingham in the previous weeks.
Given the string of good performances, the pair has decided to extend their partnership till the US Open.
Photograph: http://www.teniselespinar.com/