Home > Sports > Stars We Spotted


When Vijay Amritraj and Alan Wilkins visited our home

April 11, 2007

Reader Kanishka sent us this picture from Augusta, Georgia, USA.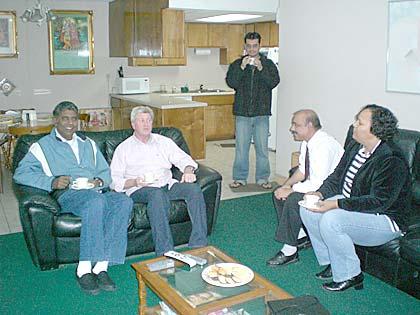 'Hi, I'm Kanishka and here is a picture taken during the Augusta Masters Golf tournament when Mr Vijay Amritraj (left) and former England cricketer Mr Alan Wilkins (second from left) visited our home,' writes Kanishka.
'In this picture I am standing and my father and his friend are sitting (right).'
If you encounter your favourite cricket/sports personalities, send us the photograph or video on sportsdesk@rediff.co.in. We will feature the best images right here on Rediff Sports or Rediff Cricket.