Home > Sports > News > Report


Marykom takes a jab at sponsors

November 08, 2006 18:40 IST



Despite having two World Championship titles under her belt and primed for a treble, India's top female pugilist M C Marykom is at her wit's end to explain what it takes to attract sponsors.

The candid Manipuri girl pointed out how sponsors are making a beeline for tennis ace Sania Mirza and wonders why it's not the same case with her.

''I sometimes feel like crying; it's so frustrating. I mean, I don't know what it takes to get sponsors.

''Forget the cricketers, and just take the case of Sania [Mirza].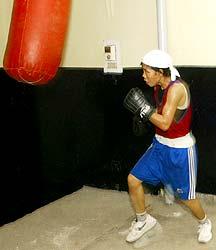 Compare my achievement with her and her sliding rankings, and still she is getting so many sponsors,'' rued the pugilist who won back-to-back World Championship titles in 2002 (Turkey) and 2005 (Moscow), and is primed for the third, when Delhi hosts the fourth World Women's Boxing Championships from November 18.

''The kits we get are so cheap; I mean we badly need sponsors. Thankfully, I got a job in Manipur Police and have offers from Railways and Delhi Police. But so many of my teammates are jobless. It's a pathetic situation,'' she explained.

Also seed: Meet Kolkata's Million Dollar Babies

Marykom, who is supported by Sunil Gavaskar's CHAMPS foundation, says, with a little push from the sponsors, Indian female boxers can earn more laurels for the country.

All set to defend her title and achieve a hat-trick later this month, the Manipuri girl said, ''You can't take your title for granted. I have had good practice and we did well in the Venus Cup in Denmark. But my first target is to reach the final first.

''In my weight category (46 kg), I'm expecting a tough fight from the Koreans. Anyway, it should be a good outing for us, considering our recent form,'' she asserted.

Marykom, meanwhile, revealed that though the team hasn't been provided a proper list of banned substances, she and her fellow-boxers consult team doctors before taking any medicine.

''We are always in touch with the doctors, even when we are at home, and try to ensure we don't end up doing something silly,'' she said.

Coach Anoop Singh, who is stationed in the Sports Authority of India's Hissar camp, said he sensitises the boxers against using drugs.

''We keep saying to them that there is no shortcut to success and no artificial medicine can do it for them if they don't have the mettle. So far it has proved successful,'' he added.


What do you think about the story?








Read what others have to say:





Number of User Comments: 1








Sub: Play fare

Hi all, Its really a touching scene to see the 2nd time world boxing champ was left in one corner of India and the center ...


Posted by lalz






Disclaimer