Home > Sports > Interviews


The Rediff Interview/Dr Vece Paes

'Leander plays above his ability'

May 24, 2006



For 16 years India has marveled at the phenomenon called Leander Paes. Introduced in the Davis Cup as a bouncy 16 year old, he has shown how boundaries are stretched, history rewritten when desire outdoes talent.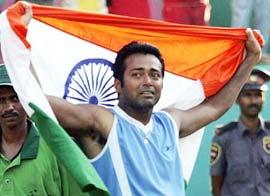 A junior Wimbledon champion, bronze medal winner at the Atlanta Olympics, the Indian flag-bearer at Sydney Olympics, six-time Grand Slam winner and the undisputed Davis Cup hero, Paes has made his fans part of each of his celebrations; India the reason for his celebration.
And, yet, for all his exploits, he remains the country's most approachable superstar; a performer who instantly connects with his audience, draws strength from them and cherishes every moment of the adulation.
From a hyper-energetic kid of five, who suffered convulsions and was advised not to play again, to India's biggest sporting hero, a recount of Leander's journey through the eyes of his father, Dr Vece Paes in an exclusive conversation with Special Correspondent Deepti Patwardhan.
When did Leander start showing an aptitude for sport?
Having come from a sporting family -- I played hockey and his mother (Jennifer) played in the national basketball team -- one was hopeful that he would also take to sport. He had all the encouragement from the family and the school, and very early he showed the instinct for sport.
He was a better footballer first, but he used to suffer from convulsions and was on anti-convulsives from the age of three to seven. The doctor told us he could not play again. It was obviously shattering for us, because he loved sports; he used to sleep with his football shoes and so on.
We consulted another specialist and since he hadn't suffered convulsions after the age of seven we started taking gradual risks. The neurologist advised us to put him into non-contact sports, and that is how we put him into tennis. He used to travel with an attendant when he was in Kolkata because we were still not sure how he would cope with it. Then, when he was 12, we sent him to BAT (Britannia Amritraj Tennis) Academy in Chennai. That is how he got his first professional tennis training.
As you mentioned, he had to overcome early setbacks. Leander is known for his spirit on the court. Has he always been a fighter?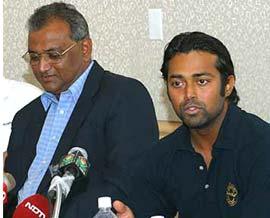 I think he was born with that attitude; the fighting spirit is inherent. He was always a very aggressive, very competitive player, but off the court he's a gentleman. He is a very relaxed person but plays above his ability.
Every human being is shaped by the way he gets over the obstacles in life. Fortunately, Leander always responded positively to every problem and faced it with determination. Earlier, when he used to suffer from convulsions, he was too young to understand what was going on. He only wanted to play.
He also had an extension of bone in the knee and had to be put on metal splints for three months. That was a huge medical setback. Then we discovered there is a murmur in his heart, which means there was a small hole in the walls of the heart. We didn't know how much stress it could take and till date he has to do a medical every year to make sure it's going well.
In '96-97 he had cerebral malaria and the most difficult period was when he was diagnosed with the brain cyst (in 2003).
For all the adulation and superstar status, problems like these teach you that you are human. That has taught Leander humanity. The response he received from India during his last operation has humbled him. It has given him the special feel for India. It has helped him take over the responsibility of a sporting icon in the country.
Being an Olympic medallist yourself (Dr Paes won a bronze medal with the Indian hockey team at the Munich Olympics in 1972], did you pass on that ambition to Leander as well?
I always set targets for Leander. The first target was to do well in the juniors; he did that by winning the junior Wimbledon title and becoming the junior world number one.
Then it was breaking into the Davis Cup team. At 16, he was doing well but was still much too young to go on the senior tour.
We targeted Remit Rajpal from the team, whom Leander could replace. Zeeshan Ali and Srinivasan Vasudevan were playing well then and we thought Leander could offer some variety to the team.
He was named to the squad against Japan and his captain then, Naresh Kumar, gave him a chance in the doubles with Zeeshan. The teams were 1-1 on the first day and Leander played a big match. He and Zeeshan won in five sets. (India went on to win the tie 4-1). The opponents didn't know him well and that worked for him.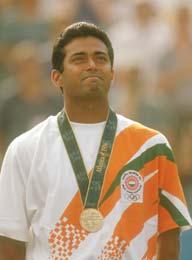 The Olympic medal was always a priority for us. Having played a lot of soccer and rugby and such team sports helped Leander build camaraderie and the whole thing of playing for the nation. I think winning the bronze medal is still one of the proudest achievements.
With so much travel involved in tennis, was it difficult for you to keep him on the tour for the full season?
Since I had some contacts with corporates, whom I used to work as a consultant, getting sponsors was not a problem. Even the Ministry of Sports had granted him a scholarship of Rs 5 lakh (Rs 500,000).
But, at that time, we weren't allowed more than US $750 in foreign exchange. In that money we couldn't afford a foreign coach and so Leander had to travel alone. I would buy him a one-way ticket and tell him once the money gets over pack your bags and come back.
All that changed later, once the economic reforms came.
Most Indian athletes find it difficult to transform from juniors to the senior level. Did Leander also go through that?
We had targeted that Leander should make his mark on the senior tour by the age of 23. The years between 18-22 are the most crucial. When he left BAT at 16 he was not ready for the tour, nothing was ready for him.
One of the keys to excellence is perseverance. It takes 10 years for a kid to become a finished champion. You need a good long-term plan, good coaching and primarily motivation to take you through the rough times. You should make the child feel he has earned the success, give him some incentives. Like I remember, Leander wanted a really good imported watch and I gave him one after he won junior Wimbledon. These small things keep the child going.
Tennis can be lonely sport. Did you fear Leander could get distracted and lose his focus when traveling on tour?
The ideal scenario is that one of the parents travel with the child. But since I got divorced with my first wife early that was not possible.
But loneliness itself can build character. Tennis is a very heady sport; you are suddenly thrust into a 5-star environment. There are lots of things to distract. You need great focus at such times. And Leander has been able to keep that. He could've easily gone astray like some of the more famous players have, but he has carried out his responsibility very well. He understands the responsibility of being a sports hero in a country like India.
And yet he's been associated with one of the most disappointing moments of Indian sport -- his split with Mahesh Bhupathi.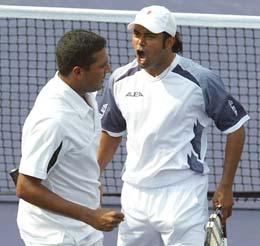 Except for the two of them no one knows what exactly went wrong between the two of them. They are two very good people who have tremendous respect for each other.
Their partnership took off during the Davis Cup.
Leander is a very generous person. He was ranked in the top 100 when he and Mahesh decided to pair for the ATP events. But since Mahesh was ranked outside the top 300 their combined ranking went low. Leander took that risk since their game combined very well.
Though he was ranked 73 in the world in 1998 he decided to focus on doubles. Mahesh and Leander did very well even in the Grand Slams. I think as a professional that was the best period of his career.
But things happen when people achieve so much success together. They want an equal share in that success. And people around also fuel the ego clashes. It was an emotional decision; they had got themselves in a place where they weren't able to device a solution.
It was their decision to part ways, but both of them have always put their best foot forward when playing for the country. We saw that they are still unbeatable in the Davis Cup.
Could you explain Leander's special relationship with the Davis Cup? How would you compare his first match with the latest, versus Pakistan?
There have been three facets to Leander's career: the first was the juniors; the second is the Davis Cup, which is his key achievement, and then his partnership with Mahesh.
The Davis Cup has always been a priority for Leander, because for him playing for the country is the most uplifting experience.
The first Davis Cup match (against Japan) was more important for India. The team needed to win that one to go into the third day on top.
This time (the fifth rubber against Aqeel Khan) was more heroic. Leander has aged and it is easier for the older athlete to give up. Even the earlier day we had discussed his fitness and whether he would be able to stay on for five sets because all the players did suffer from cramps.
Leander likes competing and the only aim was not to lose against Pakistan. He took the call on playing the last match. He put his reputation on the line and didn't back off. The best thing about Leander is that he's not scared of losing. He fought through after losing the fourth set (0-6) against Aqeel, he played smart and carried India to victory.
How long do you think he can keep playing like that?
Leander has just turned a father and he needs to handle his emotions. He has to find a balance between his professional and family life. He needs to play tennis at least for the next 3, 4 years. It is very important for his finances. And he also has to look for someone to pass over the baton to in the Davis Cup.
He wanted to quit tennis about three years ago, but then Martina Navratilova happened. Here he saw a 47 year old still yearning to be on the tennis court and that motivated him a lot. It refreshed him for the challenges.
Photgraphs: AFP/Getty Images
More Interviews


What do you think about the story?








Read what others have to say:





Number of User Comments: 8








Sub: Commendable Sportsman of this era!

Leander Paes has been truly a commendable tennis player of our country. I have been watching him since he used to pair up with ramesh ...


Posted by Pratap Pillai









Sub: my favorite player

One aspect describes Leander, his attitude on court. I have\\\'t seen another Indian sportsman with such a desire to succeed, irrespective of the odds. As ...


Posted by George









Sub: Country first !

Many feel that in today's world of sports, we need atleast one Leander each in our cricket, hockey and football to rescue the "games" from ...


Posted by Dr. Cajetan Coelho









Sub: yes

he is a good player indeed and his spilt with bhoopati hurt every indian badly, both those knows the medicine which is with them. thanks..take ...


Posted by Subodh Deshpande









Sub: he is the best

I reckon he is the best sportsman India ever had. Better than the Tendulkars and gangulys.


Posted by Saswat






Disclaimer